Glass: First-Look Photos Feature Samuel L. Jackson, James McAvoy, Bruce Willis In Hospital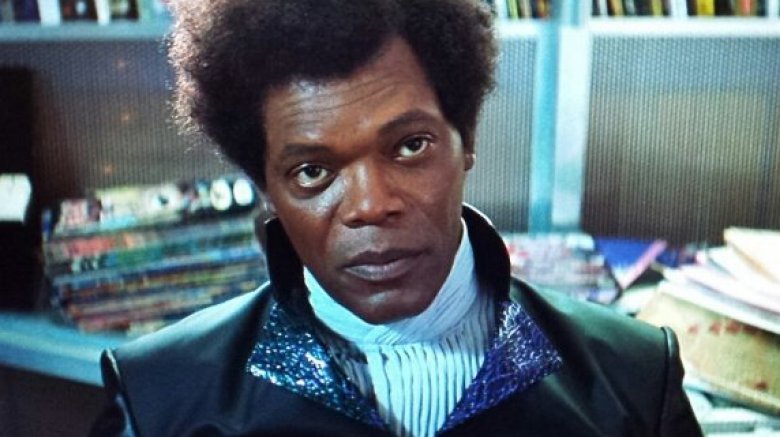 Glimpse through the looking glass to get your first look at Glass, the forthcoming not-your-average-superhero-movie project from director M. Night Shyamalan. 
Entertainment Weekly dropped a bundle of exclusive photos from the film, which serves as a sequel to Shyamalan's Bruce Willis-led Unbreakable and his James McAvoy-starrer Split. 
The most striking of the images sees Willis and McAvoy together — a given since the former toplined Unbreakable as the unkillable David Dunn and the latter shocked cinema-goers around the world as the deranged Kevin Wendell Crumb in Split — with Samuel L. Jackson, who portrayed the sinister Elijah Price, otherwise known as Mr. Glass, in Unbreakable. 
Sat side by side in hospital chairs, the three main, mentally unsound men look visibly uncomfortable, with McAvoy's Kevin straining his face, neck, and hands in apparent frustration. (We'd be pretty miffed if we were locked up, too.)
Another photo features Sarah Paulson in character as Dr. Ellie Staple, a psychiatrist who "deals with people that think they're comic-book characters" and who offers treatment to David, Kevin, and Mr. Glass, as Shyamalan explained to EW. A doctor specializing in something that niche may seem a little far-fetched at first, but pop culture has become more superhero-centric in the past decade (thanks, Marvel Studios!) and comic book fans have long proven their love for the entertainment medium in bizarre ways, so it isn't entirely unbelievable. 
Elsewhere, we see an image of Anya Taylor-Joy, who reprises her Split role as Casey Cooke for Glass. In Split, McAvoy's Kevin, grappling with his multiple personality disorder and having succumbed to the darkness of his 24th persona known as The Beast, kidnapped Taylor-Joy's Casey — but in this new photo, Casey is seen gently stroking Kevin's face. (How's that for major character development?) Shyamalan has promised that Glass will "spend some time with some new people that live inside Kevin," so maybe the part of Kevin that Casey is interacting with in the picture is one of his gentler ones. 
The remaining two snaps give us a full-on look at Jackson's Mr. Glass — grey afro, monogrammed shoes, shiny purple suit, a gold brooch bearing his "MG" initials — and Shyamalan directing Willis in a scene. 
Check them all out below.
This reveal is sure to spark up even more excitement for Glass, and make the wait to see the full trailer, which was unleashed earlier this year at CinemaCon, that much harder. 
Glass will shatter in theaters on January 18, 2019.