Marvel Reveals 'The First Ten Years' Anniversary Banner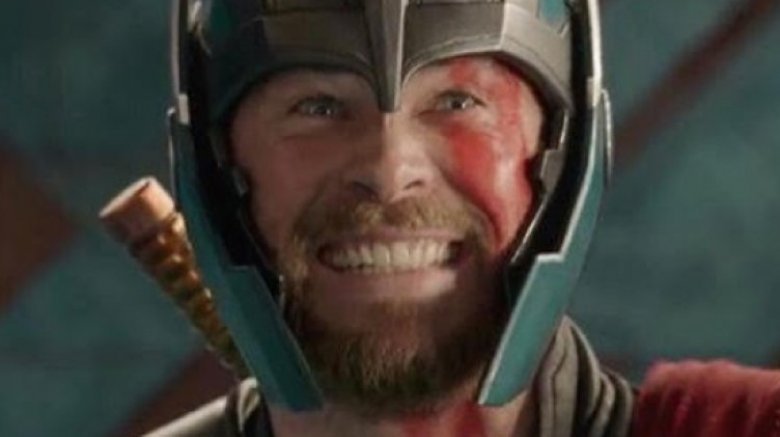 All that's missing is a round of fireworks and a glass or two of celebratory champagne.
To commemorate ten years of Marvel movie goodness, which will be made official with the upcoming release of Avengers: Infinity War in May, Marvel Studios conducted a special anniversary photoshoot, bringing the major Marvel actors, directors, and producers together to honor their accomplishments. The studio revealed a "class photo" of the massive group, as well as a behind-the-scenes video chronicling what it took to get all the A-listers in the same place at the same time. 
And if that wasn't exciting enough, Marvel also put out a gorgeous official banner for the "First Ten Years" milestone, displaying it in full color in the header area of its social media accounts. 
The photo features 30 stars from the main roster of Marvel Cinematic Universe superheroes. From left to right, we see The Vision (Paul Bettany), Falcon (Anthony Mackie), Hulk (Mark Ruffalo), Loki (Tom Hiddleston), Mantis (Pom Klementieff), Hawkeye (Jeremy Renner), Gamora (Zoe Saldana), The Wasp (Evangeline Lily), Star-Lord (Chris Pratt), Okoye (Danai Gurira), Thor (Chris Hemsworth), Scarlet Witch (Elizabeth Olsen), Captain America (Chris Evans), Valkyrie (Tessa Thompson), Iron Man (Robert Downey Jr.), Rocket Raccoon (Bradley Cooper), Ant-Man (Paul Rudd), Black Widow (Scarlett Johansson), Drax (Dave Bautista), Nakia (Lupita Nyong'o), T'Challa/Black Panther (Chadwick Boseman), Doctor Strange (Benedict Cumberbatch), Shuri (Letitia Wright), Bucky Barnes/The Winter Soldier (Sebastian Stan), Wong (Benedict Wong), Nebula (Karen Gillan), Nick Fury (Samuel L. Jackson), Groot (Vin Diesel), Peter Parker/Spider-Man (Tom Holland), and War Machine (Don Cheadle). 
While the majority of heroes are seen sporting the last costume fans saw them in onscreen (Johansson's Black Widow is still a redhead in the snap, if that tells you anything), Holland's Spider-Man is shown in his spiffy Avengers: Infinity War-upgraded suit. 
Take a look at the banner, as well as the aforementioned class photo, below. 
We can't say for sure whether it's because 2018 is the Marvel Cinematic Universe's ten-year anniversary, but the studio has a lot planned for the remaining months of the year. Black Panther will arrive on February 16, followed by Avengers: Infinity War on May 4, and the Paul Rudd-starring sequel Ant-Man and the Wasp on July 6. Next year, Marvel will release Captain Marvel on March 8, 2019, Avengers 4 on May 3, 2019, and the Spider-Man: Homecoming sequel on July 5, 2019.