Law & Order: SVU's Chris Meloni Played A Murderer & Detective Simultaneously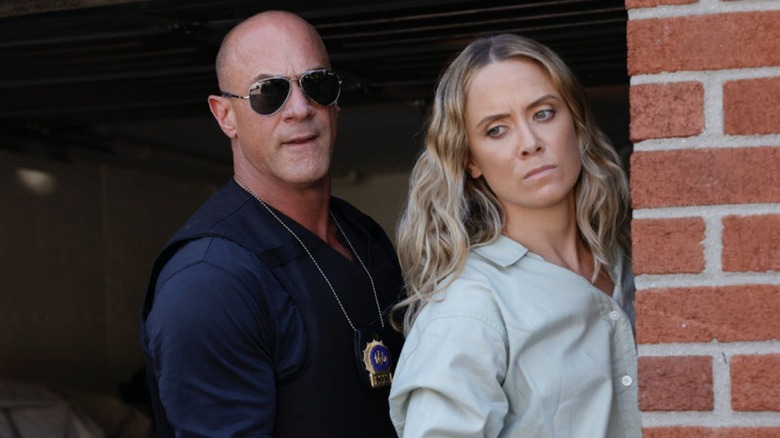 Will Hart/NBC
Christopher Meloni has been an icon in the entertainment industry, thanks in large part to "Law & Order: Special Victims Unit." The actor has had varied roles in "True Blood," "Happy," and "Wet Hot American Summer," but Elliot Stabler may be the part that will stand the test of time. His hotheadedness and refusal to let sex offenders go unpunished were definitive for the series. The part skyrocketed Meloni to fame at such a breakneck pace, that many may have forgotten the critically acclaimed series he was on at the same time.
"Oz" was HBO's first crack at hour-long dramas and an unequivocal success. Taking place at the fictional Oswald State Correctional Facility, Tom Fontana's series showcased a world of prison life that was often too real. Even J.K. Simmons was hesitant at first about accepting the role that would be pivotal for his career. But for Meloni, being part of the cast of "Oz" was a dream.
"That was a gift by Tom Fontana," Meloni told A.V. Club. "I had no idea about the show — or very little, anyway — and I had no idea where the character was going, so every episode unfolded for me as it did for the audience." The "SVU" actor plays Chris Keller, a sociopathic serial killer whose story arc is defined by his love for Tobias Beecher (Lee Tergesen). Landing two shows at the same time is a prize for any actor, even though it wasn't without its complications.
Christopher Meloni's days were filled unsettling characters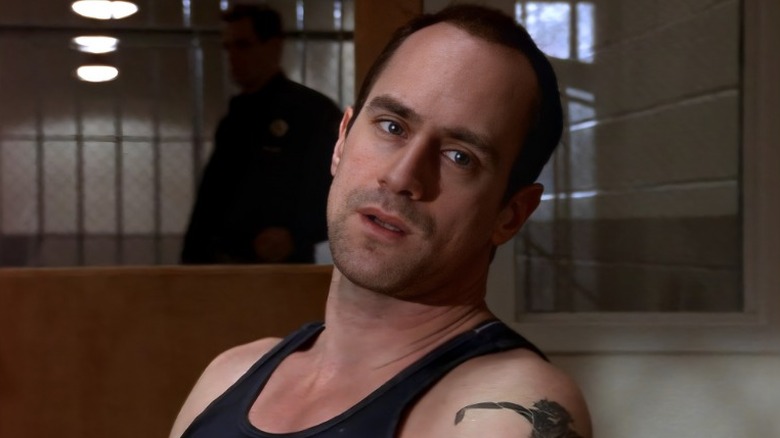 HBO
Christopher Meloni may have over a decade of portraying crime under his belt, but when he was first cast in "Oz" in 1998, that wasn't the case. After working with Tom Fontana in "Homicide: Life on the Streets," Meloni won the part of Chris Keller and shortly thereafter, Elliot Stabler. But playing both a sex offender and a detective who caught sex offenders was a strain. While happy to be a working actor in New York, he told James Lipton in "Inside the Actor's Studio" about its challenges.
"It wasn't easy," Meloni confessed. "For about two or three years, I would wake up at 4:30 a.m., get in the van at 6 a.m., drive to 'Oz,' kill people and sodomize them until about noon, jump in the car, go to 'SVU' and go arrest people who murder and sodomize people until about 2 a.m." In terms of character, no people are more antithetical than Keller and Stabler. The two definitely have their differing sense of justice, but the brutality of "Oz" beats "SVU" by leaps and bounds. Contrary to what you may think, however, Keller wasn't the more taxing role. Meloni told Uproxx Keller was easier to portray because of his lack of empathy while "SVU" took a mental toll on the actor. Stabler's almost devout commitment to the law makes it impossible for him to let things go, resulting in a character that has stayed with Meloni long-term. Indeed, Meloni is still portraying Stabler to this day, on his own spin-off "Law & Order: Organized Crime."
If you or anyone you know has been a victim of sexual assault, help is available. Visit the Rape, Abuse & Incest National Network website or contact RAINN's National Helpline at 1-800-656-HOPE (4673).