Playing Elliot Stabler On Law & Order: SVU Took A Mental Toll On Christopher Meloni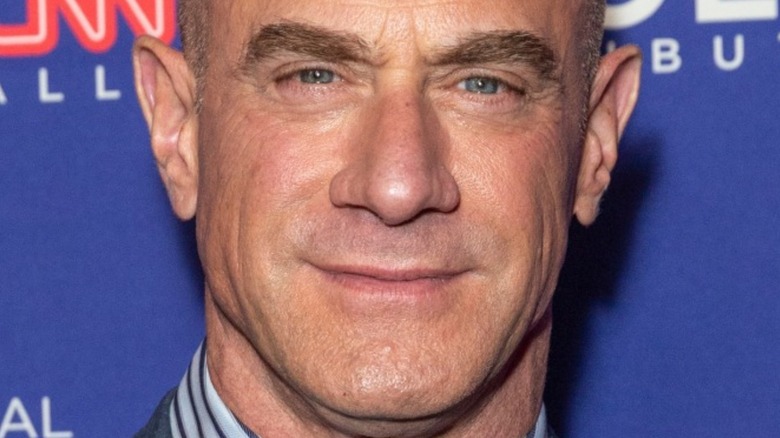 lev radin/Shutterstock
If there is one thing that fans of procedurals will recognize, it is the time-honored tradition of the will-they-won't-they dynamic of its main characters. Shows like "Castle," "NCIS," and "Bones" have had partners that not only share leads but romantic drama. And yet, throughout the course of television history, there has not been a partnership more iconic than Olivia Benson (Mariska Hargitay) and Elliot Stabler (Christopher Meloni). Leading the cases in "Law & Order: SVU" respectively for over a decade, the two became known for their commitment to giving voices to the voiceless and taking down criminals.
But this beloved duo eventually came to a halt in 2011 when Meloni moved on to other projects (via IMDb). Despite the cherished moments between Benson and Stabler, it isn't too hard to see why the actor took his leave. After more than a decade of living in the difficult reality of sexual abuse and assault, one aspect of the job proved challenging for Meloni.
If you or anyone you know has been a victim of sexual assault, help is available. Visit the Rape, Abuse & Incest National Network website or contact RAINN's National Helpline at 1-800-656-HOPE (4673).
Taking on the heavy material of SVU is not easy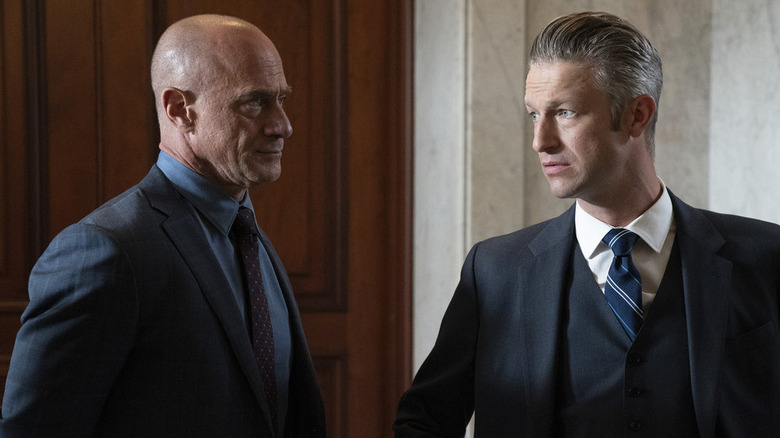 Virginia Sherwood/NBC
It should come as no surprise that "Law & Order: SVU" has some particularly brutal episodes. As anyone who watches even the credit sequence can tell you, sexually-based crimes are considered especially heinous. "SVU" is well known for depicting stories of sexual assault and showing how traumatic it can be. Any actor dealing with these themes for 12 seasons is bound to feel the pressure. When speaking to NPR's "Fresh Air," Christopher Meloni noted how important it was to handle the material with sincerity. He and other actors had face-to-face meetings with real-life SVU officers, which gave Meloni a personal perspective on how hard their jobs are. It was essential to the actor to do these stories justice, and the scripts were an asset in that fight. Episodes of "SVU" are often dark, with a specific point of view that Meloni took to heart.
"[Y]ou know, the horrors just keep coming and coming. And invariably, you know, it was the women — our women writers who would write the toughest scripts," Meloni told NPR. "They pulled no punches." Living in the frame of mind of someone as driven as Stabler can come at a cost. But while Meloni did take a break for a decade, he came back swinging. "Law & Order: Organized Crime" offered a new opportunity and put the actor back in the saddle again.
Bensler keeps inching towards becoming canon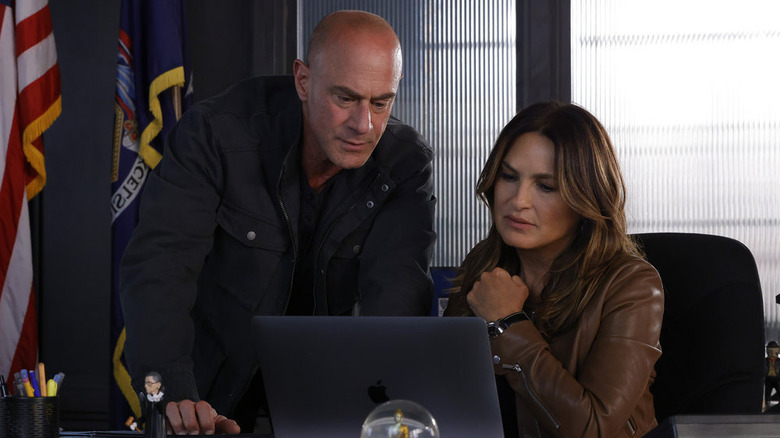 Will Hart/NBC
Christopher Meloni's return to the "Law & Order" universe and leading "Law & Order: Organized Crime" for the past three seasons invites many fans to theorize the character's future. After the tragic murder of Kathy Stabler, will Stabler and Benson rectify the biggest letdown of the series? Everyone wants to know if the former partners will ever give in to their attraction, and none more emphatically than Drew Barrymore.
"People have waited for 25 years," the "Scream" actor pointed out to Mariska Hargitay on The Drew Barrymore Show. After much prodding, Hargitay opened up about the romantic pairing. "I think he's got eyes for me," Hargitay said. She went on to conclude: "The energy's there. Olivia has been in love with him for many a year." But while Olivia may be aware of her feelings towards Stabler, her other half may not be quite as self-assured. Especially after having a wife and a family with someone else, any residual feelings he may have for Olivia could take some time to come to terms with.
"I think he's in the middle of realizing," Meloni admitted to Today. "Yeah, I think it's more difficult for him. I think he's carrying a lot of — stuff." No one can blame the man for grieving his wife. But as Barrymore was so quick to point out, this relationship has been a long time coming. If a kiss between the two doesn't happen soon, fans may riot.