The Goldbergs: Jeff Garlin's Exit Was Long Overdue In Wendi McLendon-Covey's Mind
ABC's hit sitcom "The Goldbergs" hit a bit of a snag as it neared its ending. However, one of the show's stars thinks it was less of a snag and more of a blessing for the series. Actor Jeff Garlin was fired from the series in the middle of production of Season 9 when allegations of the actor being emotionally and verbally abusive towards various members of the crew came to light. "The Goldbergs" attempted to cleverly disguise his absence in the remainder of the episodes in that season by having his character deliver lines off-screen or by re-using old footage of the actor. Murray eventually would be killed off in the series prior to its end after Season 10.
At the beginning of Season 9, the series also had to deal with the real-life death of actor George Segal, who played the family patriarch Pops in the series. So, along with his death, Garlin's absence as Murray had to be worked around. Actress Wendi McLendon-Covey, who played Garlin's on-screen wife, said that his exit was a long time coming.
When asked in an interview with Andy Cohen on SiriusXM's "Radio Andy" about how she felt about Garlin's absence, McLendon-Covey said, "Finally someone was listening to us." She suggested that members of the cast and crew had been asking for Garlin's removal for some time, referencing the various HR claims that were filed against him. She also said, "You can't keep asking your audience to mourn people," in reference to the fact that the show had to deal with Segal's death and Garlin's firing and rushed character death at the same time.
McLendon-Covey certainly had a bone to pick with her co-star Garlin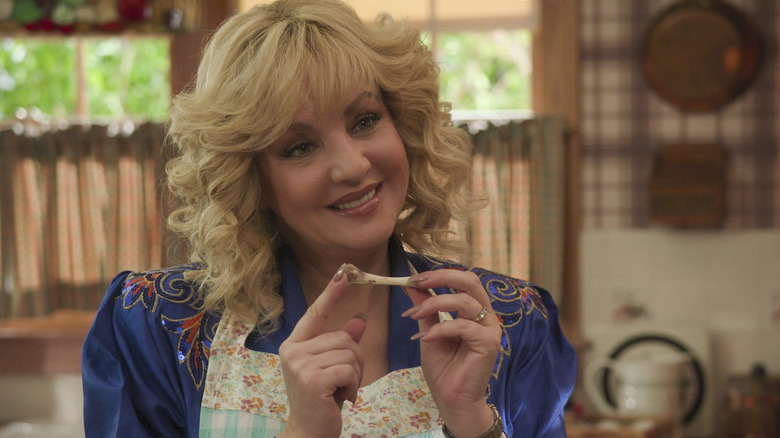 ABC
Throughout the turbulent time for the series, Wendi McLendon-Covey was intentionally pretty vague in her comments towards Jeff Garlin and his firing but certainly expressed enough of her displeasure at working with her on-screen husband. Responding to a Tweet about "The Goldbergs" needing to be canceled in light of Garlin's absence, in a since-deleted reply (via Vanity Fair), McLendon-Covey said "This season threw us for a loop because a.) it's hard to incorporate someone who doesn't want to be there and wants to leave mid-scene, and b.) we [weren't] about to re-write the 2nd half of the season. We're doing our best."
In her interview with "Radio Andy" host Andy Cohen, McLendon-Covey said the show killing off Garlin's character was "a long time coming." While she noted it was difficult for the show to navigate two deaths at the same time, it was something of a relief to have Garlin gone. Regardless, McLendon-Covey said, "I'm exhausted by that topic and the PTSD of it all." She told Cohen she didn't want to talk about the firing anymore.
"The Goldbergs" Season 10 premiere left no room for any kind of redemption for Garlin. Instead of focusing on Murray's death or its cause, the show focused on the family and how they chose to move on. It's abrupt and handled in a matter-of-fact way. The series paid tribute to both Murray and the Pops when Erica Goldberg gave birth to her first child who she named Muriel Alison Goldberg Schwartz. The name was based on Murray and Albert (Pops) from the show. Though Garlin leaving the show was the right choice as viewed by his co-star, his character was able to live on through the Goldbergs' growing family.