FROM: Why Tabitha Looks So Familiar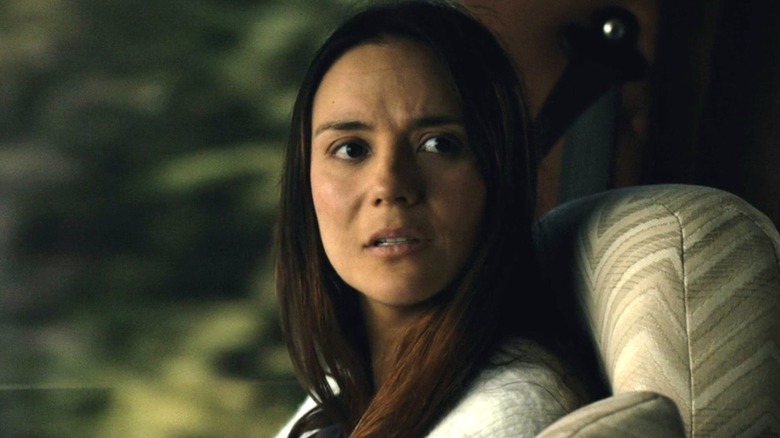 Epix
The John Griffin-created "FROM" has become one of the most surprising breakout genre series of recent years. Featuring names like Jack Bender, Anthony, and Joe Russo as executive producers, the show premiered in 2022 on Epix just before the network renamed to MGM+. It tells the story of the Township, a bizarre, mysterious small town in middle America that supernaturally traps everyone who passes through it.
The plot unfolds from the perspective of the Matthews, a family that winds up in the Township by chance during a cross-country RV drive, consisting of mother Tabitha, father Jim (Eion Bailey), and kids Julie (Hannah Cheramy) and Ethan (Simon Webster). After entering the Township, the Matthews family learns that the woods around it are teeming with highly dangerous shape-shifting creatures that go hunting at night and that all of the local residents are people who have become trapped in the area. Over time, they learn more and more secrets of the Township, uncover new hidden layers of its past, and become embroiled in a bitter fight for survival.
The show is an ensemble piece that centers around the Matthews and self-appointed local sheriff Boyd Stevens (Harold Perrineau). In addition to Perrineau, the distinction of most recognizable name in the cast arguably belongs to the 42-year-old actress who plays Tabitha Matthews. The performer in question is Academy Award for Best Actress nominee Catalina Sandino Moreno; here are some of the roles where you may have seen her before.
Catalina Sandino Moreno broke through with Maria Full of Grace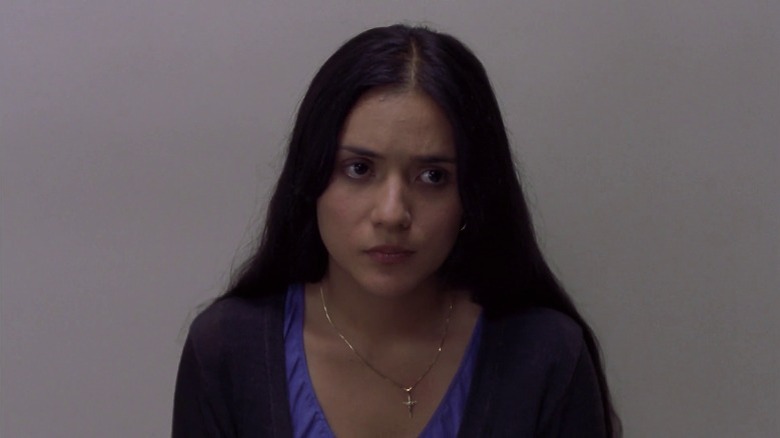 Fine Line Features
Released in 2004, "Maria Full of Grace" is a Colombian-American co-produced film that became famous for its tackling of the social issue of drug mules and their role in the international drug trade. The film, an intimate drama with a social realist bent, tells the story of Maria Álvarez, a 17-year-old Colombian girl who quits her job at a flower plantation due to mistreatment, starts on a trip to Bogotá in hopes of finding new employment, and ends up recruited by a cartel to swallow 62 pellets of drugs and smuggle them into the United States by flying to New York City.
Around 800 actresses in both the United States and Colombia were considered for the role of Maria, but writer and director Joshua Marston was eventually impressed by the audition of one Catalina Sandino Moreno, an aspiring Colombian actress with no prior screen acting experience. The outcome of that casting was the sort of dazzling unknown-to-superstar story that the film industry only ever produces once in a blue moon; Sandino Moreno's rich, intuitive, searingly authentic performance as Maria received rapturous acclaim from critics and earned her an award for Best Actress at the Berlin Film Festival, tied with Charlize Theron for "Monster." Then, in January 2025, following a series of accolades, Catalina Sandino Moreno became the third and youngest Latin American performer and the first Colombian performer nominated for the Best Actress Oscar.
She played Sylvia in Fast Food Nation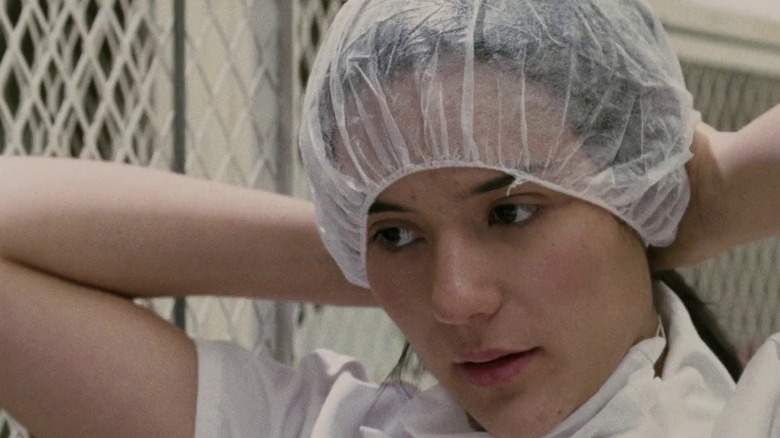 Searchlight Pictures
Directed by the ever-prolific Richard Linklater, "Fast Food Nation" is a film adaptation of Eric Schlosser's book "Fast Food Nation: The Dark Side of the All-American Meal" — a non-fiction portrayal of the United States through the lens of the fast food industry. While the book opts for a more straightforwardly historical, sociological, and gastronomic approach, "Fast Food Nation," the film, is a classic 2000s-style multi-storyline ensemble drama, following several groups of characters as they deal with fast food's broad social and environmental consequences.
One of those groups is comprised of Sylvia (Catalina Sandino Moreno), her boyfriend Raul (Wilmer Valderrama), and her sister Coco (Ana Claudia Talancón), all of whom are undocumented immigrants from Mexico trying to make ends meet in the fictional town of Cody, Colorado, where most of the film takes place. This section of the film illustrates the extent to which the meat processing industry, as studied by Schlosser, ruthlessly exploited vulnerable labor with little choice but to accept its inhumane working conditions, an issue that manifests most clearly in Catalina Sandino Moreno's character. A young woman with high hopes for her new life in America, Sylvia initially opts out of working in the Uni-Globe processing plant where Raul and Coco are employed, finding its brutal work environment too off-putting, instead seeking employment as a hotel cleaner. But circumstances eventually force her to return to Uni-Globe, in one of the film's most tragic and despondent arcs.
She led one of the segments of Paris, je t'aime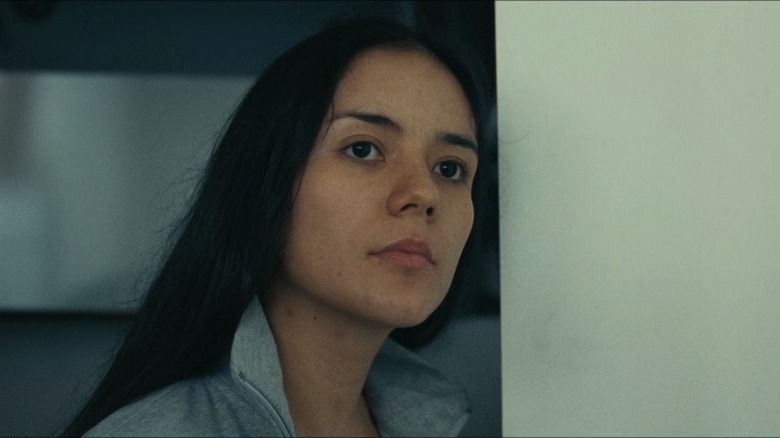 La Fabrique de Films
In 2006, the film world witnessed the release of a franchise that would produce several more installments in the following 13 years, and with the unique distinction of marshaling international resources each time over: The "Cities of Love" series, created and idealized by French film producer Emmanuel Benbihy. 
Consisting of anthology films that tell multiple short stories of love and connection, with each film taking place in a certain major world metropolis and attempting to capture its spirit from various perspectives, the series was kicked off by "Paris, je t'aime," which was followed up by "New York, I Love You" in 2008, "Tbilisi, I Love You" and "Rio, I Love You" in 2014, and "Berlin, I Love You" in 2019.
"Paris, je t'aime" is made up of eighteen segments by different directors, and Catalina Sandino Moreno stars in the one helmed by Brazilian filmmakers Walter Salles and Daniela Thomas, set in the 16th arrondissement and titled "Loin du 16e." The segment is centered around a young Latin American immigrant woman who has to split her time between her own home and child and the mansion where she works as a babysitter to a rich employer's baby, taking long, draining commutes to and from work. Although sparse and minimalist in both structure and dramaturgy, featuring minimal, mostly Spanish-language dialogue, Salles and Thomas's short is one of the most crucial and best-remembered pieces in the film's sprawling mosaic of Parisian life.
She was a series regular on The Affair as Luisa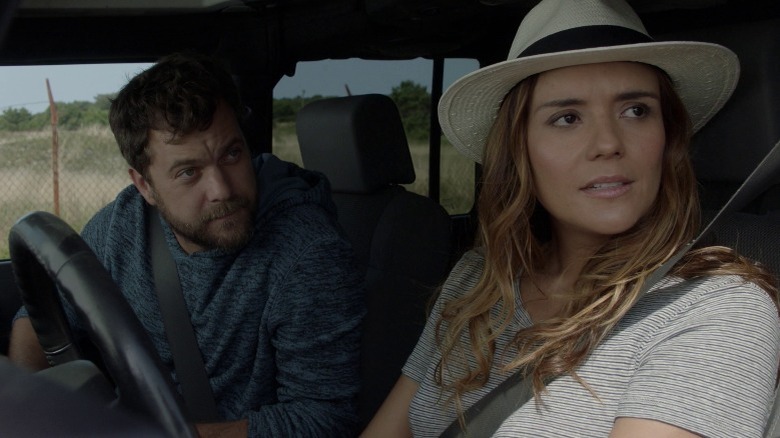 Showtime
Another high-profile TV role that Catalina Sandino Moreno had before starring as Tabitha on "FROM" was the role of Luisa León on "The Affair." Introduced on Season 2 of Showtime's multi-perspective relationship drama, Luisa is a sensitive, quick-witted bartender at The End who becomes Cole Lockhart's (Joshua Jackson) new, recurring love interest, then eventually marries him. Between Seasons 3 and 4, Sandino Moreno was part of the show's main cast. Even though she eventually exited "The Affair" as a regular along with Jackson, she returned for a couple of episodes in Season 5.
In addition to being one of the parties in "The Affair's" increasingly complex tapestry of passions, misdirected affections, and romantic resentment, Luisa also brought a different perspective into the show as an Ecuadorian woman dealing with the United States' draconian treatment of undocumented Latin American immigrants. This perspective was, in fact, a point of pride for Catalina Sandino Moreno. Speaking to Vanity Fair in 2018, the actress noted that Luisa's story on "The Affair" was providing a certain amount of visibility to the many people in the United States going through similar predicaments. "She can't apply for DACA, because she is too old. She can't show [that] no one depends on her. It's a tough spot for her. I thought the timing [for this story line] was perfect. There's still many people going through the same things she's going through," Sandino Moreno said.