Winnie The Pooh: Blood And Honey's Hong Kong Ban Has A Bizarre History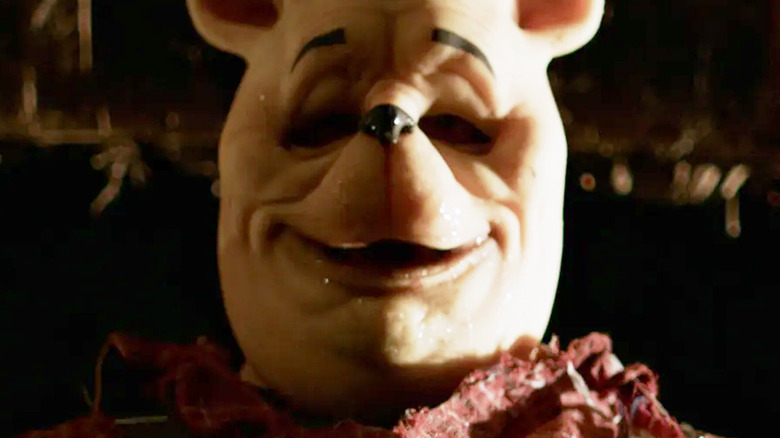 Jagged Edge Productions
If you were a movie buff living in Hong Kong in March, you might have been looking forward to a screening of "Winnie the Pooh: Blood and Honey," the small-budget slasher that reimagines A. A. Milne's beloved bear as a serial killer. But your plans would have been canceled when the film, which was slated to show in over 30 Hong Kong theaters on March 24, was unceremoniously pulled from schedules, as noted by The Hollywood Reporter. The reason for removing it is bizarre but at this point, predictable. Winnie the Pooh has been persona non grata in China for several years.
Under President Xi Jinping, China has become notoriously censorious, especially when it comes to the distribution of media from the United States. Most well-known is its refusal to screen films containing same-sex romances, a policy that has prompted companies, including Disney, to release edited movies for the Chinese market. But while that may be among the more overtly repressive media policies employed by the modern CCP, it is far from the only one. And in the case of "Winnie the Pooh: Blood and Honey," the rationale is both petty and bizarre.
In short, depictions of Winnie the Pooh have been effectively banned in China ever since the Hundred Acre Woods bear was used as a symbol of resistance against Jinping. It remains unclear whether the Pooh slasher flick was shelved under direct government orders. It is equally possible that Hong Kong authorities chose not to screen the movie out of an abundance of caution. Although Hong Kong is marginally independent and acts as a self-governed province, it is still under the auspices of the CCP and may have either received a warning from the central authority or been concerned that screening "Blood and Honey" would draw Beijing's ire.
Winnie the Pooh is not welcome in China
Bloomberg/Getty Images
In 2013, a strange turn of events unfolded that made Winnie the Pooh a symbol of anti-government resistance for Chinese citizens. As chronicled by NPR, it all began when a photo was circulated on Chinese social media that compared Chinese President Xi Jinping to the bear of tiny brains (via The Guardian). The image juxtaposed a photo of Winnie walking hand-in-hand with his fellow Hundred Acre Woods critter Tigger next to a photo of Jinping walking alongside former United States President Barack Obama. Then, in 2014, another photo set placed a photo of Pooh and the donkey Eeyore alongside one of Xinping shaking hands with former Japanese Prime Minister Shinzo Abe. 
Quickly, it appeared that the Chinese government was censoring any comparisons of Jinping to Pooh, and, before long, any mention of Pooh at all. The website for HBO was blocked in China after informational comedian John Oliver picked up the Pooh/Jinping story, and online, images of the yellow bear were blocked alongside other content deemed unacceptable by the CCP.
However, it wasn't until 2018, when Disney released its live-action Pooh movie, "Christopher Robin," that a film was banned in China on Pooh-related grounds. At that time, Jinping was consolidating his power over the CCP, removing a constitutional term limit on the presidency and laying the groundwork to install himself for a lifetime appointment in China's highest office. In 2023, he took an unprecedented third term as leader of the party.
"Winnie the Pooh: Blood and Honey" is not a Disney production and was, in fact, created specifically because areas of Disney's copyright to the Milne characters had been allowed to lapse into the public domain. Nevertheless, even a serial killing version of Pooh appears to cross a line for Chinese censors, or for Hong Kong officials who would rather not antagonize Jinping.