Ant-Man And The Wasp Buzzes To $11 Million In Thursday Previews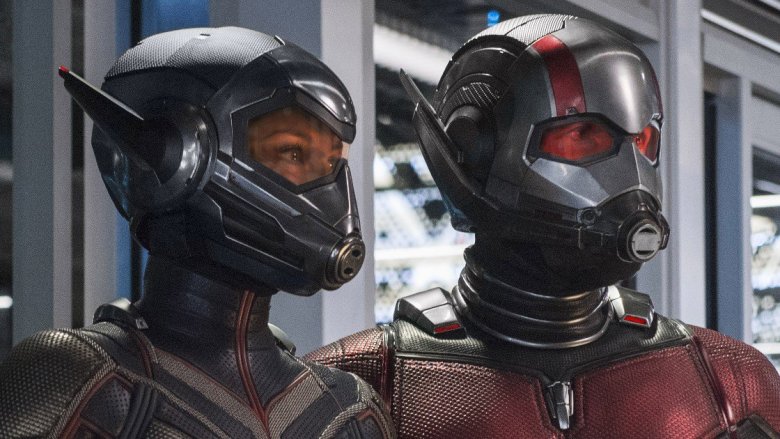 When Ant-Man and the Wasp floated like a butterfly into theaters, it also stung like a bee at the box office. 
The Paul Rudd and Evangeline Lilly-led Ant-Man sequel opened for pre-official release previews on Thursday, July 5, when it took home an estimated $11 million domestically. Sources close to Deadline offered their projections for the film's Thursday night pull, reporting its revenue around the aforementioned mark. 
As the outlet points out, Ant-Man and the Wasp is already performing better than its predecessor, which took in $6.4 million when it debuted for previews on Thursday, June 28, 2015. The original Ant-Man later soared to a $22.6 million Friday and a $57.2 million opening weekend. 
An $11 million Thursday night places Ant-Man and the Wasp in the same territory as the original Guardians of the Galaxy film. When Chris Pratt's Star-Lord, Zoe Saldana's Gamora, and the rest of the universe-saving a-holes first graced the silver screen back in 2014, moviegoers spent $11.2 million to see their silly antics on Thursday, July 31 before the pic's official launch on Friday, August 1.
If Ant-Man and the Wasp keeps on this trajectory, the film should end up earning between $30 million and $35 million on Friday for an $80 million to $85 million debut weekend. Comparatively, the first Ant-Man flick earned just under $33 million on its Thursday evening.
Industry insiders' current estimations pin Ant-Man and the Wasp as taking home nearly $85 million over the weekend, about as much as Doctor Strange pulled in during its first three days out in 2016. However, the Ant-Man sequel has already beat out Doctor Strange in Thursday previews (the Benedict Cumberbatch-starrer grossed $9.4 million on its preview night), so we wouldn't be surprised if the film ends up earning more than $85 million come Sunday night. 
Ant-Man and the Wasp may round out its debut weekend with more or less money than expected, but the fact that it's already buzzing at the box office is a fantastic sign. Coming off the heels of Avengers: Infinity War, the second Ant-Man film was at a bit of a disadvantage, with many wondering how it could follow up the massive, all-anyone-could-talk-about-for-months movie and some even questioning if it would land well at all.
The sequel's $11 million Thursday night seems to prove that it's every bit as good as viewers' first reactions claimed it to be, that it definitely is the "breath of fresh air" Marvel president Kevin Feige said it was, and that big things really do come in small packages. (Come on, you didn't think we'd talk about Ant-Man and the Wasp without making a pun like that, did you?)
Ant-Man and the Wasp is out now — and we've got the breakdown on all the biggest questions we have after seeing it.