The Best Christmas Movies On Netflix Right Now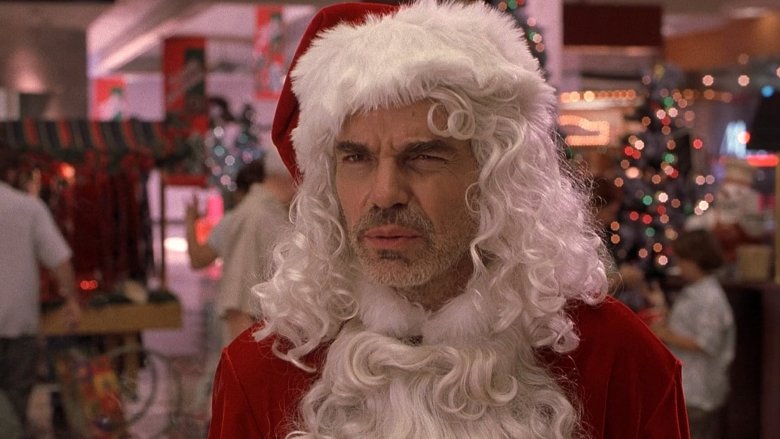 There's something about Christmas films that just makes you want to binge watch. If you're one of those people particularly inclined to celebrate the season from your couch, it's important to have a good game plan to maximize your holiday viewing options — even if Christmas is still months away and you just want to be reminded of that yuletide feeling. That's where streaming services come in, particularly the ubiquitous behemoth that is Netflix and its massive library of films. Even in the summer months, when Christmas feels far away amid all the heat, the streaming giant still packs its fair share of holiday films into the lineup, and the closer you get to December, the more frequently they start popping up. So Netflix is always a Christmas viewing option, but where to begin? Right here, with this list of Christmas films currently on the service. Ranging from funny to festive, these holiday favorites are just waiting for you to binge at your leisure — and whenever you get started, it'll be the most wonderful time of the year.
Bad Santa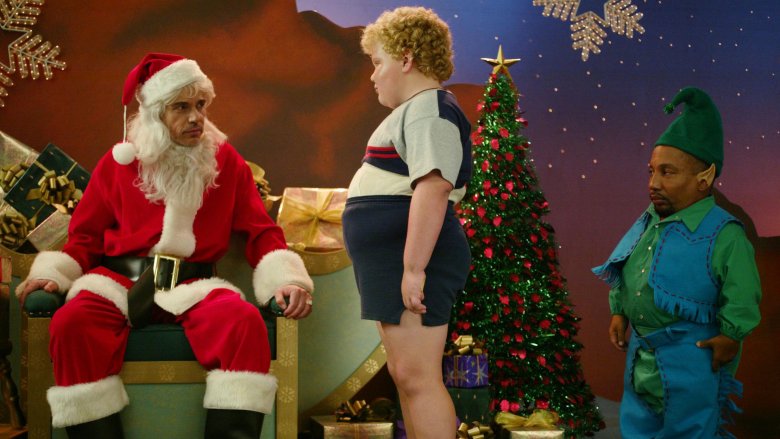 If you're a bit of Christmas cynic, or something a little raunchier just happens to be more your speed, there's Bad Santa, a Christmas comedy about a man who uses one of the season's most enduring symbols to exploit the trust of everyone around him and rob them blind while also getting blackout drunk. Yes, we're still talking about a comedy here, and Bad Santa is actually part of a grand ongoing tradition of Christmas films — including classics like It's a Wonderful Life — that use misfortune and misery as entry points into discovering the true meaning of the season. In this case, the person who needs to discover it is Willie Soke (Billy Bob Thornton), a safecracker who's sick of his life and his career as a criminal masquerading as a mall Santa. When he meets a naive but good-natured boy named Thurman (Brett Kelly), Willie finds his life slowly beginning to take on meaning again, whether he really wants it to or not. The film is both unapologetic in its hard-R raunch and surprisingly joyous by the end, and features a terrific supporting cast that includes late comedic talents like John Ritter and Bernie Mac. Plus, if you're having fun with Bad Santa, Netflix can also carry you right over to the sequel, Bad Santa 2.
Love Actually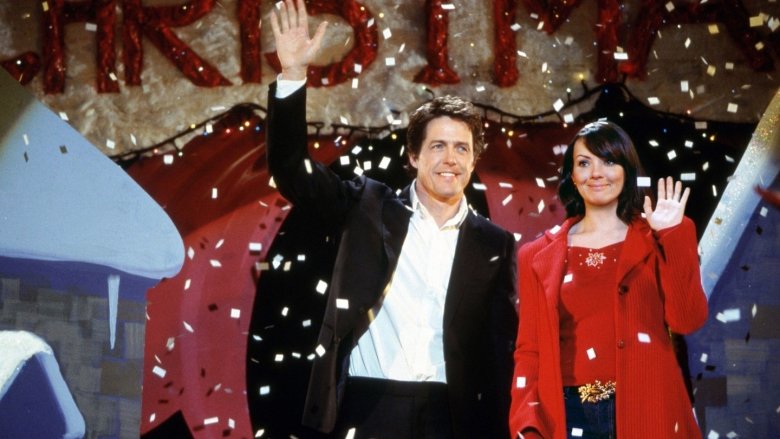 In the years since Love Actually was released, it's spawned the kind of Christmas movie debate that's made it a film new viewers seek out simply because we want to see which side of the conflict we fall on. It's a film that did well financially and received mixed reviews upon its initial release, but when it hit home video, and more importantly streaming video, the film — dubbed "the ultimate romantic comedy" — was embraced as a a holiday essential by many, while dismissed as an overwrought mess by others. Then there are those who fall somewhere in between, who can't decide if the film is good, so bad it's good, or just plain bad in a fascinating way. It's a debate we still have every Christmas in the form of family arguments, online quizzes, and think pieces. After all that dust settles, though, we still watch Love Actually, because it hasn't lost many of its charms, from a truly amazing ensemble cast to a great atmosphere to an assemblage of storylines so varied that everyone can agree that at least one is worth rewatching.
How the Grinch Stole Christmas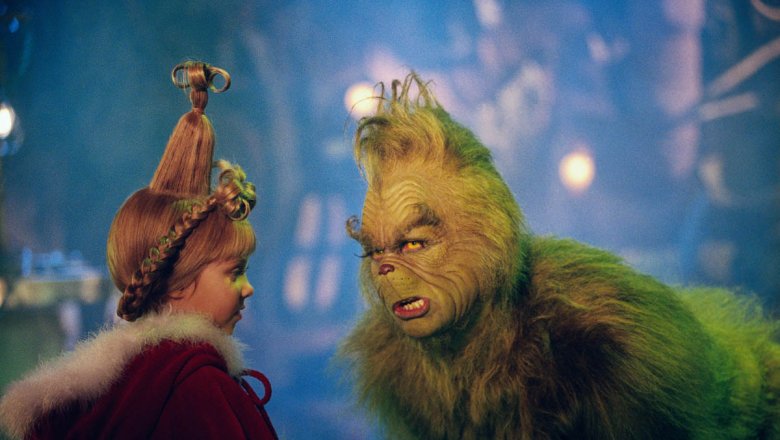 Though more than a few parents likely grew sick of its various songs and sound effects throughout the 2000s, Ron Howard's adaptation of Dr. Seuss' beloved holiday story (originally adapted as an animated TV special back in 1966) is a film viewers keep coming back to every Christmas season thanks to steady cable airtime each December and, of course, the joys of instant streaming. The film's depiction of Whoville, with its vast snow-covered sets, strange designs and weird gadgets, still manages to be spellbinding in a timeless way. You watch this film and you really do feel transported into another world even as you recognize the various famous faces and voices who populate it. One person you likely don't recognize, though, is Jim Carrey in the title role. The trademark Carrey energy is there, but the comedy legend endured hours of makeup each day to completely disappear into the iconic holiday grouch, and it paid off. He's absolutely magnetic in the role, and while the film isn't perfect, the sheer sincerity from everyone involved gives it an element of joy that keeps holding it together.
A Christmas Prince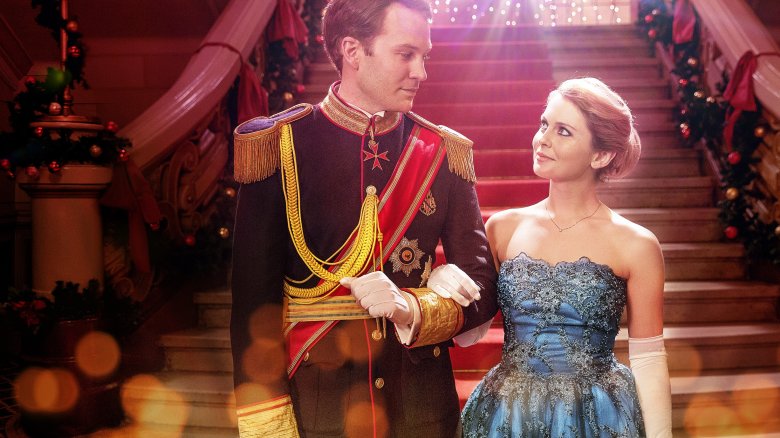 Some viewers may dismiss A Christmas Prince as another generic royal romantic comedy that the filmmakers just slapped some Christmas decorations on. Others may shrug it off as a completely unrealistic movie, and not just because it takes place in the fictional European nation of Aldovia. If you actually sit down and watch it, though, you'll find charm, heart, and a film that wrings every little bit of joy out of what it's given to work with. Rose McIver (iZombie) stars as a young reporter eager to catch the eye of her boss by infiltrating the Aldovian monarchy and learning what's keeping the mysterious prince (Ben Lamb) from claiming his rightful place on the throne. Posing as a tutor to the Prince's young sister (Honor Kneafsey), she quickly finds there's more to him than just tabloid fodder, and they develop a bond. Of course, because we're dealing with royalty here, greedy forces are at work to stop the prince's coronation, which just happens to be scheduled for Christmas Eve. It's not the most lavish production you'll ever see, but there's a reason A Christmas Prince quickly earned a sequel, A Christmas Prince: The Royal Wedding, which made its Netflix arrival on Nov. 30, 2018. The next time you're in the mood for holiday romance, give these two movies a try.
Christmas Inheritance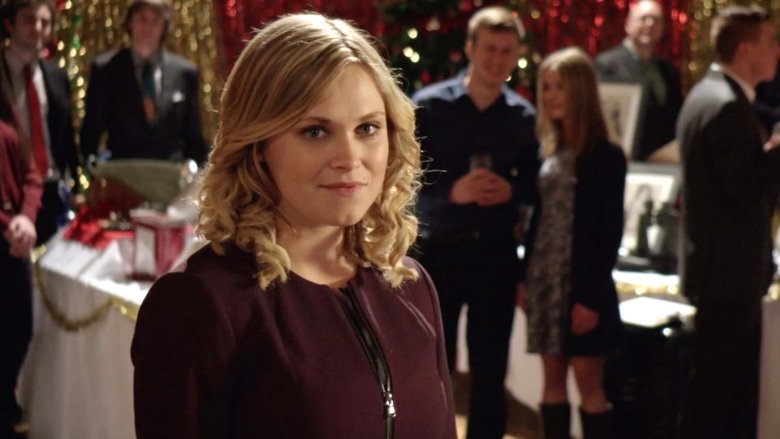 Like A Christmas Prince, Christmas Inheritance is another Netflix-distributed romantic holiday comedy that follows a clear formula from the very beginning. This time the plot is a wealthy heiress (Eliza Taylor) traveling to the town where her father's thriving business began to perform a Christmas tradition on his behalf. She has to achieve this task if she's ever going to inherit his company, but there's a catch: She must go under a fake name, with only $100 in her pocket. What starts as a fish-out-of-water comedy about a rich girl in a small town quickly gives way to romcom elements when she meets the local cab driver/innkeeper (Jake Lacy) and begins to discover that there's more to life than just money, especially at Christmas. You can, of course, see where this is going from the moment the film's premise is established, but that's really only a problem if you're concerned about predictably happy endings, which is what you're going to get with most Christmas films in the first place. If you just relax and let the film play out, you'll find a lot to love.
Santa Buddies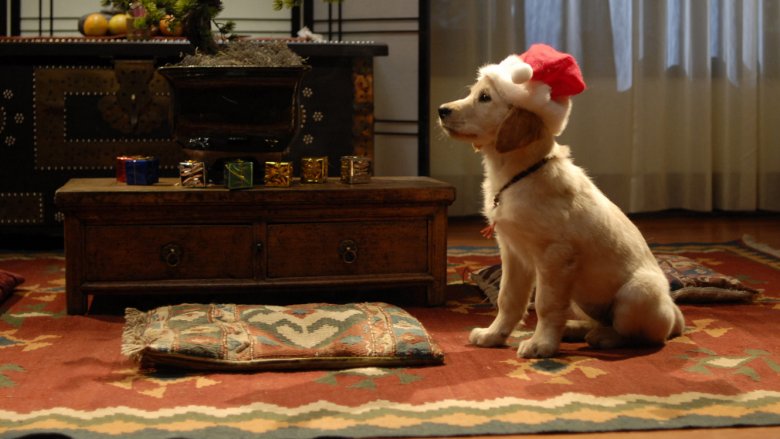 Christmas movies are for everyone, but they're often particularly useful to occupy and entertain young children while you're off getting those holiday chores done around the house. If that's the case, and you'd like something feature-length rather than something about the size of a TV special, Santa Buddies is a warm little movie perfect for kids who love cute dogs and holiday cheer. The story revolves around Puppy Paws, the son of Santa's dog Santa Paws (because of course that's his name), who's a bit worn out by Christmas and just wants to be a normal puppy. Puppy Paws leaves the North Pole and tries to learn how to be a regular puppy from a few who happen to be on Santa's naughty list. What Puppy Paws doesn't know, though, is that the very fate of Christmas hinges on him learning a lesson about the true spirit of the holiday, and he'd better learn it fast before the cold-hearted dog catcher (Christopher Lloyd) can ruin everything. Yes it's a formulaic, direct-to-video Disney flick, but it's adorable in its simplicity. The only real problem with showing it to your kids is that they might decide a puppy is the only thing they want for Christmas.
Get Santa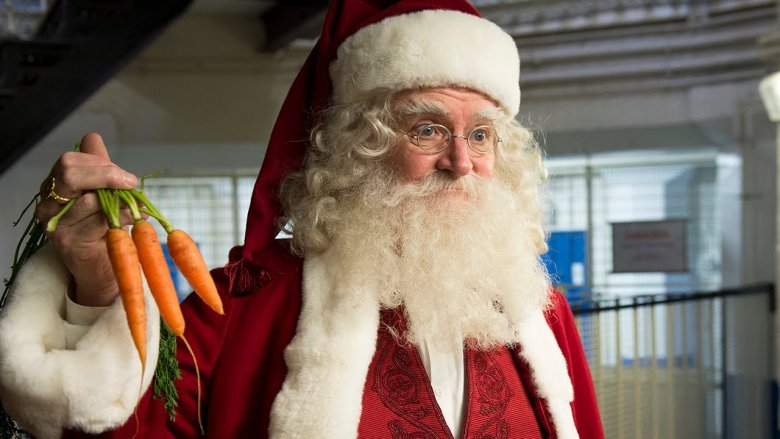 Get Santa is yet another film that follows a recognizable Christmas story pattern, this time the tale of the young child trying to convince a cynical adult that Santa Claus is real. The twist is that Get Santa takes that premise and mixes it up with a kinder, gentler version of a Guy Ritchie crime comedy, and the results are as strange as they are delightful. Rafe Spall stars as Steve, a former getaway driver fresh out of prison and eager to reconnect with his son Tom (Kit Connor). Tom is a bit disinterested, but calls his father for help when he believes he's found Santa (Jim Broadbent) inside a shed. This "Santa" claims that his sleigh crashed and his reindeer have been scattered, and asks for help only to end up locked in prison instead. With Christmas on the line, it's up to Steve and Tom to find the reindeer, enlist the help of some elves, and "get Santa." That is, if Steve can ever find his way to believing in Father Christmas again. It's a wonderfully weird little movie with a new twist on a classic tale, plus a version of the journey to the North Pole (or "Elf City" as it's called in the film) you've likely never seen before.
White Christmas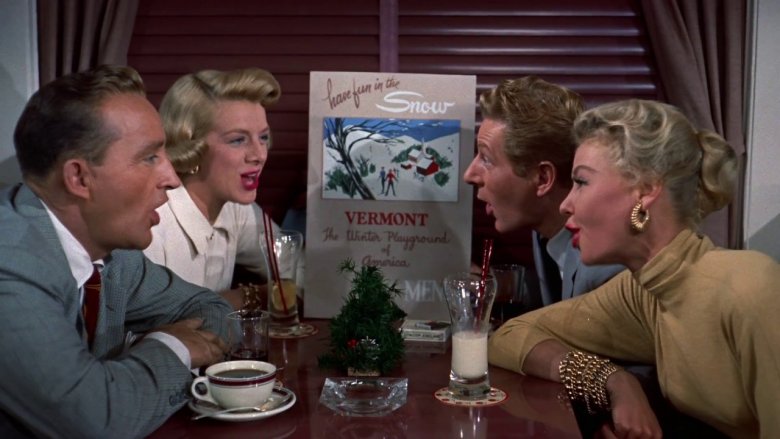 If you're after an enduring holiday classic full of musical numbers, gorgeous Technicolor imagery, and the exquisite comic timing of Danny Kaye, then White Christmas is for you. Like many holiday films of its time, it doesn't entirely revolve around Christmas, but rather builds to it by telling the story of four entertainers who find themselves at an inn in Vermont only to find that December hasn't brought any snow with it yet. Like the characters, the audience waits virtually the entire film for anything wintry or Christmasy to show up, but when it finally does, it proves to be absolutely worth it. In addition to Kaye's comedic mastery, the film also features Bing Crosby in one of his most famous roles, Rosemary Clooney showing both her acting and singing chops, Vera-Ellen's incredible dancing, and some of the most memorable musical numbers you'll ever see. This film has lived on in the hearts of Christmas movie fans for more than 60 years, and a single viewing is all it takes to understand why.
The Princess Switch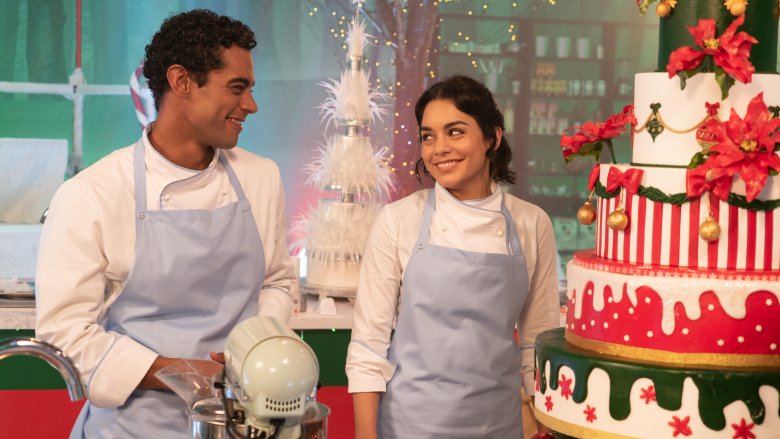 Building on the hit they had with A Christmas Prince, Netflix continues its devotion to royal holiday romcoms in 2018 with this new original movie set in another fictional European country about another ordinary woman who falls into some extraordinary circumstances. This time around, the woman is a baker from Chicago (Vanessa Hudgens) who travels halfway around the world to compete in a Christmas baking competition, where she finds that a duchess (also Vanessa Hudgens) betrothed to the prince looks exactly like her. The duchess, who hates the spotlight and craves an ordinary life, makes her an offer: Switch places and lives for two days. It's a twist on The Parent Trap with a lot of romcom sweetness and plenty of Christmas baked right in. It might not be your cup of tea if you prefer your holiday fare to be a little more realistic, but if you loved A Christmas Prince and you want to watch something unapologetically joyous this Christmas, look no further.
The Holiday Calendar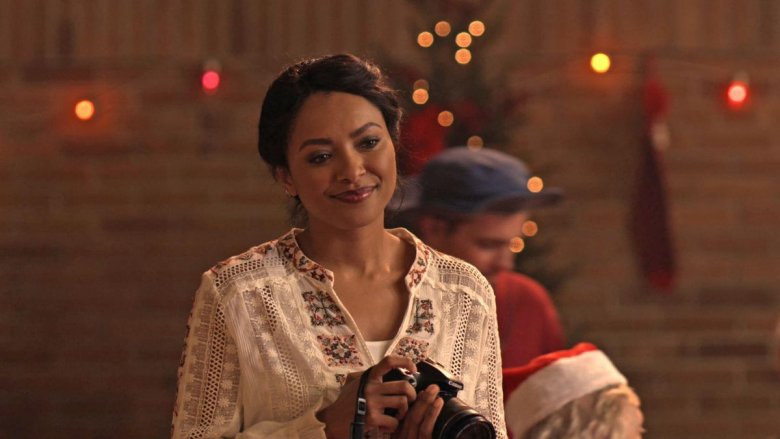 Netflix isn't just excelling in the fairy tale princess Christmas romcom department. They've also branched out into more humble, even somewhat quirky, offerings aimed at everyone who enjoys cozy, low-stakes Christmas fare. Enter The Holiday Calendar, the story of a small-town photographer named Abby (Kat Graham) stuck in a rut both personally and professionally. Her life seems to be going nowhere, until her grandfather (the great Ron Cephas Jones) gives her an antique advent calendar that once belonged to her late grandmother. The calendar will only open its doors on its own, magically, at midnight each night in December, revealing a unique charm item that will prove to have some meaning in her life the following day. Through the calendar's magic, Abby thinks she finds love, then realizes there are bigger lessons to be learned from this strange little family artifact. The Holiday Calendar is, like so many Christmas romantic comedies, ultimately predictable, but its charm is such that you won't really care if you see the ending coming.
The Christmas Chronicles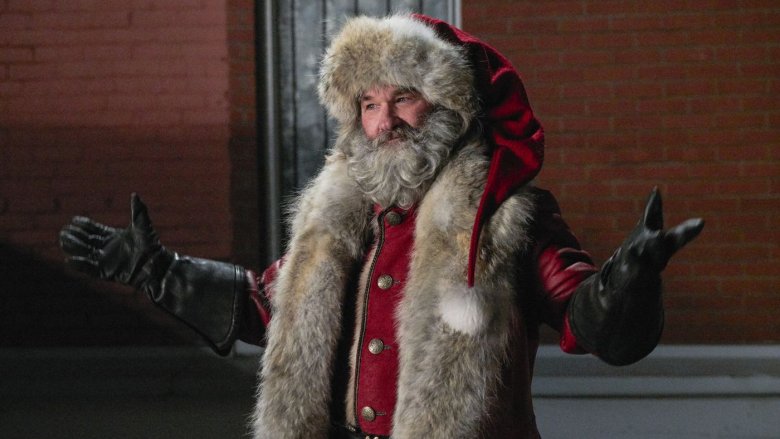 Netflix's devotion to original programming led to an even bigger holiday movie boom in 2018 than we've seen in previous years, and that may have reached its peak with The Christmas Chronicles, a film that blends a little bit of The Santa Clause, a little bit of found footage, and a lot of Kurt Russell into a very enjoyable package. The film follows a pair of children whose family has been devastated by loss, as they try to get along together on Christmas Eve. When Kate (Darby Camp) believes she spotted Santa in an old family home movie, she persuades her brother Teddy (Judah Lewis) to stay up with her for a Santa stake out. One thing leads to another, and the siblings find themselves face to face with the real Santa Claus (Russell), who's very different than decades of marketing have made him out to be. With little time and a lot of frustration, the trio has no choice but to team up, find Santa's lost belongings, and save Christmas. Russell as Ol' Saint Nick is worth the runtime alone. 
Christmas Wedding Planner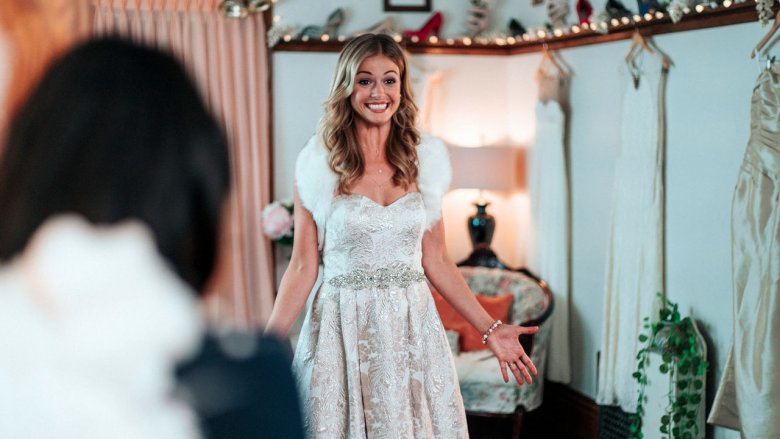 Sometimes the most casually enjoyable Christmas movies arrive when you take a tried and true romantic comedy formula and just sprinkle a little holly and mistletoe through it all, and that's the case with Christmas Wedding Planner. The film follows wedding planner Kelsey (Jocelyn Hudon) as she attempts to plan and execute the perfect holiday wedding. Her biggest problem isn't the venue, or the bride, but a private investigator (Stephen Huszar) who's threatening to expose the truth about the couple at the heart of the ceremony and wreck the whole wedding. In an effort to keep the P.I. happy while still delivering the dream wedding she was hired for, Kelsey agrees to join his case and help him get to the bottom of it. Of course, if you know romantic comedies at all, you can probably guess what happens next. It's exactly the kind of light, crowdpleasing holiday fare you want after a long day of shopping, or to have on while you're wrapping gifts. 
You Can't Fight Christmas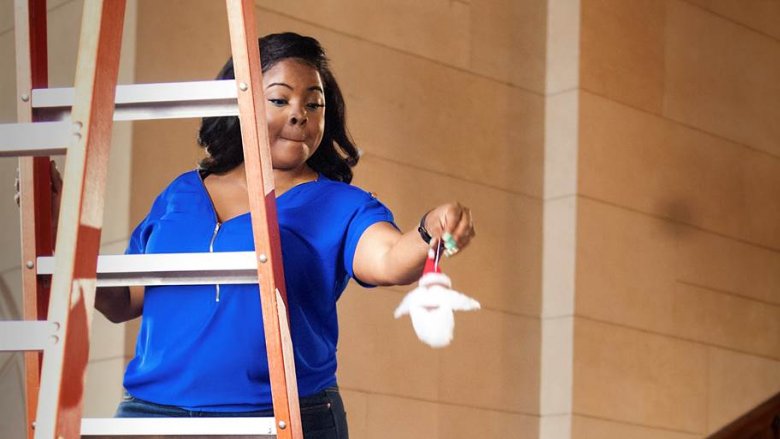 No marathon of Christmas films is complete without a film about people banding together to save a beloved institution or tradition during the holidays, and You Can't Fight Christmas fits that bill quite nicely. It's the story of Leslie (Brely Evans), a designer who decorates a historic hotel for Christmas every year. Leslie loves Christmas, and decorating the Chesterton is a job she loves and takes pride in, but things are about to change at the hotel. The owner's grandson Edmund (Andra Fuller) and his partner Millicent (Persia White) are far more interested in business than holiday traditions, and they have different plans for the Chesterton. Edmund's life takes a turn, though, when one day Leslie quite literally falls into his arms. With the Chesterton's beloved Christmas traditions at stake, Leslie uses all of her charms and her love of Christmas to win Edmund's heart and change his mind. The film is formulaic (as are so many holiday movies), but Evans is an absolute ray of light who will win you over.
Dear Santa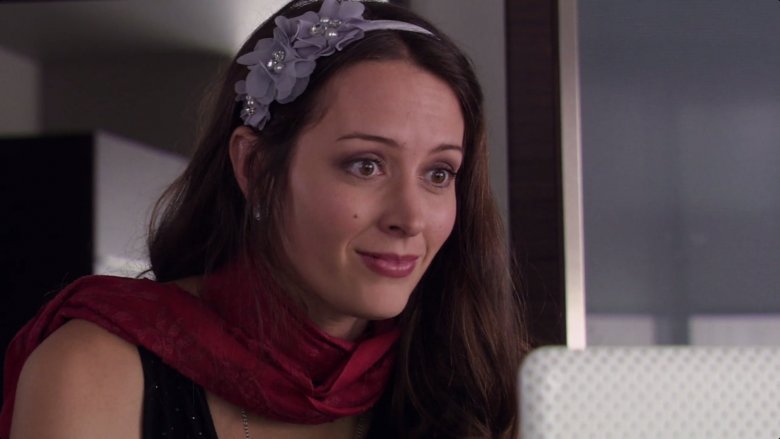 Dear Santa is one of the best known and most beloved of the 21st century's large crop of made-for-TV Christmas films that frequently circulate on Lifetime (where it originated), Hallmark, and now Netflix. We don't think of Christmas TV romances as the kinds of films one watches year after year, but that's a growing subgenre in steady rotation for many fans, and Dear Santa is a big reason why. It's the story of Crystal (Amy Acker), a rich girl who's facing the threat of being cut off by her parents if she doesn't find some sense of direction. When she stumbles upon a letter a little girl wrote to Santa asking for a new wife for her widowed, soup kitchen-running father (David Haydn-Jones), Crystal takes it as a sign that she's meant to be part of their family. Of course, not all goes according to plan, but along the way Crystal learns a lot about family, giving, and the value of real human experiences during the Christmas season. It's a modern classic within its genre, in large part because Acker is just so watchable.