Lindsay Lohan's Latest Holiday Flick Features A Hilarious Mean Girls Throwback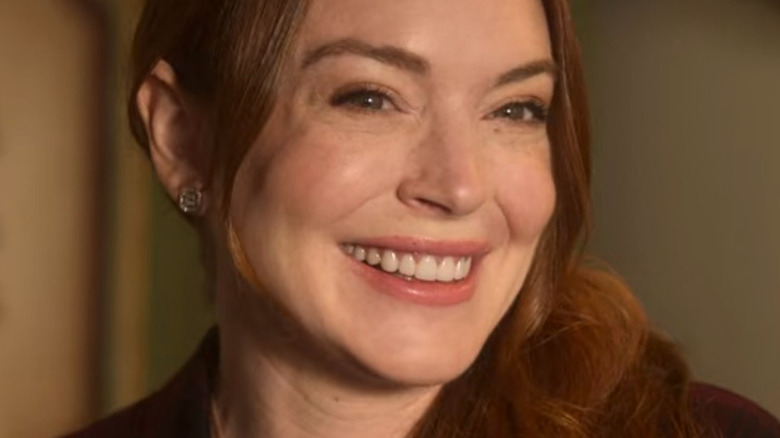 Netflix
Starring Lindsay Lohan as Sierra Belmont, Netflix's "Falling for Christmas" is a feel-good holiday romance. The narrative is jam-packed with all the entertaining rom-com tropes audiences love, with an extra dash of holiday cheer to spice things up. Sierra is your average hotel chain heiress, eating caviar for breakfast as a bevy of personal assistant fawn over her. A proposal from her influencer boyfriend, Tad (George Young), goes awry when Sierra falls off a mountain. A bump on the head leads to memory loss, so she has no choice but to stay with Jake (Chord Overstreet), a handsome ski lodge owner who's barely keeping his business afloat. Naturally, sparks fly as the unlikely pair grows closer.
Overall, the movie has charm, with plenty of fun side characters to round out the cast. Even though the film can be cheesy sometimes, it's great to see Lohan back as a leading lady. Lohan made a name for herself as a teen idol with movies like "Mean Girls," "Freaky Friday," and "Confessions of a Teenage Drama Queen," a legacy that her latest project embraces with enthusiasm. Eagle-eyed viewers might have noticed that "Falling for Christmas" features a clever nod to another holiday-themed moment in Lohan's career.
Lindsay Lohan sings Jingle Bell Rock by Bobby Helms
If you've seen "Mean Girls," then you'll know that Cady Heron (Lindsay Lohan) cements herself as a member of the Plastics when she saves their doomed performance of "Jingle Bell Rock" during the holiday talent show. When their CD player breaks, Cady enchants the audience by belting out the tune, resulting in a delightful sing-along that impresses Regina George (Rachel McAdams). Lohan's latest project tips its hat to her previous role by having her sing the same song in "Falling for Christmas." However, picking up old habits isn't as easy as it seems. Speaking with Entertainment Tonight, Lohan revealed that singing the song after so long was daunting.
"I was (nervous) because I haven't recorded in a long time and felt the pressure of doing it in a way that people who had seen 'Mean Girls' would like it the same," Lohan explained to the outlet. "With 'Mean Girls,' we had the dance behind it, and I had all the other girls with me," the actress continued. "This was just my voice. So, it was nerve-wracking. But the outcome was incredible."
Lohan shows off her singing skills during a scene when "Jingle Bell Rock" comes on the radio. While Sierra is happy to sing along, Tad criticizes her pitch and turns the music off. The moment shows that the couple isn't right for each other while paying homage to one of Lohan's most notable films.