Succession's Kieran Culkin Names His All-Time Favorite Roman One-Liner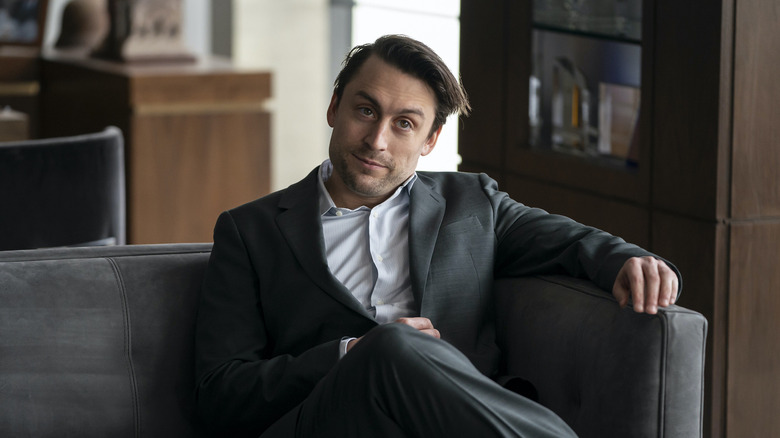 Macall B. Polay/HBO
It's no secret that "Succession" is far from a family-friendly series, and one of the reasons is the vile remarks that come from the characters' silver-spoon-ridden mouths in every episode. While the characters have showcased an above-average talent for turning quips and comebacks into weapons of mass verbal degradation, Kieran Culkin's Roman Roy is known for utilizing particularly NSFW dialogue.
While the show's champion of cringe-worthy criticisms may yet be officially named, Roman is a serious contender. Culkin has managed to cultivate a character with an uncanny ability to be addictively off-putting, regardless of the situation. The unfiltered Roy has been known to turn heads almost every time he enters the frame with his signature unsettling actions and antics. And out of all the despicable things that Roman has said, the actor has chosen a truly awful one as his favorite line. 
"A recent one, we're talking about Sandy Furness whose health is waning, not doing too well," the actor said while eating wings and discussing the show on the YouTube series Hot Ones. "And I said — totally forgot about this line and that it existed within the show — I say, 'Sandy is barely alive. You could tell him to go eat his own diaper and his only response would be mweh!' I was like damn, that's brutal." It's pretty apparent that Roman Roy's bad language knows no limits, and it starts to make one think, how do you write characters this cruel?
The Roys' profane behavior offers an exciting challenge for the writers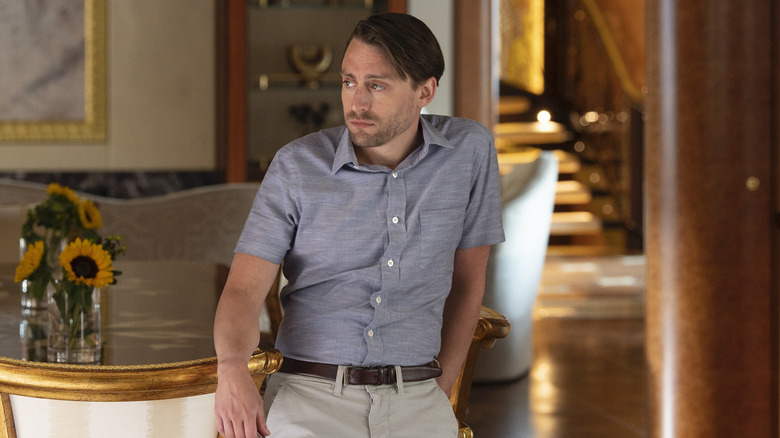 Graeme Hunter/HBO
Some might think it would be a daunting experience to write about such truly unpleasant people, like Roman Roy, who exist in a ridiculously wealthy world of privilege. But when it comes to writing for "Succession," there is an upside to putting the Roy family debauchery into words.
While some of the writers attached to the show did question their reasoning for taking on such a task at times, in the end, it proved to be a rewarding obstacle to overcome. "There was definitely a part of me that thought, why do I want to write about these awful, rich, evil white men who are poisoning society," writer and producer Georgia Pritchett told The Guardian. "But having to really dig deep into the characters to find their humanity was an exciting challenge." She also shared her feelings regarding the youngest Roy sibling, saying, "I've always had a soft spot for Roman, which is concerning. There's something about that evil little pixie that I really do love." 
He may be repugnant most of the time, but Kieran Culkin's character has managed to resonate well with people on and off the production. He's the kind of character one could imagine a "Succession" spin-off being about after the show ends. If writers like Pritchett are up for more deplorable dialogue, there may be many more opportunities to add to Culkin's list of favorite lines down the road.