WGA Strike: Blade Production Paused By Marvel Studios
Michael Loccisano/Getty Images
The 2023 Writers Guild of America strike rages on with no signs of a resolution. While the movie industry dodged the proverbial bullet to this point, the first casualty has finally come — and at Marvel Studios' expense. Pre-production on the reimagining of 1998's "Blade" will now have to wait until the WGA and the Alliance of Motion Picture and Television Producers (AMPTP) can negotiate and come to an understanding. Unfortunately, the highly anticipated superhero film starring Mahershala Ali in the titular role has the distinction of becoming the first major movie to be impacted by the strike.
According to The Hollywood Reporter, the Marvel Cinematic Universe's interpretation of the comic books' vampire master of martial arts will have to wait a bit longer before he returns to the silver screen. The creative director behind HBO's "True Detective," Nic Pizzolatto, will pen the script, and Yann Demange ("Secret Diary of a Call Girl," "White Boy Rick," "Dead Set") is slated to direct.
"There's a billion dollars net in production costs that are exposed because of the strike," an unnamed source told THR in the same report. "That's certainly a concern." A number of streaming series have already felt the adverse effects of the labor dispute, including "Night Court," Season 3 of "Yellowjackets," and Netflix's swan song to its wildly successful "Cobra Kai." All of those aforementioned writers' rooms are pitch black, at the moment, and now the MCU's "Blade" will have to wait for the lights to come back on, too.
Blade remake falls victim to the writers' strike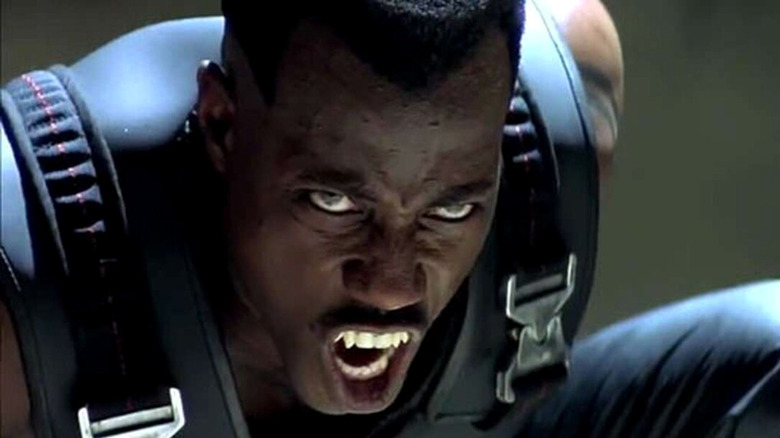 New Line Cinema
Blade can't be hurt by vampire bites or sunlight, but the labor dispute between the WGA and AMPTP has stopped him cold. Yes, the strike has temporarily thwarted the anti-hero's upcoming return to movie theaters in 2024. "Time simply ran out," an unnamed source told The Hollywood Reporter.
The new "Blade" has been a long time coming. In fact, 25 years have passed since the first on-screen Blade (Wesley Snipes) squared off against the sinister, power-hungry Deacon Frost (Stephen Dorff) in the original film from New Line Cinema. Snipes reprised the role in both "Blade II" and "Blade: Trinity," but Mahershala Ali was announced as the latest actor to take up the mantle at the conclusion of Marvel's Hall H panel at the 2019 San Diego Comic-Con.
All of that happened four years ago. It was then that Kevin Feige revealed the two-time Academy Award winner ("Moonlight," "Green Book") would portray the hero who has all the powers of a vampire but none of their weaknesses. And thanks to the writers' strike, fans are forced to wait even longer.