WGA Strike Freezes Yellowjackets Season 3 Writers' Room After Just One Day Of Work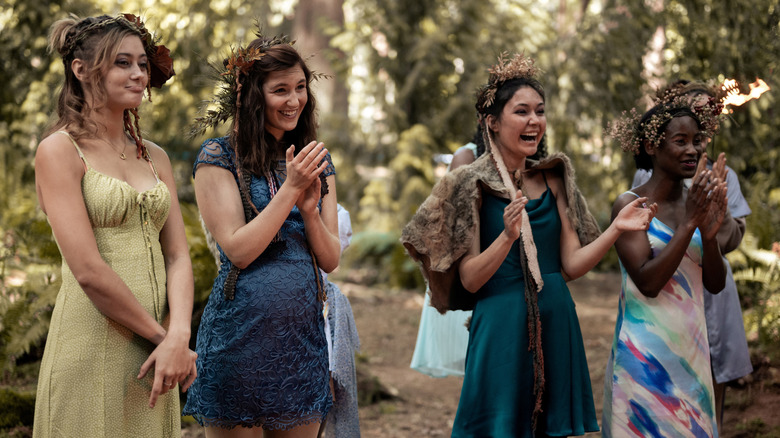 Showtime
"Yellowjackets" Season 3 is unquestionably feeling the sting from the Writers Guild of America (WGA) strike, even with a new Season 2 episode, "Qui," dropping on May 5. But until some sort of compromise can be found between the WGA and the Alliance of Motion Picture and Television Producers (AMPTP), Season 3 of the Showtime series remains in an indefinite stall mode as Season 2 marches toward its finale. The show's co-creators, Ashley Lyle and Bart Nickerson both returned to their writers' room briefly on Monday, May 1, but any chance they had to pound out new storylines and scripts was frozen up after a single day's work thanks to the current stalemate between the WGA and AMPTP.
"Well, we had exactly one day in the #YellowJackets S3 writers' room," Lyle posted on her Twitter account @ashannlyle. "It was amazing, and creatively invigorating, and so much fun," she continued. "And I'm very excited to get back to it as soon as the #WGA gets a fair deal. #1u #unionstrong."
In another post that Lyle shared on her Twitter feed, this one dated Wednesday, May 3, "Yellowjackets" actor Samantha Hanratty (teenage Misty) was photographed showing her support for the screenwriters on strike. In the photo, Hanratty stands in a picket line outside of Netflix's offices in Los Angeles, holding a sign which reads, "I would not have a job without the writers." And for the time being, Season 2 of "Yellowjackets" will have to do because Season 3 is once more on an indefinite hiatus.
The writers strike temporarily kiboshes Season 3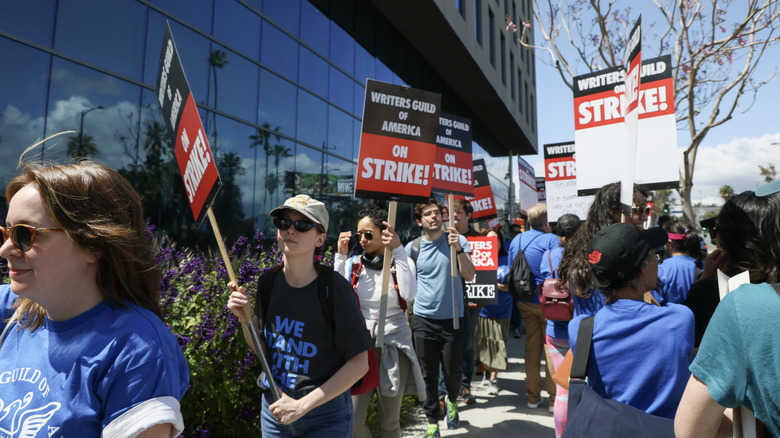 Rodin Eckenroth/Getty Images
"Yellowjackets" co-creator Ashley Lyle took to social media in order to update everyone on the current status of Season 3. Lyle and the Netflix series' other figurehead, Bart Nickerson, have both made noise on Twitter as the WGA screenwriters' strike continues.
"Well, it's definitely going to delay it," co-creator Bart Nickerson told the Associated Press in a video posted on Twitter. "We had actually started the first day of the [writers] room on a Monday. And, so obviously, we've left the room and stopped kind of working on Season 3. So, it's definitely going to delay it for as long as the strike lasts." 
In the footage featuring Nickerson's interview with the AP, dated Tuesday, May 2, he had joined those picketing Netflix outside of their L.A. offices. Sadly, "Yellowjackets" isn't alone when it comes to feeling the adverse effects of the labor dispute. According to Deadline, the 6th and final season of "Cobra Kai," Season 2 of the new "Night Court," and "Power Book III: Raising Kanan" have all darkened their writers' rooms until the strike comes to an end.