The Goldbergs Series Finale Was A Disservice To 10 Years Of Excellence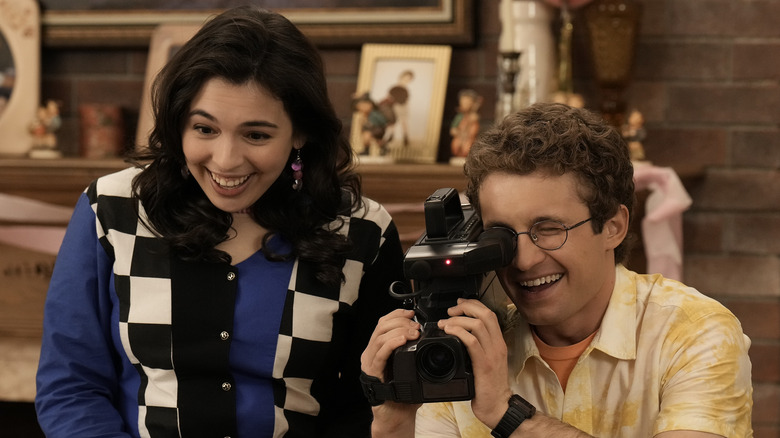 Scott Everett White/ABC
Contains spoilers for "The Goldbergs" Season 10, Episode 22 — "Bev to the Future"
Sometimes good series have to deal with bad circumstances. We're talking about legendary sitcoms like "Laverne & Shirley," which infamously ended with a backdoor pilot after losing half of its original cast. We're talking about "Two and a Half Men," which ended with in-jokes and a blatant prod in the ribs to Charlie Sheen. Not every series gets the "Newhart" treatment, which really stinks.
In the case of "The Goldbergs" — where cast and crew learned that the show would be canceled two days before their Season 10 wrap party — network choices left the show without an opportunity to craft a goodbye. It's still a sentimental ending, yet it does not provide satisfying conclusions for the show's characters. It ends up being a disservice to the viewers at home and also to the cast and crew, and the worst part is that it's no one's fault but some corporate penny pincher's.
The series finale feels like a hastily slapped-together episode that clearly wasn't intended to be the final hurrah for "The Goldbergs." Sweet it is, but a credit to the audience, it is not.
We never find out how the Goldbergs are doing after the 1980s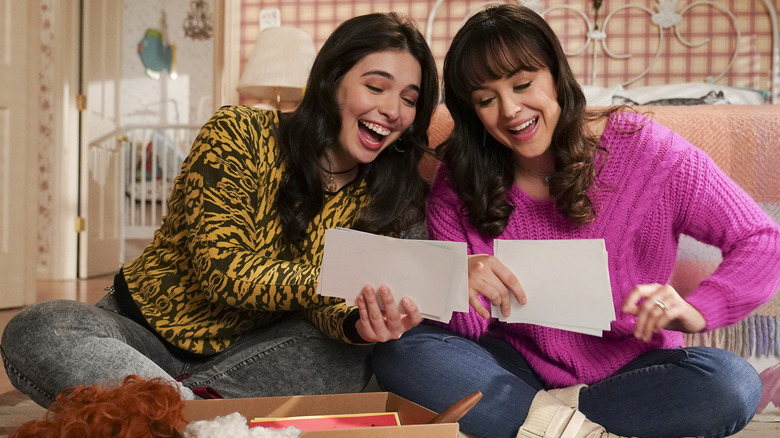 Scott Everett White/ABC
Adam F. Goldberg, the show's creator and the person whose life is fictionalized within the series, explained to Pop Culture Reference in May 2023 that his original plan for the series finale of "The Goldbergs" involved revisiting all of the show's real-life personages and even showing the real Adam living his current-day life. "I had an epic plan to bring back every single real person in the series for a penultimate finale, finally revealing myself on the show while also segueing into a potential new chapter of my life with my real wife I've been with since I was 18," he said.
Unfortunately, when Goldberg left the series, such an ending became impossible. Perhaps that in addition to the fact that the show's editors had to essentially effect a series finale in post-production is why the show never leaves the 1980s. How does Bev's (McLendon-Covey) relationship with George (Rob Corddry) wind up? We never learn. How does Barry Goldberg's (Troy Gentile) marriage to Joanne Schwartz (Beth Triffon) work out? We sort of have an answer to that — at least if you believe "Schooled" is still canon to its parent show — but we technically don't know. Who does little Muriel Schwartz grow up to be? We never learn, even though she'd be 40 years old if we flashed forward to the 2020s. While the show chooses to stick with its central "The 1980s were super awesome and a wonderful time to be alive" message, we care too much about the characters by now to leave it at that. Those loose ends should have been tied up.
Haley and Geoff's plotline feels like an afterthought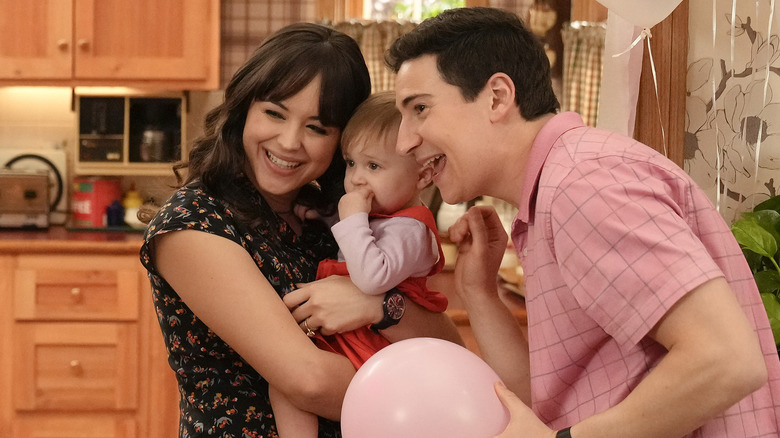 Scott Everett White/ABC
One of the worst parts of the series finale of "The Goldbergs" is that Geoff (Sam Lerner) and Erica (Hayley Orrantia) carry a B-plot that gets minimal onscreen time and does little to forward their futures. The story? Muriel hasn't come out with her first word yet, causing her grandparents on Geoff's side to insist she's "more like a Goldberg than a Schwartz" because Geoff was verbal at six months of age. That's an ugly statement that suggests the entire Goldberg clan is unintelligent, and it stresses out both Erica and Geoff, causing them to desperately do anything and everything they can to cause their daughter to speak.
It doesn't pull much storyline gravitas and has little to do with the young couple's future, hopes, or happiness. Eventually, Muriel comes forth with her first word (and, fittingly, it's "bubble," which is what she calls Bev), but not before Geoff and Erica go through a lot of angst over their daughter's lack of intelligence. It's a silly story that amounts to a total waste of energy for both of them.
Barry and Joanne's story doesn't jibe with Schooled (or grow them up)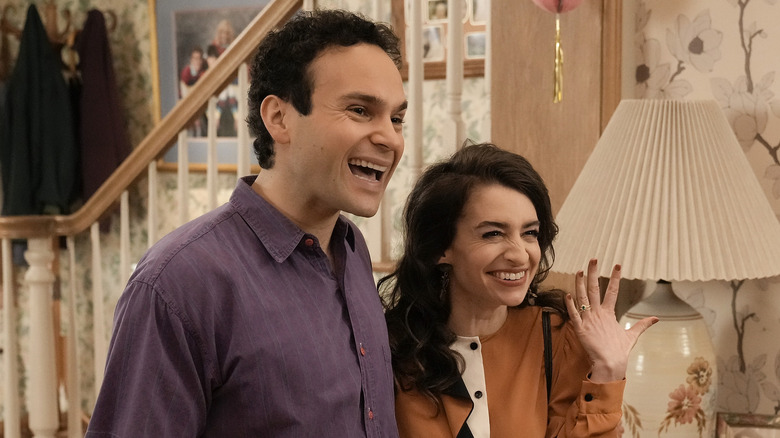 ABC/Scott Everett White
Meanwhile, Barry and Joanne's story is completely nonsensical. Having recently moved in together and reacting to criticism from Joanne's parents (again), they decide to prove their maturity by throwing a dinner party which nearly immediately proves how immature they are. How bad are they at this? They forgot to actually cook dinner. While Barry sorrowfully decides to get rid of all of the things that make him "him" and surrender to maturity, Joanne suggests they do something that proves they're a unified front. They get married in a quickie wedding that seems to happen overnight. 
Everything with Barry and Joanne's relationship moved too quickly, even though they've been together for two seasons now. While this final outing seems to portend a rosy future for the two of them, anyone who watched "Schooled" knows that by the time 1990 rolls around, Barry's going to be a single man again. We also know he's going to be back in Jenkintown pursuing his ex. It goes to show that Lainey Lewis (AJ Michalka) was probably Barry's best bet at happiness after all. At least we know he does become a successful doctor by the time the next decade rolls around.
Bev and Adam switched roles (but made little forward progress)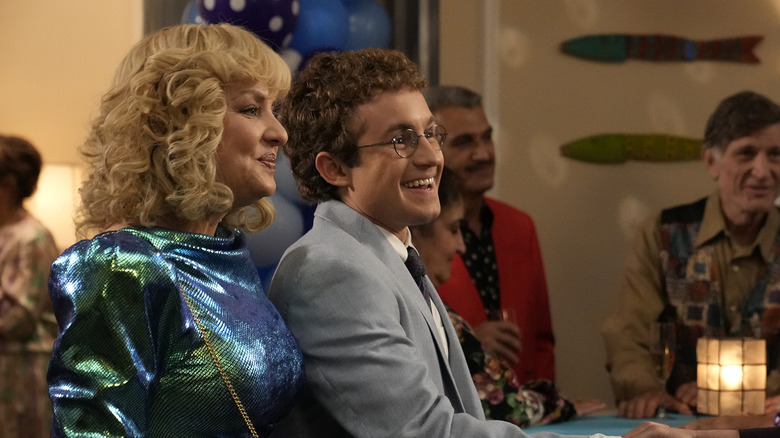 ABC/Scott Everett White
And then there's Bev and Adam's (Sean Giambrone) endless, intensely complex relationship. The series finale finally turned the tables on Adam, who has spent a lifetime trying to escape Bev's smothering behavior. Bev has hung on tenaciously over the past few seasons but has finally started giving Adam more room to become an adult as he prepares to go to NYU and falls in love with Carmen (Isabella Gomez). During "Bev to the Future," the tables turn, and Bev's attraction to her old flame George resurfaces. Adam is forced to confront the fact that he doesn't want to see his mom with another man. That revelation needed more time and once again double underlines how the show spent little time on Adam and Erica's grieving process while spotlighting Barry's. 
While this kind of settles the twosome's constant conflict on "The Goldbergs," it doesn't put it to a more solid end. That's why Adam never should have skipped his gap year and spent some time in college during Season 10. But that's a ship that's long since sailed.
After 10 years, the show should've given viewers a true ending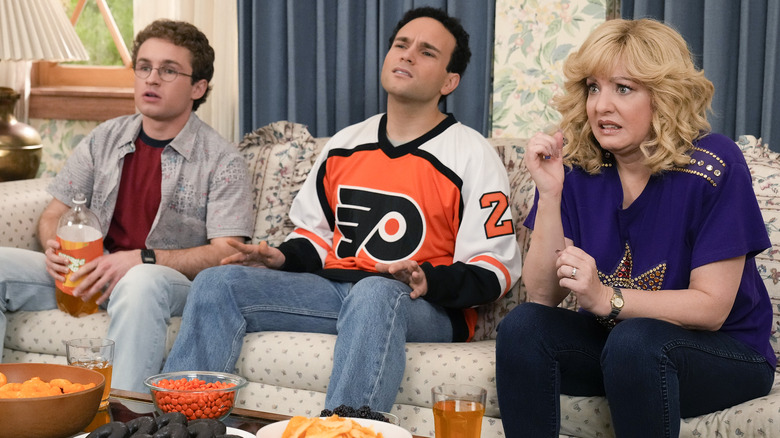 ABC/Scott Everett White
How should this dull finale be fixed? In a word, let's go back — to the future. A time-jump that tells us how Muriel turns out, and how all of the kids have grown and changed over the decades (even the JTP!) would have been delightful. There are a million unanswered questions that are left dangling by the show when we leave the family back in the 1980s, and flashing forward to the 2020s would have also worked great.
The fact that we actually never get to see Adam at film school is a true tragedy; even the sight of him walking into his dorm with some boxes would be a full-circle moment that would bring us back to his adolescence and the first time we ever see him with a camera. That's why his gap year was such a frustrating experience, and why it would have been better to send him off to college while Erica and Barry held down the fort at home. The treatment of Murray's (Jeff Garlin) death was notoriously uneven, but the show did what it could do with it. 
While the ending we got was sweet, it was clearly ill-managed. Perhaps the ending "The Goldbergs" really deserves still awaits it in a reunion movie.