The Goldbergs Series Finale Completely Ignores This Barry Plotline From Schooled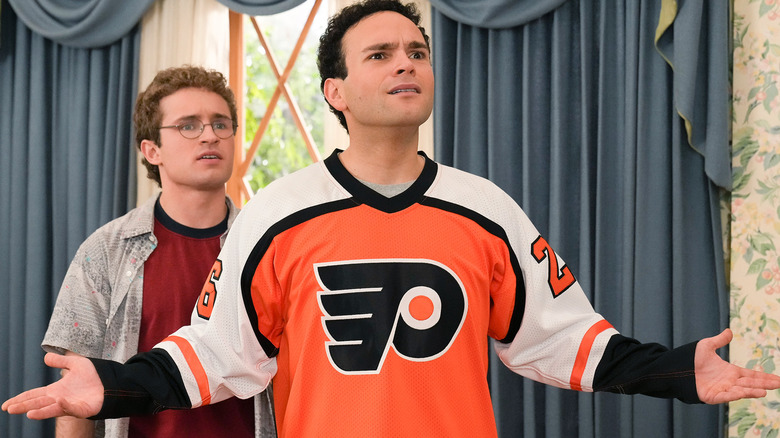 ABC/Scott Everett White
Contains spoilers for "The Goldbergs" Season 10, Episode 22 — "Bev to the Future"
Ahead of the season's start, ABC announced that "The Goldbergs" would end after Season 10. Its series finale then aired on the evening of May 3, 2023, concluding a run of more than 225 episodes over the course of nearly 10 years. In a manner plenty typical for the show at this point, "The Goldbergs" finale reprises a favorite movie reference with a riff on a plot point from "Back to the Future" — cited, even, in the episode's title, "Bev to the Future."
However, like "Back to the Future" and virtually every other time travel story, "Bev to the Future" runs up against a significant continuity error, or at least a development that recolors a character arc in the two-season "Goldbergs" sequel spin-off "Schooled."
In "Schooled," Troy Gentile plays an older version of Barry Goldberg, now working as a doctor. At one point, he tries to rekindle his past relationship with the series' lead, Lainey Lewis (AJ Michalka). In the "Goldbergs" finale, however, Barry impulsively marries Joanne Schwartz (Beth Triffon). Barry, then, either files for divorce sometime prior to the "Schooled" timeline and never mentions it, or fans simply have to accept that Barry in "Schooled" isn't quite the same person as the Barry at the end of "The Goldbergs"
The last episode of The Goldbergs Season 10 wasn't always going to be it's series finale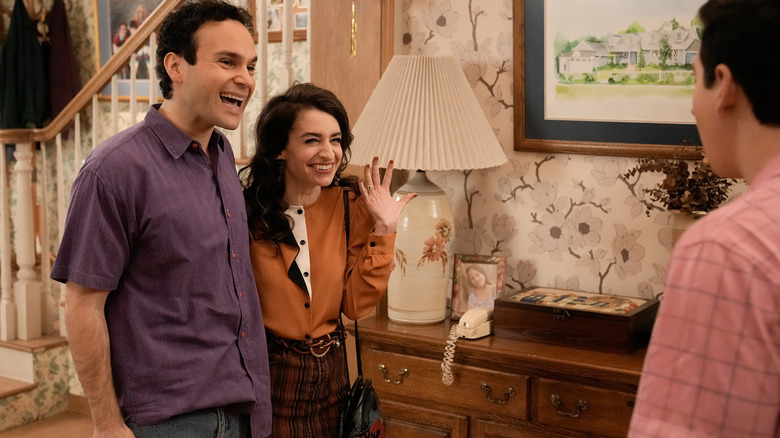 ABC/Scott Everett White
One possible reason for this plot inconsistency between the final episode of "The Goldbergs" and "Schooled" is that, even while shooting "The Goldbergs" Season 10, Episode 22, the show's cast and crew didn't yet know whether or not it would serve as the series finale. "We thought this was just our season finale, but it wasn't," Beverly Goldberg actor Wendi McLendon-Covey told Entertainment Tonight. "It went a different way. But everything happens the way it's supposed to." Plans, then, very well may have changed once the show's end became official.
That said, McLendon-Covey doesn't necessarily think "The Goldbergs" is over for good. She shared that she's open to the idea, for example, of returning for a one-off holiday special or even another spin-off. Barring these possibilities, McLendon-Covey encourages viewers to write fan fiction and continue the story however they may see fit.
With that in mind, then, Barry's storyline may not be over, and his marriage to Joanne could always end as suddenly as it began. For now, though, the way Barry in the "Goldbergs" finale clashes with his character in "Schooled" remains unresolved.