Emma Mackey Is Proud Of Sex Education's Deep Portrayal Of Sisterhood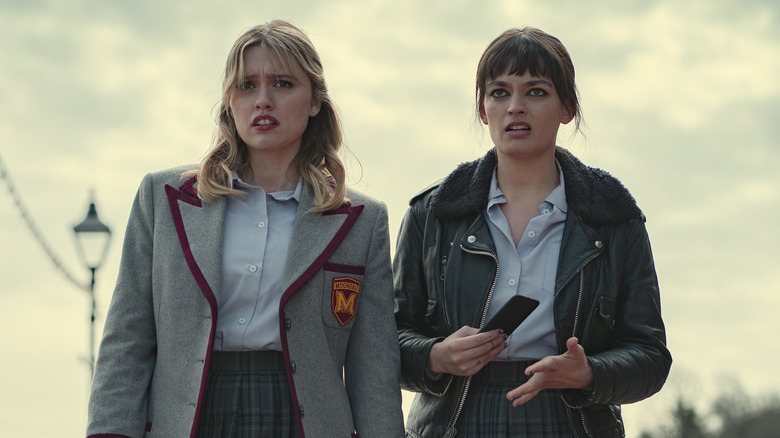 Sam Taylor/Netflix
"Sex Education" is all about interpersonal relationships, whether they're romantic, platonic, or anything in between. Otis Milburn (Asa Butterfield) is still trying to figure life out, but he learns a lot about friendship and love from Maeve Wiley (Emma Mackey). The circumstances of Maeve's life have forced her to take on a lot of responsibility at a young age, but she finds comfort in unexpected places. Maeve eventually comes to terms with the fact that she's in love with Otis, but the character's female friendships are the real star of the show for Emma Mackey. During an interview with Still Watching Netflix, Mackey revealed that she's proud of the way the show portrays the solidarity found in sisterhood.
"I'm most proud of the — it's a double thing, triple thing — but it's the idea of, it's the idea of sisterhood. The way we kind of broaden the idea of sisterhood in a much deeper way, in a really beautiful, nuanced, warm way. And I love Maeve's relationship with Aimee — their friendship is just beautiful," the actor explained to the interviewer before touching on the importance of the other female relationships in Maeve's life. "The idea of sisterhood is something that I'm really, really proud of this season. I think it works really well."
Considering that the series showcases different female relationships, it makes sense that Mackey isn't the only cast member who appreciates that the show portrays all the different sides of womanhood.
Aimee Lou Wood loves that her character celebrates feminism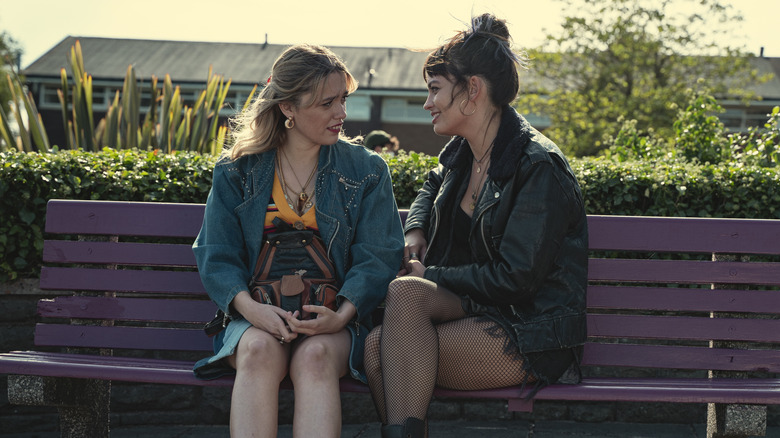 Sam Taylor/Netflix
Season 2 of "Sex Education" is a difficult one for Maeve's friend, Aimee Gibbs (Aimee Lou Wood). Aimee is kind and loyal, so it's heartbreaking to watch her struggle after she's sexually assaulted on the bus. Aimee deals with feelings of paranoia and loneliness before admitting her fears to the girls at school. In a show of solidarity, Maeve, Olivia Hanan (Simone Ashley), Ola (Patricia Allison), Lily (Tanya Reynolds), and Vivienne (Chinenye Ezeudu) help Aimee overcome the anxiety she's been experiencing on the bus. Aimee's issues don't magically disappear, but having their support helps her to overcome what happened. For Aimee Lou Wood, the storyline was instrumental to her character's growth.
"It can't just be resolved — all the girls get on the bus with her and she's over it... She needed to hear someone say: 'It's OK that you're forever changed,'" Wood told The Guardian, elaborating on how the ordeal resulted in some great character development for Aimee. "Especially in Season 3, she goes on this real thing with her feminism, starting to really love her vulva. She becomes a feminist icon without having a f****** clue, and that's what's so funny about her."
Aimee and Maeve's scenes are often funny and poignant, so hopefully we'll see more of their friendship in "Sex Education" Season 4.
If you or anyone you know is in need of help, please call the National Sexual Assault Hotline​ by calling 1-800-273-TALK (8255)​.