The Conners Season 5 Finale Review: Ends On An Average Note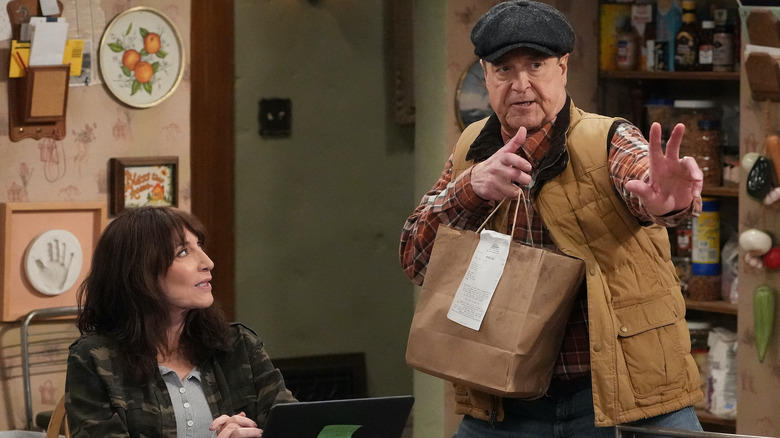 ABC
The last few episodes of "The Conners" have been building up to Mark's (Ames McNamara) graduation. He is that rare thing: a Conner who's motivated. Thus, his mother Darlene (Sara Gilbert) has done everything in her power to make sure he has the best chance in life, including becoming a lunch lady at the college he aspires to attend. Now the big day is rapidly approaching and everyone in the family is thrilled by Mark's success.
The final episode opens on Darlene, Becky (Lecy Goranson), Dan (John Goodman), and his new wife Louise (Katey Sagal) getting ready for dinner in the family's home. Dan tells them how he scored almost, but not quite, expired meat, and Jackie (Laurie Metcalf) and Harris (Emma Kenney) brag about the bounty they snagged at the half-price bakery. Dinner will truly be a glorious occasion. Fortunately, we don't have to eat it, but the Conners always have fun talking about the deals they score, so this part of the episode goes down easily.
Then Darlene brings the conversation around to Mark's graduation. Because of limited space, they only get three tickets. That means Darlene, her husband Ben (Jay R. Ferguson), and Mark's sister Harris (Emma Kenney) are going — there just isn't room for anyone else. It seems pretty obvious that the show has no intention of actually showing the graduation, which is doubtlessly a cost-saving measure, but it still feels organic. While Dan is slightly annoyed that he can't attend the graduation itself, Jackie says they can still do something special, like a surprise party.
Mark wants his father to come to his graduation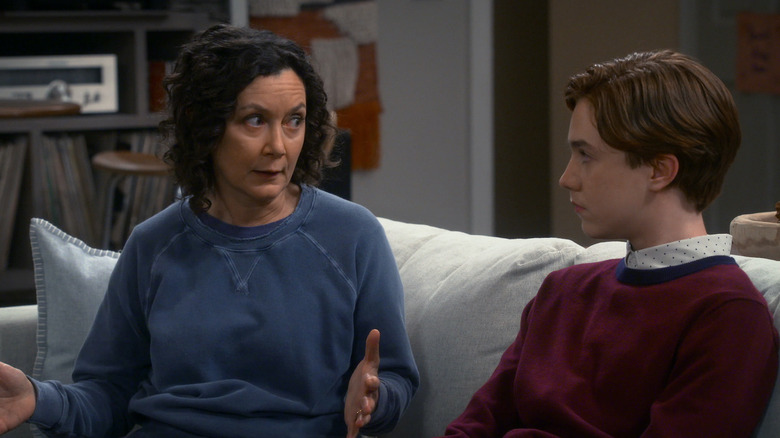 ABC
Ben then comes in with Mark, and Darlene gets upset because she was supposed to pick him up from school. Ben tells her not to worry — he got Mark, and they had lots of fun talking about her behind her back. Then, Mark tells them the good news: he got the highest GPA in the honors society, so he gets to speak at graduation. It's a rare moment in which everyone is happy and proud of someone in the family, and it's truly touching.
But then Mark backs it up with a different sort of news: Harris can't go to his graduation because David (Johnny Galecki) is coming. I don't want to give away too much, but the chances of David coming are slim. He hasn't shown up in quite some time, and, while I don't know what he's doing, I'm betting the man who plays him, Galecki, is busy. So really, this is just being brought up to enable a teachable moment. The group is flabbergasted by his championing of his father, despite the fact that Mark hasn't seen him in four years. Darlene texts David, telling him not to come, but Mark finds out and gets mad at her. He defends his father fiercely, even though he hasn't been there. When Ben comes home, Darlene tells him her frustrations, and he goes to try and fix things.
Ben tries to casually get Mark to spend time with him so he can work the David issue into the conversation. But Mark isn't having it. Mark complains that Ben, who is not his actual dad, is trying to give opinions on said actual dad. Ben tries to smooth things over, but Mark remains obnoxious. Eventually, an angry Ben walks out. Mark has no idea why — he just wants his dad at his high school graduation like everyone else. Why is that wrong? Darlene breaks it down for him: He's romanticizing his relationship with his dad when he already has a guy around who does everything a dad should do. This sequence, despite being predictable, is fairly well done. You can understand Ben's perspective, and, despite his angst, he still manages to get a few sarcastic digs in.
Mark sees the light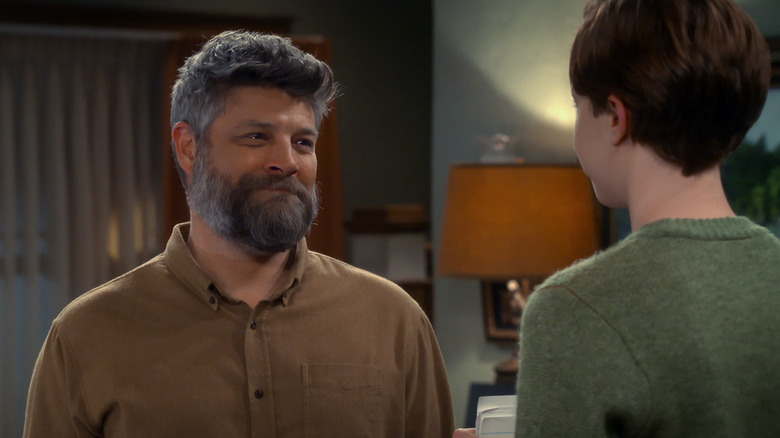 ABC
Later, Mark comes by the house while everyone is watching "Everything Everywhere All At Once." (Cue Dan: "It really is everything, everywhere, all at once ... I have no idea what's going on.") He reads the beginning of his graduation speech, in which he talks about his father — but it quickly becomes clear he's talking about Ben, not David. Ben is touched. This is the resolution we were expecting, but everyone plays their parts so well — especially Laurie Metcalf and Jay R. Ferguson — that it doesn't feel predictable. Moreover, Ames McNamara is good at being earnest, so Mark's apology comes off well. To no one's surprise, David has been uninvited from the graduation, so we don't have to deal with him in this episode.
Fast forward to the party after the graduation. Jackie, Dan, Becky, and Harris get a surprise: Even though this is Mark's graduation, the party also celebrates their do-over graduations. Becky and Harris, who got GEDs, get to enjoy a grad walk for the first time, and Jackie and Dan, whose parents didn't come to their graduations, get to do it with their family around them. Mark hands out the diplomas. Everyone is touched, even the audience. The grand finale finds everyone posing for pictures in a photo booth, including Darlene and Harris kissing Mark and Dan and holding a "Kiss me I graduated" sign with Louise.
This episode of "The Conners" isn't a revelation. The show has done episodes about how awful David is before. This puts a new spin on the scenario after quite some time, though, so there's nothing wrong with revisiting the storyline. The problem is, anyone can predict the outcome. But maybe that's part of the point, you might protest — after all, "The Conners" is a traditional sitcom. But this arc feels more predictable than even most sitcom set-ups.
"The Conners" has such a long history at this point, what with its start on "Roseanne," that it's hard to balance anything new. Still, it often does a better job of it than what happens here. That said, it's still fun to spend time with the Conners. Dan and Jackie in particular have some good zingers in this episode, and Ben and Darlene get to be heartfelt while still keeping things funny. So, while this may not be the best episode of the show, I'll still be tuning in next season for more Conners hilarity.