The Conners: 11 Facts About The Roseanne Sequel Only Big Fans Will Know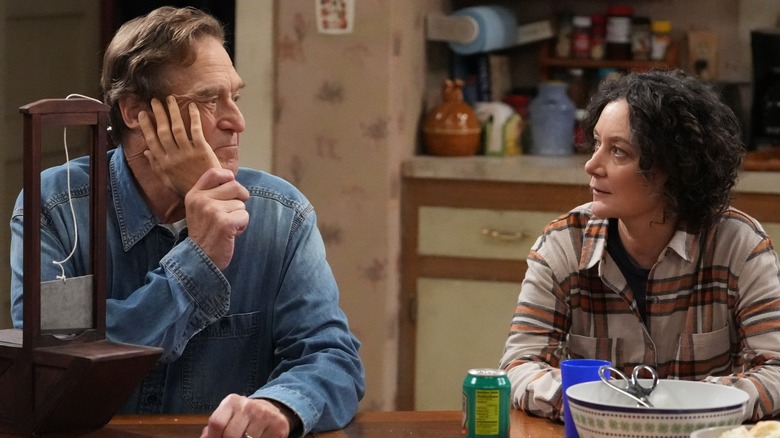 ABC/Eric McCandless
Few mainstream sitcoms have had as complicated of a history as ABC's "The Conners," which premiered in 2018. Fans will know how the show spawned as a spinoff of the 2018 revival of the classic cult comedy "Roseanne," which originally ran from 1988 to 1997 before being brought back with the entire original cast.
"The Conners" picks up where the "Roseanne" revival left off by following the life and times of a blue-collar family as they navigate the complex dynamics of the modern world. With the entire cast having aged significantly from their original incarnations of the characters, it's been fascinating for longtime fans to see how these people have changed over time. Unfortunately, one major character isn't included because of the extenuating real-life circumstances surrounding the show's creation.
It's no secret that Roseanne Barr is a controversial figure, especially after she got into hot water following a series of tweets she posted in 2018. As reported by The Guardian, Barr posted racist and Islamophobic messages at the expense of Obama-era White House advisor Valerie Jarrett. ABC quickly canceled the "Roseanne" revival, explaining that "Roseanne's Twitter statement is abhorrent, repugnant and inconsistent with our values, and we have decided to cancel her show." 
From the ashes of Barr's iconic series came the beginnings of "The Conners," which picks up the torch without Roseanne Barr's involvement at all by killing the character off without much fanfare. Even if you already know all about the complicated origins of this show, there's still a ton you don't know going on behind the scenes. Read on to learn some facts about "The Conners" that only big fans will know.
Was originally going to focus on Darlene, but became an ensemble show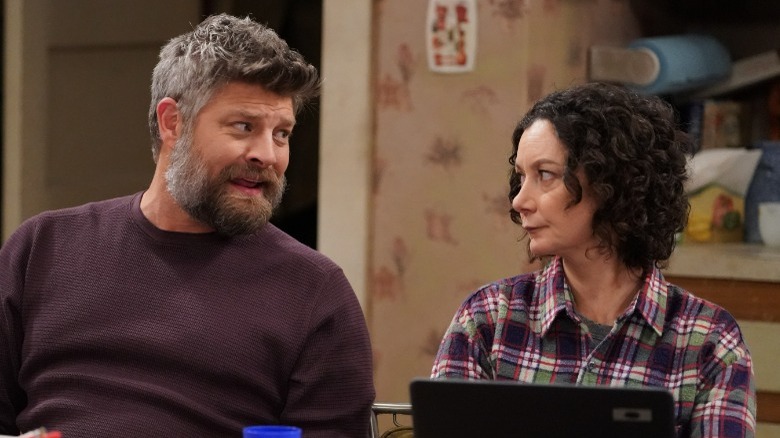 ABC/Eric McCandless
Following the cancellation of "Roseanne" and the whirlwind of chaos that ensued, there was much speculation about what would become of the popular revival series. While it was clear that ABC couldn't keep Roseanne Barr around, they also wanted to find a way to continue with the series in some form without her around. This led to serious discussions of possible reboots, spinoffs, and re-imaginings of "Roseanne" in completely new directions by focusing on other characters from the show.
Before "The Conners" was greenlit, there was talk around Hollywood that a spinoff show was in the works that would be mainly focused on the character of Darlene, Roseanne's daughter from the original and revival series played by Sara Gilbert. Darlene and Roseanne always had an adversarial, combative relationship in the series but it was clear that the two shared more similarities than they'd like to admit. It makes perfect sense that producers would look to Gilbert's character as the natural successor to Roseanne and, if a new show were made, would put the focus on Darlene. 
Ultimately, this did end up happening to a certain extent with the creation of "The Conners," since Darlene takes on a similar role as her mother prior to her off-screen death. However, the show ultimately became more of an ensemble piece rather than revolving specifically around Darlene.
Used same cast and sets as Roseanne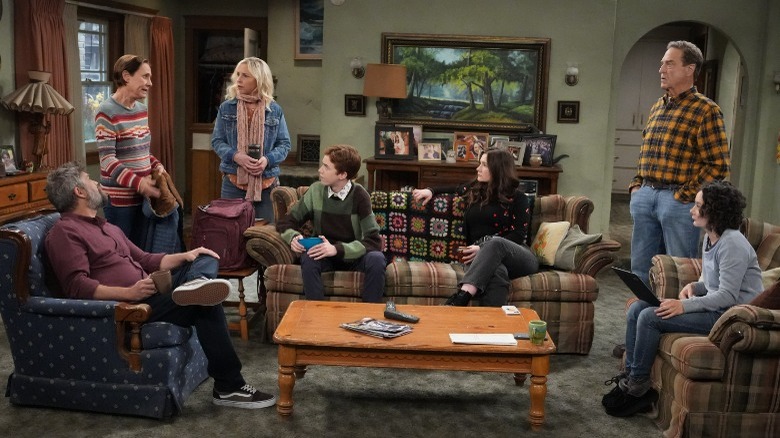 ABC/Eric McCandless
"The Conners" is truly a continuation of everything that came before, including the original run of "Roseanne" and its short-lived revival. Unlike other reboot shows that try to distance themselves from what came before, this ABC series tried its best to bring back everything from the previous series except for Roseanne Barr herself.
When ABC agreed to keep making the show under a new direction, it was presented as a choice to preserve the hardworking cast and crew of "Roseanne." According to Deadline, Roseanne Barr herself touched on this herself in 2018 through her official statement regarding why she accepted ABC's payout to get her out of the series entirely. She said, "I agreed to the settlement in order that 200 jobs of beloved cast and crew could be saved, and I wish the best for everyone involved." 
In this new form as "The Conners," the show brought back the entire main cast of "Roseanne" including John Goodman, Laurie Metcalf, Sara Gilbert, Lecy Goranson, Michael Fishman, and Emma Kenney, to name just a few. This production also brought back the same sets, production crew, and props used by the preceding revival — which itself meticulously recreated everything from the original "Roseanne" series.
John Goodman defended Roseanne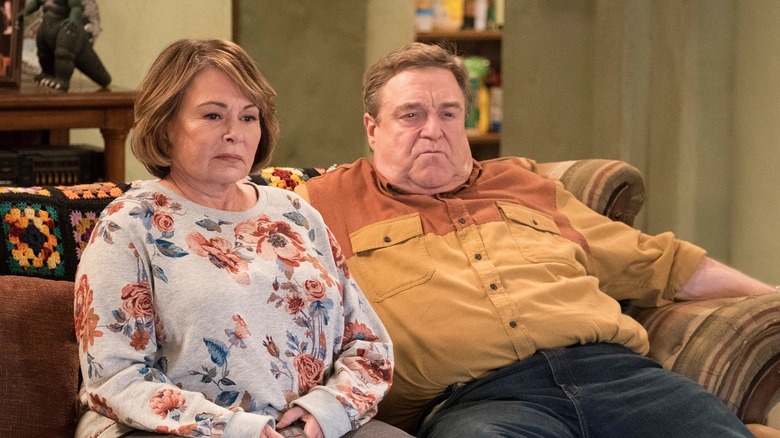 Adam Rose/ABC
While the vast majority of people agreed with ABC's decision to cut ties with Roseanne Barr after her barrage of racist comments online, some notable exceptions remained. One of the people who lamented her loss and openly defended the controversial comedian was none other than her former co-star, John Goodman.
Goodman is a celebrated actor who has appeared in several standout films such as "The Big Lebowski," "Monsters, Inc.," and "10 Cloverfield Lane." During an interview with The Times back when Barr got canned, Goodman shared his gut feelings about his colleague by candidly defending her character. He said, "I know, I know, for a fact that she's not a racist," before adding, "I'll put it this way, I was surprised at the response." 
In response, Roseanne Barr took to Twitter to thank Goodman by saying, "I thank John Goodman for speaking truth about me, despite facing certain peril from producers and network." It shouldn't come as a surprise to fans to see John Goodman stand up for Barr in some form, considering they played onscreen husband and wife for nearly a decade.
A crew member died on set while filming the show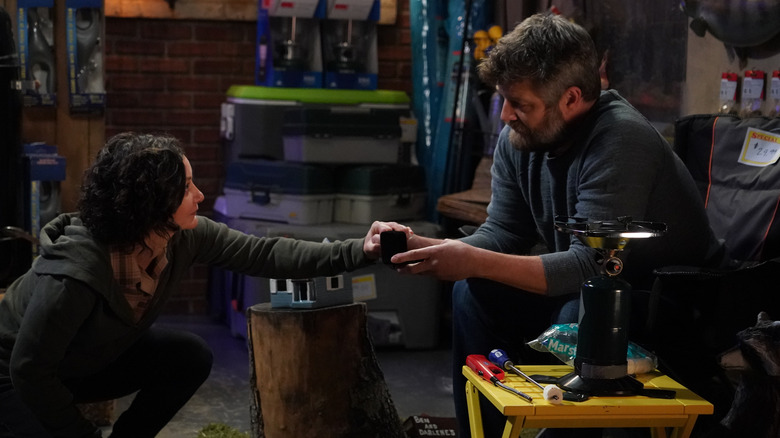 ABC/Eric McCandless
Bad fortune seemed to plague the production of "The Conners" — especially after an on-set tragedy happened during the filming of Season 3 in 2021. In a heartbreaking series of events, a production crew member actually died due to a medical emergency toward the end of filming for the season. Terrel Richmond was a sound engineer and boom operator for "The Conners" who suffered from an unspecified medical event while working on Stage 22 at the CBS Studio Center, which is where the show is filmed.
According to Deadline, paramedics were called but sadly they were unable to resuscitate Richmond on-site and he was pronounced dead at the scene. Werner Entertainment, which produces "The Conners," released an official statement after the crew member's passing that read: "With heavy hearts we regret to confirm that a member of our technical crew suffered a fatal medical event today (March 18). He was a much loved member of 'The Conners' and 'Roseanne' families for over 25 years. As we remember our beloved colleague, we ask that you respect the privacy of his family and loved ones as they begin their grieving process."
Katey Sagal's history with Roseanne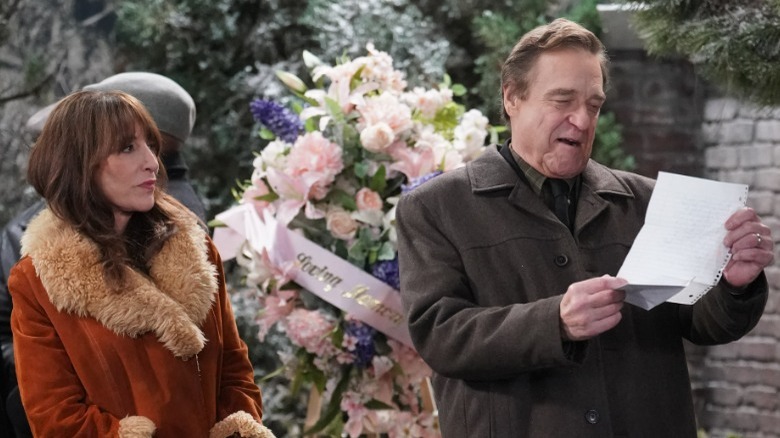 ABC/Eric McCandless
With the hole left by Roseanne Barr's firing, the creators of "The Conners" knew that someone would need to step in to balance out the cast and bring some new blood to the series. To do this, producers decided to bring in a new love interest for John Goodman's character of Dan Conner as a means of replacing Roseanne without imitating her. This required casting someone universally loved with their own history of leading sitcom roles, which is why they chose none other than industry veteran Katey Sagal.
Sagal is a beloved actress with years of experience under her belt in both comedy and drama. Most fans know her best for her role as Peggy Bundy in the iconic Fox sitcom "Married... With Children" as well as her performances as Leela in "Futurama" and Gemma Teller Morrow in "Sons of Anarchy." She seemed like the perfect choice to come in as Louise, an old high school friend of Roseanne who ends up marrying Dan Conners and joining the Conners family. 
However, the history between Katey Sagal and Roseanne Barr goes deeper than most people realize. According to a report from Vulture, Fox producers originally wanted Roseanne Barr for the role of Peggy Bundy when they were first creating "Married... With Children." Luckily, Barr turned down the part, allowing Katey Sagal the chance to take it herself while Barr would go on to create "Roseanne." The rest is history.
Boasts a massive guest cast of famous people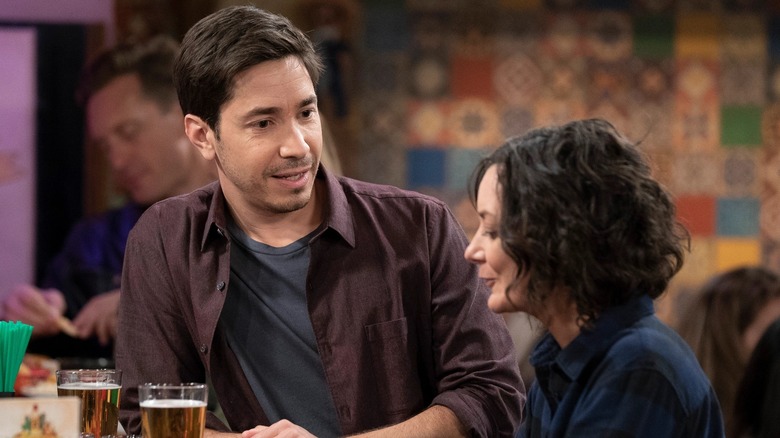 ABC/Eric McCandless
Since its first season in 2018, "The Conners" has continued to be a successful show with both critics and audiences alike. Because of this, the series has attracted lots of extremely talented actors into both recurring and guest roles.
Starting with recurring roles which appear more than once, "The Conners" has cast actors such as Katey Sagal, William H. Macy, Matthew Broderick, Eliza Bennett, Matt Walsh, Christopher Lloyd, and many more. "The Conners" also features even more stars in smaller, one-off parts who don't come back in any significant way. These include performances by Juliette Lewis, Mary Steenburgen, Justin Long, Ozzy Osbourne, Patton Oswalt, Paul Reubens, and Danny Trejo. A handful of these guest roles actually have a history with the show or main cast members, such as Dan Aykroyd, who starred alongside John Goodman in the 1998 sequel film "Blues Brothers 2000."
Features a Shameless reunion with William H. Macy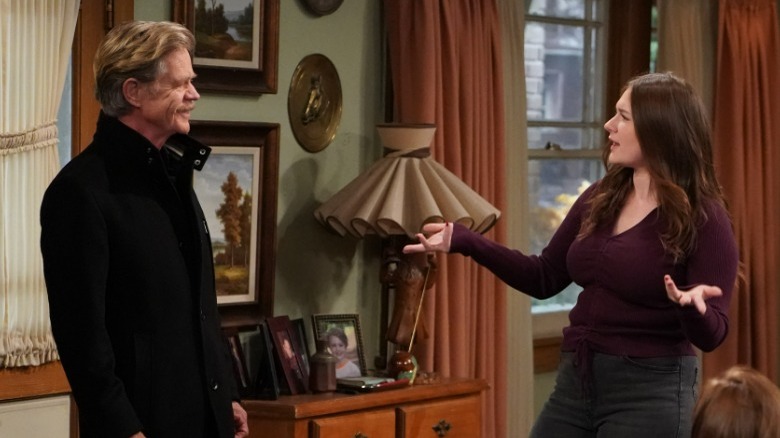 ABC/Eric McCandless
Any connection between "The Conners" and the beloved edgy Showtime series "Shameless" may be surprising to fans of both series, but that's exactly what happened when the show cast William H. Macy in Season 5. In "The Conners," Macy plays the role of Smitty, an old high school friend of Dan's who hasn't been seen or referenced in any way until now.
Macy, of course, is a critically-acclaimed actor who's appeared in countless amazing films and shows such as "Fargo," "Boogie Nights," and "Magnolia." He also became associated with that bizarre college admission scandal back in 2019 alongside his wife, actress Felicity Huffman, but luckily that has nothing to do with "The Conners." 
What's really interesting, however, is that Macy's casting in "The Conners" created an unexpected "Shameless" reunion between him and co-star Emma Kenney. In "Shameless," William H. Macy plays the role of the family's sleazy patriarch Frank Gallagher, while Emma Kenney plays his youngest daughter Debbie Gallagher.
Roseanne Barr didn't like how the show killed her off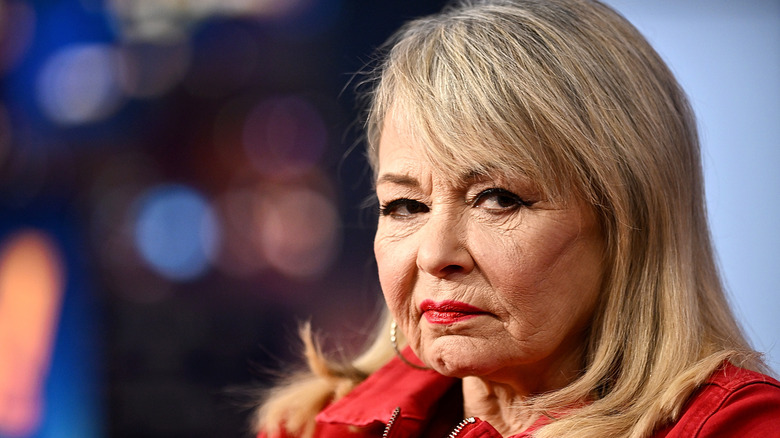 Steven Ferdman/Getty Images
While Roseanne Barr was once the main star of a show named after her, "Roseanne," she's since been completely written out of the entire story thanks to her real-life actions. Fans have expressed mixed opinions about the way Roseanne Conner was killed off in "The Conners," and nobody is more annoyed by it than Roseanne Barr herself. In the first episode of "The Conners," titled "Keep On Truckin'," we are introduced to the Conner family as they're still reeling from the loss of their matriarch after she passed away in the hospital from an opioid overdose.
This shockingly dark and unfunny death is sort of unexpected for audiences since it differs from the more lighthearted nature of the show. Regardless, Roseanne Barr voiced her displeasure with what happened to her on-screen self. 
In an interview with the Los Angeles Times Roseanne said, "When they killed my character off, that was a message to me, knowing that I'm mentally ill or have mental health issues, that they did want me to commit suicide." She followed this inflammatory statement with more by saying, "They killed my character, and my character. And all of that was to say thank you for bringing 28 million viewers, which they never had before and will never see again. Because they can kiss my a**."
If you or anyone you know is having suicidal thoughts, please call the National Suicide Prevention Lifeline​ by dialing 988 or by calling 1-800-273-TALK (8255)​.
Featured a live episode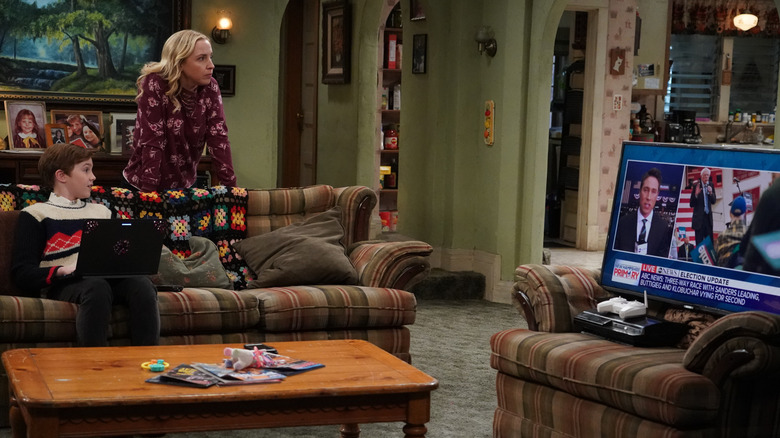 ABC
One of the most fascinating episodes of television in recent memory was the result of "The Conners" experimenting with the format through a live episode, which called on fans to interact with the cast in real time. Episode 12 of Season 2, "Live from Lanford," coincided with the actual 2020 New Hampshire Democratic Primary going on at the time. By getting a bit meta with the show's premise, "The Conners" was able to weigh in on the contemporary political situation while encouraging viewers watching at home to vote.
"Live from Lanford" was still written by their usual cohort of writers but done so with real-world changes unfolding as Mark and Harris watch the Democratic Primary unfold on television. This episode was actually shorter than normal to prevent any chances of something going wrong and to allow flexibility as new information about primary winners came through. 
The 2020 election cycle seems so long ago now that it may be hard to remember that Bernie Sanders ended up winning the New Hampshire primary. According to Deadline, characters from the show weighed in their opinion on this outcome by saying, "They're saying Bernie won it, but there could be some Russian hacking, Putin is in second."
High ratings despite decrease after pivot from Roseanne to The Conners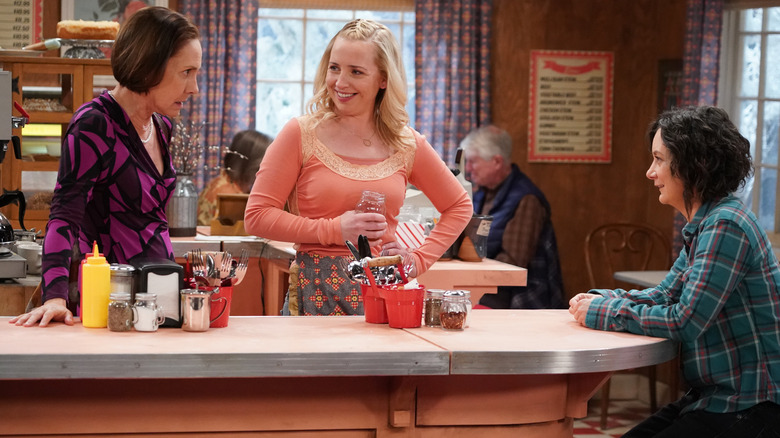 ABC/Eric McCandless
There's no denying that "The Conners" is a huge success for ABC, as it is consistently one of the higher-ranking shows on the network. Upon release, it was generally ranked as ABC's best new comedy and pulled in upwards of nine million viewers at the time. Overall, it's been one of the most-watched network shows to this day, and in 2019 the series officially became the top sitcom for ABC.
Despite being a success, some have pointed out the rating drop between "Roseanne" and "The Conners." When "Roseanne" was revived in 2018, it had extremely high viewership at launch, with roughly 17 million viewers tuning in. While "The Conners" is doing well, it can't possibly compete with the hype that was generated by bringing back a beloved show from the dead after decades off the air. Regardless, the impressive talent and star power behind this popular sitcom will keep "The Conners" afloat as its own thing without the name recognition of its former star as a crutch.
Features an openly trans character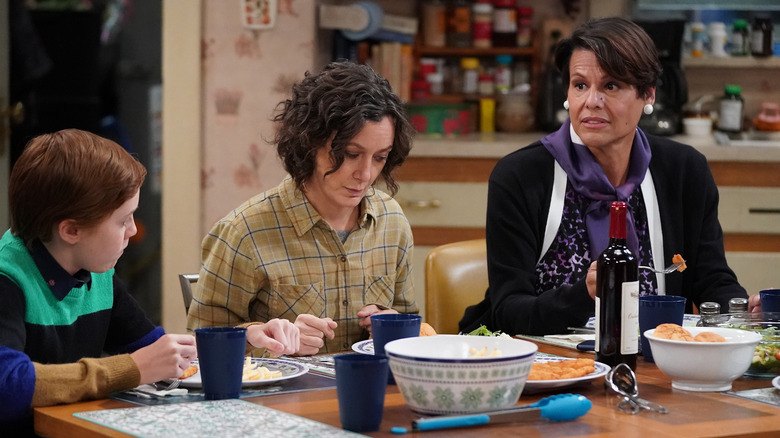 ABC
Since the beginning, "The Conners" has always been an openly and proudly progressive show. This has inspired the showrunners to push boundaries by including things rarely seen in mainstream network television, such as the inclusion of major transgender characters.
Alexandra Billings is a popular mainstream actress who is openly transgender, often incorporating this aspect of herself into the roles she's given. Billings has appeared in other shows such as "Grey's Anatomy" and "Transparent," but her part in the ABC sitcom "The Conners" broke new ground for everyone involved. She plays the role of a transgender supervisor named Robin who mentors Darlene throughout her multi-episode arc. 
Billings spoke with Advocate about how included she felt by her co-stars. She said, "They were really smart about making this show a reflection of who America has turned into, but to throw in a trans character, I thought, took a lot of guts, and they did it with great aplomb, and they were smart about it."