Twisted Metal - Everything You Need To Know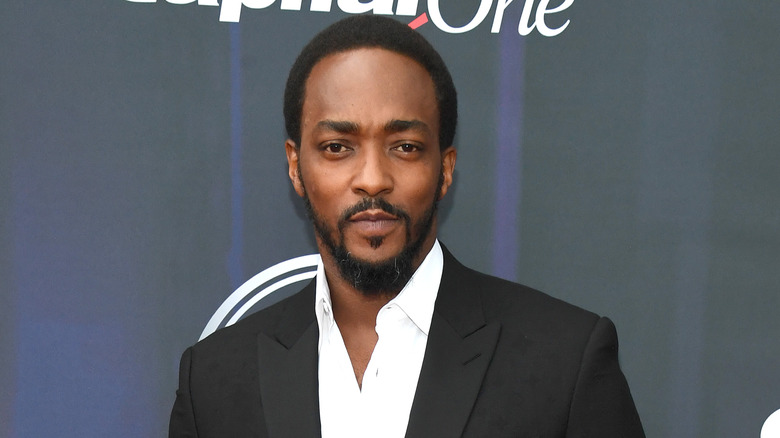 Kevin Mazur/Getty Images
At one point, turning a video game into a TV series seemed like a game-over scenario, but after the success of shows like "The Last Of Us" and "The Witcher," everyone is looking to see which game-based franchise to get the TV treatment will have high scoring results. As far as Peacock is concerned, the streaming service is betting big on "Twisted Metal," a franchise that has players embarking on all sorts of violent vehicular mayhem, similar to some of the chaotic car-related combat seen in the "Fast & Furious," "Death Race," and "Mad Max" films.
When it comes to vehicular combat video games, "Twisted Metal" is undoubtedly a surefire contender for being recognized as a powerhouse of the genre. For years, players have been waging war behind the wheel of heavily weaponized vessels of destruction in every title the franchise has put out since its debut on the first PlayStation console on October 31, 2000. With over a dozen titles released on different platforms over the years, it was only a matter of time before the game got the Hollywood treatment in the form of a TV series. "Twisted Metal" looks to turn up the heat in regards to Peacock's lineup, and from all accounts, the streamer hopes the show will offer subscribers a unique story from some proven players, along with a solid cast of talent bringing the high-octane thrill ride to life lead by Marvel Cinematic Universe all-star Anthony Mackie.
While the idea of a "Twisted Metal" series may seem strange at first glance, there are several things potential fans should know that may just get them excited to witness the live-action take on the digital demolition derby.
When will Twisted Metal be released?
While it may seem like the action-comedy series based on the popular vehicle-based combat video game exploded on the scene out of nowhere, some might be surprised to learn that the "Twisted Metal" series has been in the works for several years, with IGN reporting in May 2019 that the show had moved from merely being an idea to making its way to the advanced development phase. It was later disclosed that the show was being developed for Peacock in February 2021, with fans getting the great news that the show was getting the official order from the streamer in February 2022. And once it was decided to go big on the long-running video game property, it didn't take long to start fitting the franchise for its first foray into the high-paced world of streaming. 
According to Film New Orleans, production began in the Louisiana city on May 23, 2022, and a tweet from showrunner Michael Jonathan Smith revealed that shooting had wrapped on the first season on August 27, 2022. With the first run tuned up and ready to rev its engines, "Twisted Metal" will race onto the small screen so Peacock subscribers can strap in for all the fun-filled carnage starting on July 27, 2023.
What is the plot of Twisted Metal?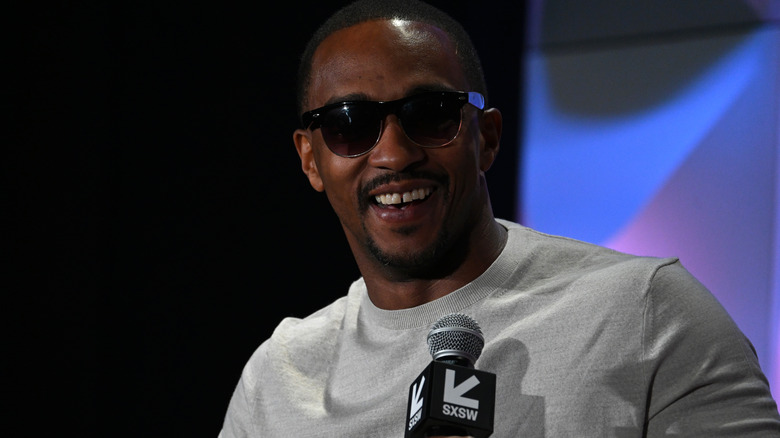 Amanda Stronza/Getty Images
When it comes to the story, the narrative aspect of the games hasn't always been the "Twisted Metal" franchise's strongest highlight, but each title does contain its own unique storyline, all of which revolve around a similar plot involving an annual tournament of vehicle-based combat where the winner is granted whatever the champion desires by the host. While it is generally known that to the victor goes the spoils, when the dust settles on the onslaught of chaotic car wreckage the ill-fated contest inevitably comes with, things don't always have a happy ending, and players learn the "be careful what you wish for" lesson. In addition, throughout each title's campaign, dark humor is littered throughout all of the high-octane action.
As far as the story for the series goes, it doesn't seem like the action-comedy series is sticking too close to any titles in the franchise, and instead, according to Peacock, the show is based on an original take from the dynamic duo responsible for the "Deadpool" movies, Paul Wernick and Rhett Reese, which was written by "Cobra Kai" scribe Michael Jonathan Smith. Their "Twisted Metal" take follows John Doe (Anthony Mackie), a down-on-his-luck outcast with amnesia and a mouth louder and bigger than his exhaust port who gets an opportunity to change everything. The only thing is there is a catch of post-apocalyptic proportions. He must drive across a villainous vehicle-ridden wasteland teeming with bloodthirsty maniacs to securely deliver a package with mysterious contents.
Who is in the cast of Twisted Metal?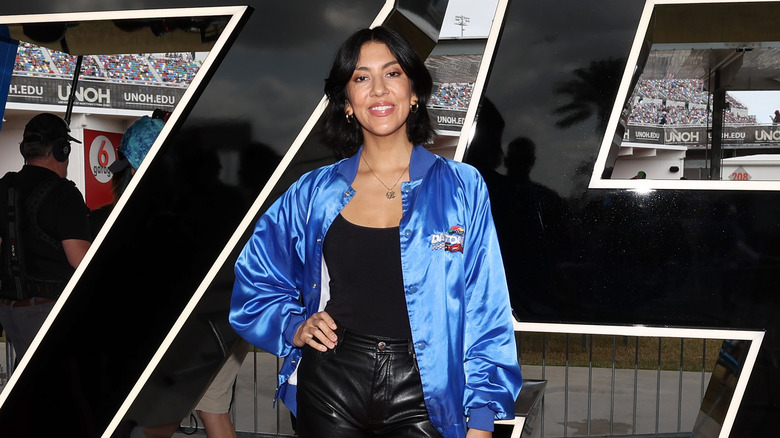 James Gilbert/Getty Images
In September 2021, it was revealed that Anthony Mackie would be leading the way for the action comedy Peacock series. The actor, known for his roles in "The Banker," "Altered Carbon," and the MCU, will be playing the role of John Doe, a wise-cracking milkman with amnesia who gets the chance to change things for the better should he survive the catastrophic car combat that awaits him during his game-changing assignment.
Later, Deadline announced in May 2022 that "Brooklyn Nine-Nine" actress Stephanie Beatriz and "Divorce" star Thomas Haden Church would join Mackie in the show's lineup. Beatriz will take on the part of Quiet, an unstoppable car thief with killer instincts and a taste for vengeance who accompanies John Doe on his mission. Church will play the carefully calculated and charismatic Agent Stone, a ruthless lawman who relentlessly enforces justice in the post-apocalyptic wasteland John Doe is set to ride through. Deadline also reported in May 2022 that "Scream" franchise legend Neve Campbell would be playing the character Raven on the series.
A familiar face from the games that will make the jump to the small screen is none other than Sweet Tooth, the clown-faced menacing maniac fans of the franchise have become all too familiar with over the years. According to Deadline, All Elite Wrestling star Samoa Joe will be playing the character, but the voice of the notorious "Twisted Metal" frontman will be handled by renowned comedic actor Will Arnett. Other cast members include "Mayans M.C." star Richard Cabral as Loud, "The Tomorrow War" actor Mike Mitchell as Stu, and Chloe Fineman from "Saturday Night Live."
Who is executive producing Twisted Metal?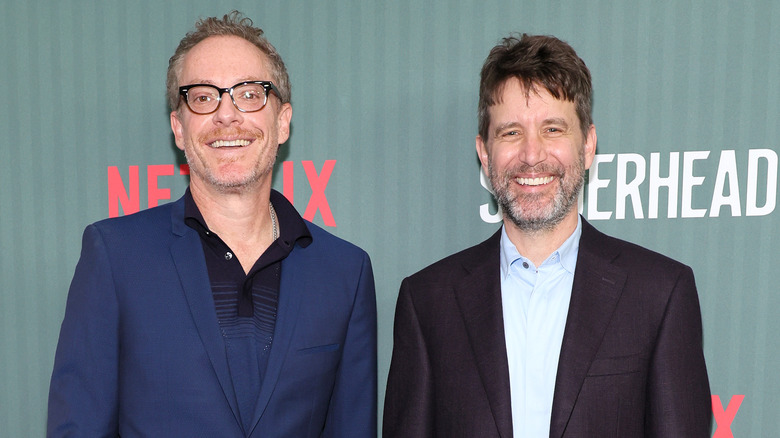 Dia Dipasupil/Getty Images
In terms of who is in the driver's seat for the Peacock show, fans should rest assured there are several proven players involved at the highest levels. For one thing, the "Twisted Metal" series is a project under the Sony Pictures Television banner, whose previous efforts in turning a video game into a TV show resulted in HBO's "The Last of Us." Of course, this worked out pretty well in terms of acclaim and viewership. Universal Television and Playstation Productions are also driving the project.
According to a report from Deadline, Will Arnett will serve as executive producer in addition to voicing Sweet Tooth on the video game-based series. He and Marc Forman, also an executive producer, secured the rights to "Twisted Metal," kicking the TV adaptation into gear via their Electric Avenue Production Company.
Alongside Arnett in the executive producer role will be Paul Wernick and Rhett Reese, the pair that wrote the "Deadpool" films and came up with the original take for the show. Michael Jonathan Smith, whose credits include "Cobra Kai," is not only the writer and showrunner, but he will also serve as one of the executive producers. And Anthony Mackie will be taking on executive producer duties as well.
In April 2022, Deadline revealed that Kitao Sakurai, known for his work on "Bad Trip," would be serving as yet another executive producer. Others taking on the position include Carter Swan, Asad Qizilbash, Herman Hulst, Jason Spire, and Peter Principato.
Is there a trailer for Twisted Metal?
A full-length trailer has yet to debut, but Peacock did release a brief tease of what's to come on April 28, 2023. The teaser doesn't reveal much except introduce viewers to Anthony Mackie's milkman persona. While he definitely demonstrates a rugged and serious demeanor, he isn't afraid to have a little fun along the way, as evident from his music choice. Viewers might have expected some thrash metal or heavy rock n' roll to blaze out of the stereo when he put the "Road Mix" CD in the player, but they were instead met with quite the surprise when "Steal My Sunshine" from Len played while Mackie jammed out like a champ to the catchy tune. 
After turning the key in the ignition to his tweaked-out "Twisted Metal" modded Subaru complete with "Got Milk" bumper sticker and dual matching machine guns on both the driver and passenger sides, John Doe takes off down the road surrounded by flames and gunfire. But before it ends, fans get a quick glimpse of the iconic ice cream truck from the franchise, complete with an assortment of blood-soaked weaponry and a first look at Sweet Tooth. 
So far, it seems like "Twisted Metal" is gearing up to be an experience that fans of the franchise and fun-filled mayhem will most likely want to keep it on their radar when it releases on July 27, 2023.
What will the Twisted Metal show be rated?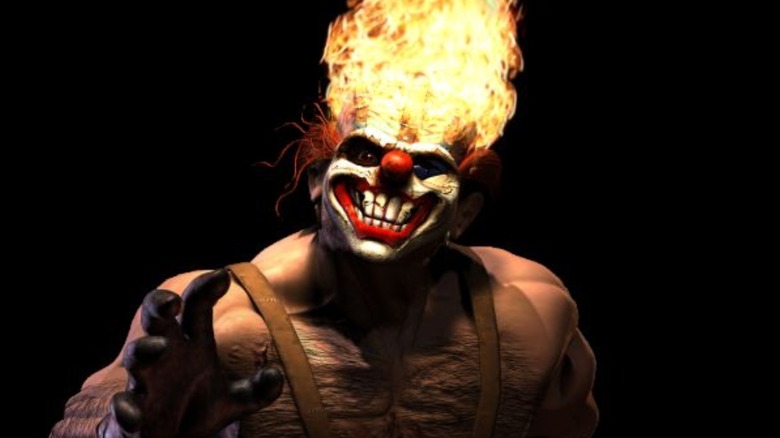 Incognito Entertainment
"Twisted Metal" is often described as "Mortal Kombat with cars" -– even by its original development team (via Mel Magazine). And it's easy to see why. Both video game franchises (which debuted only three years apart from each other) are each known for their "exxxtreme" 90's aesthetic, their interesting and visually distinct character designs, and their violent, over-the-top gameplay. The only difference is that one has players driving cars, and the other has players doing supernatural martial arts.
To be fair, while the original PlayStation games were all rated "T for Teen" by the ESRB, it was still very violent, despite having a pretty campy and cartoon-ish tone overall. In fact, in the first few games you even could bloodily run over pedestrians, protesters, and (most satisfactorily) mimes. It wasn't until PS2's "Twisted Metal: Black" that the series got rated "M for Mature," due to its more violent and graphic nature (mainly due to the game's gorier cutscenes). Most subsequent games in the franchise — including the 2012 reboot for the PS3,the final game in the series so far — were also rated M.
So, with that, the teaser trailer for the "Twisted Metal" streaming series on Peacock has recently confirmed that the show will be TV-MA. But it also seems, based on the trailer, that the streaming series will have a much more campy and comedic tone –- close to the original PlayStation games — rather than the grim-dark gravitas of "TM: Black," which could be an interesting mix.
John Doe was the name of one of the drivers in the games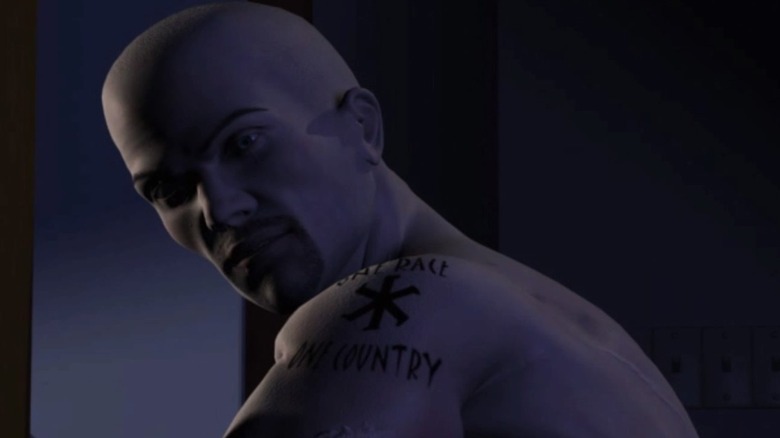 Incognito Entertainment
Not much is known about Anthony Mackie's character — known only as "John Doe" — in Peacock's "Twisted Metal" streaming series. Will Doe be the kind of unfortunate "audience surrogate" character that many video adaptations seem hellbent on including, ala Cole Young from the 2021 "Mortal Kombat" reboot or Alice from the original "Resident Evil" films?
Luckily, there is a character from the "Twisted Metal" games named John Doe, who also has amnesia. While only appearing in one game (2001's "Twisted Metal: Black" for the PS2), John Doe drives the car Roadkill. In that game, Doe is a bald, tatted white nationalist terrorist who doesn't remember his past, and who joins the Twisted Metal tournament to find out what his true identity is. His wish is granted, and it turns out he was an undercover FBI agent infiltrating a terrorist cell. Unfortunately, he is killed right afterward.
However, besides the name, the amnesia backstory, and similar-looking vehicles, there aren't many other similarities between John Doe from the "Twisted Metal: Black" game and the Peacock streaming series. For one, it's unlikely Mackie's character would've had much success going undercover in a white supremacist terror cell. Their personalities also differ, as Doe from "TM: Black" is very serious and brooding, while Mackie's Doe is described as being wise-cracking and sarcastic. Having said that, there's no reason that the show couldn't be taking some dramatic license, with Mackie's Doe having also gone undercover in some different terrorist group before losing his memory. 
Other game characters confirmed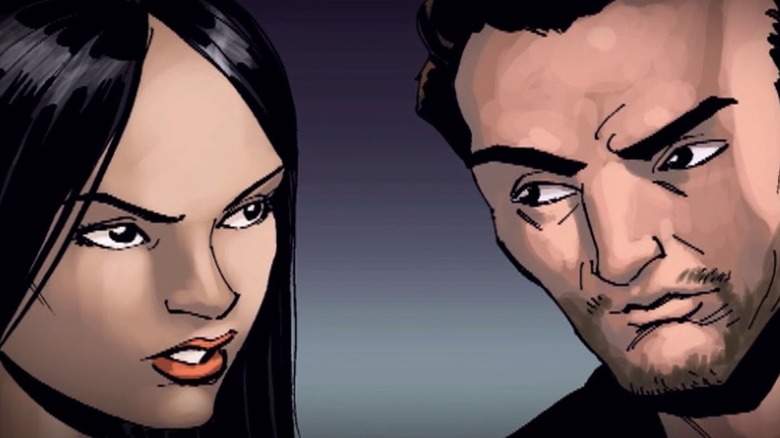 Incognito Entertainment
One of the defining characteristics of the popular "Twisted Metal" video game franchise is its vast array of wacky and unique characters driving the various over-the-top vehicles you control in the games. Now, while a few characters from the games have already been confirmed in recent press releases –- such as Sweet Tooth played by Samoa Joe and Will Arnett, Raven played by Neve Campbell, and Agent Stone played by Thomas Haden Church -– many more have yet to be officially announced.
However, looking on IMDb, we can see that the full cast includes many fan-favorite (and not so fan-favorite) drivers from the "Twisted Metal" games that who be making an appearance in the Peacock series, one way or another. This includes police officer Carl Roberts (Michael Carollo) and his fellow officer sister Jamie Roberts (Chelle Ramos), who drive the vehicles Outlaw 1 and 2, respectively; Mr. Slam (Creek Wilson), who operates a giant construction vehicle that, well, slams people to death; Granny Dread (Peg O'Keef), an old lady who drives a battle-ready jeep; a member of Dollface's army (Ginger Cressman), which presumably means Dollface herself will make an appearance at some point; and Preacher (Luciano Acuna Jr.), a wicked priest who, in "Twisted Metal: Black," has a special attack where he uses his followers as suicide bombers.
To be clear, there might be even more game characters still not listed on IMDb, or some vehicles that may be getting different drivers from the games. But either way, the more game characters, the merrier!
The series isn't based on any one game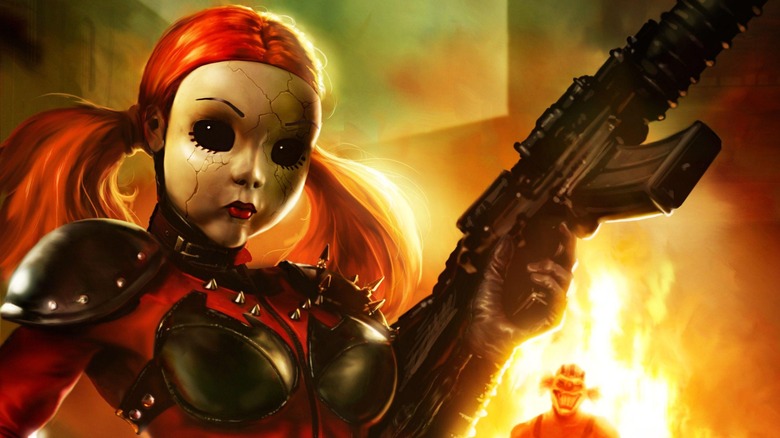 Sony
The success of the original "Twisted Metal" game on the first PlayStation spawned several sequels, spanning three console generations. During that time, there were also a lot of corporate upheavals leading to different development studios taking on the property over the years, which inevitably led to multiple conflicting timelines, aesthetics, and even essential game mechanics.
And, based on what little information we know about the Peacock streaming series, it seems like it's going to be taking different aspects from the various game continuities and mashing them all together. For instance, there is obviously a lot of influence from the gritty PS2 reboot "Twisted Metal: Black," especially the show utilizing its now-iconic look for Sweet Tooth. There are also a lot of "TM: Black" characters announced, such as Neve Campbell's Raven, who made her debut in that game (so far, her only appearance). And, as mentioned before, it seems that Anthony Mackie's John Doe might be loosely based on the "TM: Black" version of Roadkill.
However, many classic "TM2" characters have also been revealed, such as the "TM2" version of Hammerhead driven by the dim-witted Mike and Stu (played by Tahj Vaughans and Mike Mitchell, respectively), and Carl and Jamie Roberts, who drive the police cruiser Outlaw in the original games. Even Granny Dread is from the ill-fated "TM3."
Furthermore, the fact that there's someone listed as "Dollface Army" on the IMDb page means that the show will probably have some gangs, a concept introduced in the 2012 PS3 reboot.
The poster gives us our first full look at Sweet Tooth's ice cream truck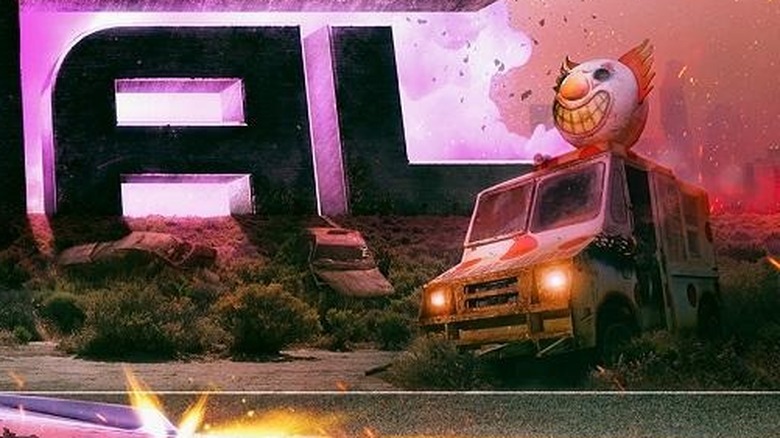 Peacock
Despite premiering soon on the Peacock streaming service, there hasn't been a lot of marketing material for the upcoming "Twisted Metal" series adaptation. So far, all we've seen is one short teaser (which could also mostly be footage that isn't even in the show itself) that just shows off Mackie's John Doe character driving his car, some overhead shots of rundown post-apocalyptic vistas, and a brief look at Sweet Tooth and his iconic ice-cream truck.
There's also a pink-tinged teaser poster which doesn't reveal much more than the teaser did, besides another shot of Anthony Mackie as John Doe sitting in his souped-up weaponized car, and a large render of the stylized metallic title logo.
Luckily, one thing that the poster does reveal is a full view of Sweet Tooth's ice cream truck driving in the background. Now, it's true the teaser does show the truck — briefly — but it unfortunately only shoots it partially it from the back, and doesn't ever give a full view of it. For instance, we don't see the classic giant clown head on the roof, as we do on the poster.
It's also made clear that the fire on top of the giant clown head is made out of metal, like it is in "Twisted Metal: Black" and every subsequent sequel. In the original PlayStation games, the clown head was literally on fire (as seen in the classic cover for the original game).
The mysterious package could be an alien device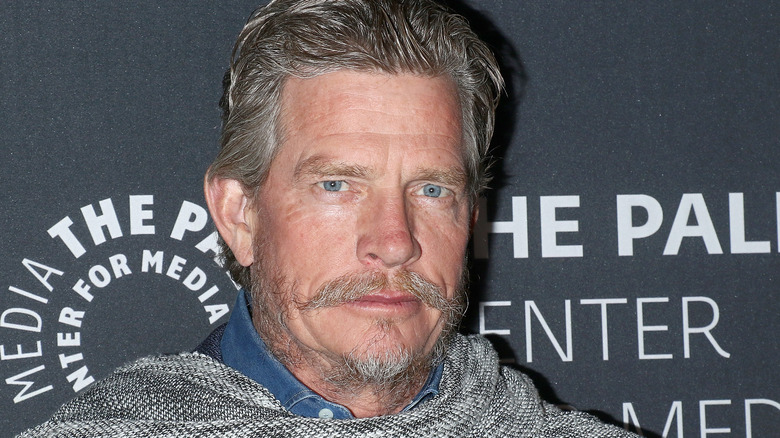 Jim Spellman/Getty Images
One of the most interesting aspects of the "Twisted Metal" games –- which the Peacock streaming series so far doesn't seem to share – is the fact that each contestant joins the deadly "Twisted Metal" tournament to be granted a magical wish of their choosing (though it usually ends up with a Monkey Paw-esque twist). Furthermore, many drivers also have intertwined destinies –- not unlike Scorpion and Sub-Zero from "Mortal Kombat" or Ryu and Ken in "Street Fighter" -– where they are rivals going after similar things, but only the character you play as gets the prize in the end.
In the first "Twisted Metal" game, multiple characters are after a secret iron box, and their wish when you beat the game is to retrieve it for their respective governments. The device itself turns out to be a black box from a downed airplane which was shot down by aliens, thus proving the existence of extraterrestrial life. One of the characters seeking the black box is M16 secret agent Stone, driving the red sports car Crimson Fury. In the Peacock series, Thomas Haden Church is playing Agent Stone, or at least a version of the character.
Could it be that the secret device that Anthony Mackie's John Doe is driving across the post-apocalyptic Divided States of America is, in fact, that black box from the first "Twisted Metal" game? If so, it would be one heck of an Easter egg!