The Rookie Cold Open That Fans Want First-Time Watchers To See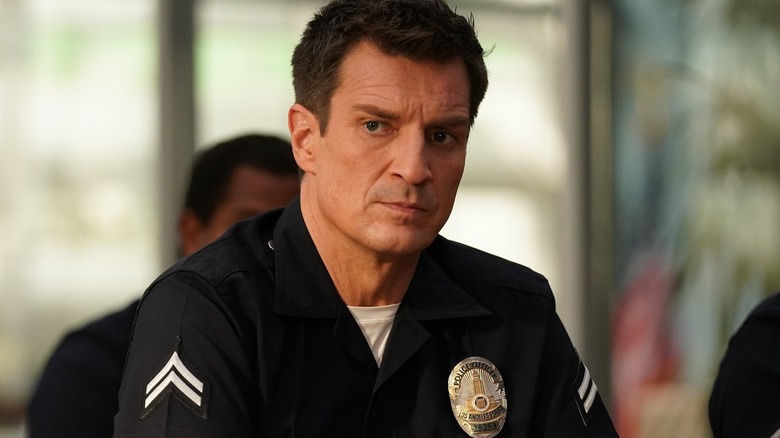 ABC/Gilles Mingasson
In our current television landscape, where limited runs and shorter seasons are increasingly the norm, it's encouraging to know that "The Rookie" is still doing well. The ABC cop drama featuring Nathan Fillion as John Nolan, a construction worker in his 40s who decides to become a cop, is currently nearing the finale of its fifth season. The already greenlit Season 6 will contain its 100th episode, and the show has even garnered enough attention for a spinoff. Fans of "The Rookie" love to talk about the show, and they often take to social media to discuss their favorite moments, including the cold opens.
While a few episodes start by continuing the ongoing story, most cold opens are one-off jokes or incidents in the life of our favorite Los Angeles police officers. A recent Reddit thread from u/banana2000001 asked fans which was their favorite cold open, mentioning the one where Tim Bradford (Eric Winter) interrupts his football game on his night off to stop a high-speed chase. Lots of fans also enjoyed that scene, and they mentioned a few others, like Lucy Chen's (Melissa O'Neil) accidental "American Idol" audition, the gender reveal party, and Kelly Clarkson's cameo. But there was one that many people loved watching above all others: The "Daddy Cop" cold open from Season 5, Episode 13. One Redditor even went as far as saying that this was a great advert for the show.
Fans can't stop singing the Daddy Cop song
From the very first comment on u/banana2000001's thread, fans mentioned the "Daddy Cop" cold open as one of their favorites. As Nolan and Celina Juarez (Lisseth Chavez) pull over a driver, they stop in front of a house with an open garage door. There's a band practicing inside, and as Nolan approaches the car, the band starts riffing on a new song. "Is that a baton in your pocket or are you just happy to see me," the singer croons. The clip ends with Juarez joining in with the catchy hook: "Arrest me, but make it sexy."
"I also love Daddy Cop. I can't get that song out of my head," u/Gold_Inflation_9406 said. Others, like u/ILikeFPS, agreed, saying, "Daddy Cop is the best one by far it's so good." User u/Kwilly462 took their admiration a step further, not only calling it "without a doubt the best cold open the show has done," but adding: "That's a scene you show somebody that you wanna try to persuade them to watch the show." That statement was truer than they realized, as u/sussudiio replied, "I have done exactly this!"
The song was written and performed by singer-songwriter Zander Hawley, credited as the character Rodge. Hawley's music has been used in the show several times before — he is the son of "The Rookie" showrunner Alexi Hawley. If you want to sing the song yourself, there's even a karaoke version available.