Kelly Clarkson's Cameo On The Rookie Had Fans Going Wild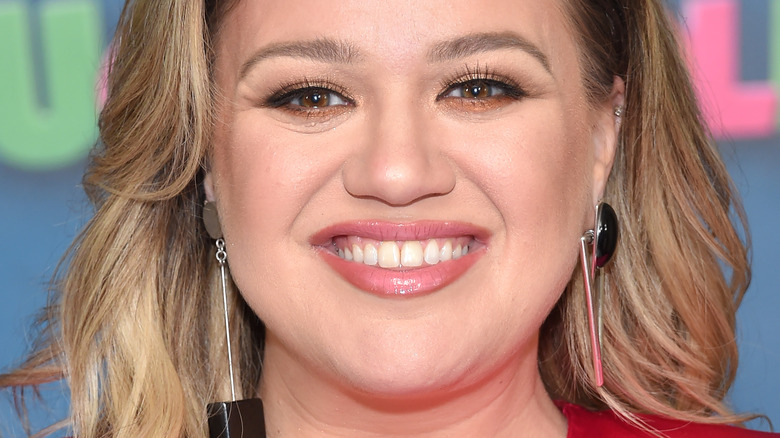 DFree/Shutterstock
Since its premiere in 2018, ABC's "The Rookie" has welcomed its share of celebrity guests, from Pete Davidson to Ryan Seacrest (via IMDB). The recently aired Season 5, Episode 12 ("Death Notice") adds to this ever-growing list with a brief yet buzz-worthy cameo by Kelly Clarkson, who is a massive fan of the series.
When Clarkson turned 40 in April 2022, the cast of "The Rookie" gave her quite the birthday present. Not only did Nathan Fillion and his co-stars make a surprise appearance on "The Kelly Clarkson Show," they also invited her to shoot a scene for "The Rookie." Clarkson was overjoyed to have such an opportunity, but she was also extremely nervous. After all, she's admittedly not an actress.
Longtime "American Idol" viewers will remember her cringy rom-com musical "From Justin to Kelly," in which she stars alongside runner-up Justin Guarini. On her talk show, she called the film a "contractual obligation." She can also be spotted in "Sabrina the Teenage Witch" Season 6, Episode 20 ("The Whole Ball of Wax"), in which she plays an uncredited girl walking behind Melissa Joan Hart.
Much to Clarkson's relief, her scene on "The Rookie" is a quick one with minimal lines. The episode opens with her getting into an elevator at St. Stephen Hospital holding a bouquet of flowers and balloons. As the doors begin to close, John Nolan (Fillion), Angela Lopez (Alyssa Diaz) and other members of the LAPD, all dirty and scraped up, crowd in. Lucy Chen (Melissa O'Neil) tells a noticeably uncomfortable Clarkson, "I love your music."
The cameo was a momentous occasion for Clarkson, but how did viewers feel about it?
Fans and cast members alike praised Kelly Clarkson's The Rookie cameo
Sometimes, audiences react negatively to celebrity appearances, a prime example being Ed Sheeran's "Game of Thrones" cameo (via People). They feel a famous face detracts from the show's storyline. However, "The Rookie" fans welcomed Kelly Clarkson with open arms and reacted positively to her guest spot.
On Twitter, @MissWinter29 excitedly posted, "Aaaaagghhh! Kelly Clarkson on #TheRookie!" @CauseRSisEpic said, "Kelly Clarkson on The Rookie is one of my fave things to happen on this show!" @moviestan18 referred to the singer as "QUEEN KELLY."
Many enjoyed the fact that it's Melissa O'Neil's character of Lucy who compliments Clarkson. It's a full-circle moment because, in Season 2, Episode 16 ("The Overnight"), Lucy accidentally finds herself auditioning for "American Idol" in front of Katy Perry, Luke Bryan and Lionel Richie. In real life, O'Neil took home the title of "Canadian Idol" in 2005 (via E! News).
It's clear that fans of "The Rookie" enjoyed Clarkson's cameo, but she also received praise from the cast. Eric Winter, who plays Tim Bradford, said, "This is really special for us that Kelly's here, to be able to share this scene with Kelly and show her how fun we can be, it's been a real treat."
Nathan Fillion shared his belief that Clarkson's nerves were for naught: "Well, she said she was super nervous. I don't know that I entirely buy that. I see what she does on a daily basis with her TV show..."
As for Clarkson, despite the stressful experience, it was a once-in-a-lifetime opportunity that she said made her love "The Rookie" and its stars even more.