The Transformation Of Steven Yeun From The Walking Dead To Netflix's Beef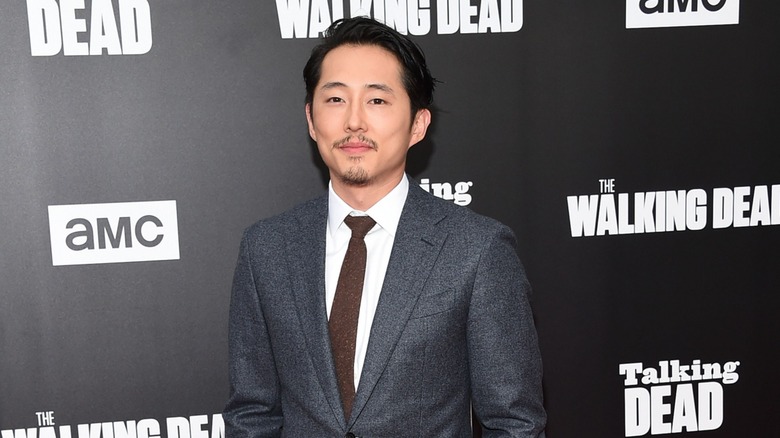 DFree/Shutterstock
There are few more reliable markers of quality that a movie or TV show can boast of nowadays than the presence of Steven Yeun. In addition to having established himself as a proper, full-blown movie star — complete with all the charisma and magnetism of your average A-list Hollywood leading man — the South Korean-born performer has also proven again and again that he is one of the most brilliant actors working today. Whether it's in a heady arthouse psychological thriller, an emotional indie family drama, a loopy satirical comedy, or an intense blockbuster horror flick, Yeun always manages to give every project exactly what it needs to sing, with performances that can range from showy to subtle without ever losing a fundamental element of complexity and truthfulness. And, perhaps because great filmmakers understand how much he can bring to the table, it seems that Yeun has made a habit of working on nothing but interesting and worthwhile projects.
The years since Yeun's breakout on AMC's "The Walking Dead" — which, incidentally, occurred just a year after he moved to Los Angeles and snagged his first few screen acting credits — have seen him play a wide array of characters in projects of various production scales and degrees of popularity; they have also been marked by a booming voice acting career, a steady rise to the status of internet boyfriend, and a glass ceiling-breaking Academy Award nomination. It's been quite a trajectory, and well worth looking back on.
The Walking Dead was an early golden opportunity for Steven Yeun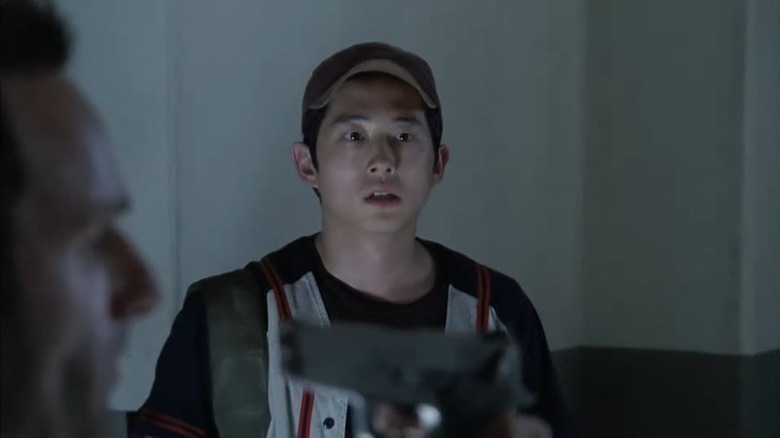 AMC
Steven Yeun was born in Seoul, South Korea, in 1983, and moved with his family to Saskatchewan, Canada, in 1988, before moving again to Taylor, Michigan, and then in-state to Troy, where he spent his teenage years and eventually graduated high school. Although he got a bachelor's degree in psychology from Kalamazoo College in 2005, he discovered a passion for acting in college and ended up moving to Chicago and joining The Second City comedy club, in which he spent four years.
In 2009, Yeun moved to Los Angeles; just a year later, he auditioned for and scored the part of Glenn Rhee on AMC's horror drama series "The Walking Dead." Yeun, who was already a big fan of the eponymous comic book series, turned out to be a perfect fit for Glenn, "The Walking Dead'"s resident quick-witted charmer and supply runner. His effortless likability and enormous sensitivity as a performer helped make Glenn a huge fan favorite from very early on in the show's run, and, as if that weren't enough, "The Walking Dead" turned out to be a greater source of exposure than anyone expected, becoming one of the most-watched cable TV series of all time. As a result, by the time Yeun left the show in 2016, he had been catapulted to mainstream superstardom in the United States and around the world.
He branched out momentously into voice acting and film roles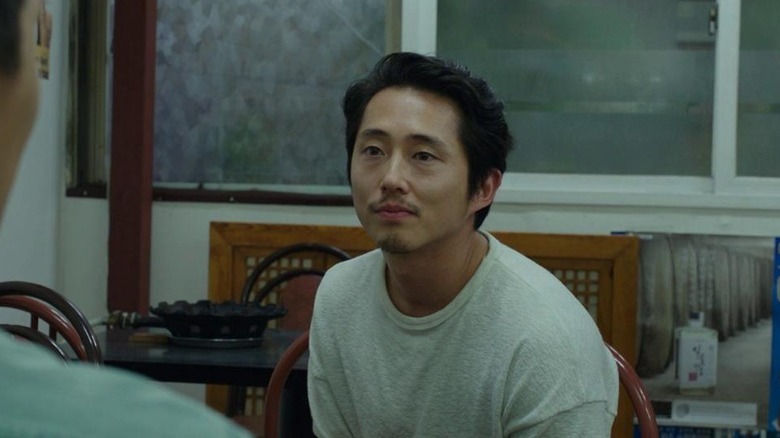 CJ Entertainment / Well Go USA Entertainment
Although Glenn Rhee left "The Walking Dead" on Season 7, Steven Yeun's bow on the show was only the beginning of his career. For starters, after breaking out with "TWD" in 2010, Yeun embarked on a fruitful career as a voice actor, beginning with an iconic guest spot as Wan, the first Avatar, on Season 2 of "The Legend of Korra," which was followed by roles on "Voltron: Legendary Defender," "Trollhunters: Tales of Arcadia," "Stretch Armstrong and the Flex Fighters," "Final Space," and "Tuca & Bertie," among others. More recently, he also voiced Mark Grayson, the protagonist of Prime Video's hit superhero series "Invincible."
The post-"TWD" period also heralded Steven Yeun's emergence as a movie star, thanks to the iconic supporting roles he snagged in three wildly different auteurist films. In 2017, he played K, one of the intrepid members of the activist group known as Animal Liberation Front, in Bong Joon-ho's sci-fi adventure film "Okja." A year later, he was seen as Squeeze, a coworker of Cash's (Lakeith Stanfield) who becomes a union organizer, in Boots Riley's surreal anti-capitalist comedy "Sorry to Bother You." It was also in 2018 that Yeun had his greatest film role yet, playing mysterious rich playboy Ben in Lee Chang-dong's enormously acclaimed thriller "Burning." For anyone who wasn't yet paying attention, Yeun's brilliant, quietly terrifying performance in the South Korean film showed the depths he was capable of probing as an actor.
He made Oscar history with Minari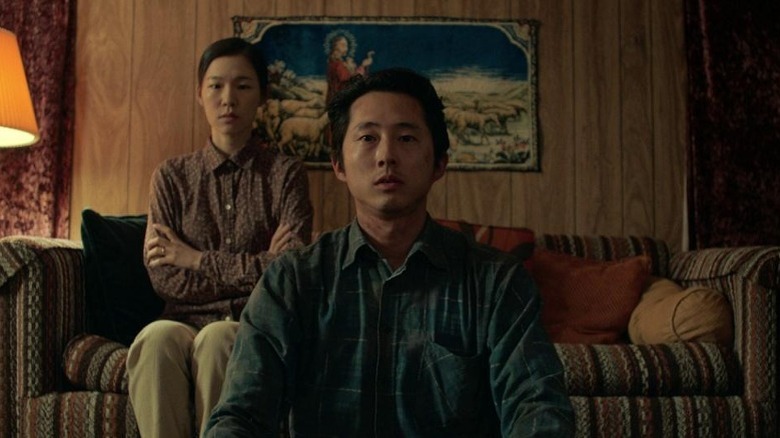 A24
By the time he starred in Lee Isaac Chung's "Minari" in 2020, Steven Yeun had already become one of the most famous and beloved Asian American actors of his generation — and one of regrettably few who were able to score central roles in major film and TV projects on a regular basis. When "Minari" premiered at the Sundance Film Festival to across-the-board raves, and then went on to become one of the most acclaimed American films of the year and a powerhouse awards contender, it also fell upon Steven Yeun to buck a shameful long-standing trend and go down in history as the first Asian American actor to be nominated for best actor in the entire history of the Oscars.
As egregious as it was that it took 93 years for someone to achieve that distinction, what stood out most about Yeun's nomination was how deserved it was. "Minari" is a sincere, layered, and altogether heartrending look at one Korean-American family's effort to make ends meet in Arkansas in 1983, and Yeun, in the role of perpetually in-over-his-head clan patriarch Jacob Yi, gives a performance that's every bit as open-hearted and compelling in its clarity as the film itself. Jacob wants desperately to honor his roots and be the best husband and father he can, while also being swayed by the siren's song of the 1980s American dream — and Yeun flawlessly captures the pent-up conflict that rages in the character's soul.
He continued to bring down the house in Nope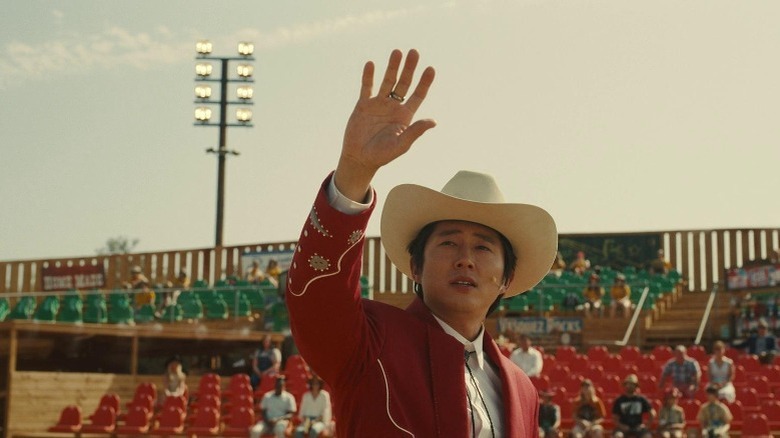 Universal Pictures
Steven Yeun followed up his historical Academy Award nomination for "Minari" with a cameo as a Warner exec in "Space Jam: A New Legacy," and an understated yet typically strong supporting turn in the dark A24 family drama "The Humans." In September 2021, his superstardom was confirmed when he made Time's list of the 100 most influential people in the world, with "Sorry to Bother You" co-star Tessa Thompson describing him as "somebody that people want to rally around ... He's a deeply fantastic human and a true leading man. It's been very gratifying to see him become one of the Internet's boyfriends."
Then, in 2022, Yeun had arguably his most visible film role yet. In Jordan Peele's blockbuster sci-fi horror film "Nope," which starred Keke Palmer and Daniel Kaluuya as siblings who run their family's longtime Hollywood horse-training business while dealing with a series of mysterious occurrences in their late father's ranch. Yeun played Ricky "Jupe" Park, a former sitcom child star who is now the owner of a neighboring Western theme park. The character, an outwardly cheerful and driven man whose ringmaster persona is a thin cover for a deeply traumatic past and a bizarre relationship with nature, celebrity, and death, is relatively peripheral to the plot but wound up fascinating viewers enough to inspire months and months of ardent discussion. This owes both to Peele's genius as a writer and director and to Yeun's characteristically incredible work.
His future is looking bright after Beef
Since his departure from "The Walking Dead" in 2016, there hasn't really been a year that wasn't marked by one Steven Yeun role or another, and 2023 is no exception. Once again, he became the talk of the town due to the release of the Netflix comedy-drama series "Beef."
Created by Lee Sung Jin, "Beef" tells the story of two strangers who nearly get involved in a traffic accident in a home improvement store parking lot, which escalates into a road rage incident and then into a full-fledged, obsessive rivalry. Yeun plays Danny Cho, a contractor at the end of his rope financially and emotionally, while Ali Wong plays his newfound nemesis Amy Lau, a plant business owner with a frustrating family life. Thank's to Danny and Amy's state of mutual desperation, their initial determination to get back at each other for the incident evolves into intercalating, increasingly vicious acts of revenge across the first season's 10 episodes; the show was roundly acclaimed by critics and became one of the buzziest Netflix releases of the year so far.
It's been an incredible rise for Yeun in just seven years, and his career shows no signs of slowing down anytime soon; he's re-teaming with Bong Joon-ho for the director's "Parasite" follow-up "Mickey 17," set for release in March 2024. He has also been cast as The Sentry in Marvel's "Thunderbolts."