The Teaser For Bong Joon Ho's Mickey 17 Will Make You Look At Robert Pattinson In A Whole New Way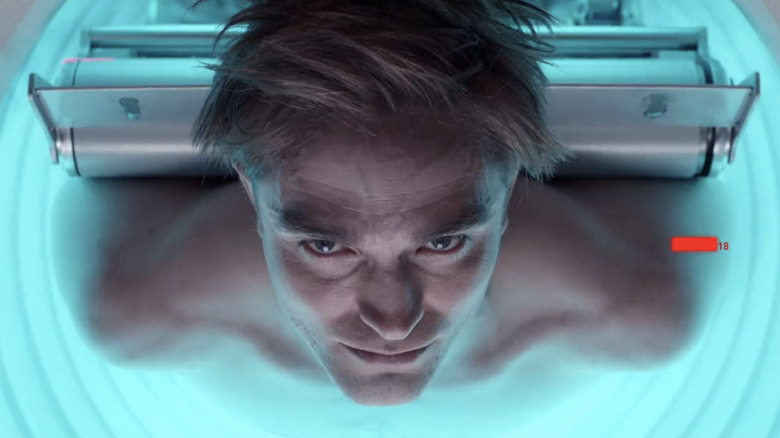 Warner Bros. Pictures/Twitter
Bong Joon Ho's latest work has a release date, Warner Bros. Pictures announced through a new teaser trailer. "Mickey 17" is based on the novel "Mickey7" by Edward Ashton, which was only published in February 2022. The film adaptation was announced nearly a year before the book hit shelves, per The Hollywood Reporter. 
Robert Pattinson portrays the movie's protagonist, referred to as an expendable employee. He takes on dangerous missions while colonizing planets, and when he dies, a new clone of him is created. Pattinson's Mickey survives a mission where he was presumed dead and finds a clone of him has already been produced. It's unclear how closely Bong will follow the source material from Ashton, but the rest of the film's cast includes other big names like Toni Collette, Steven Yeun, and Mark Ruffalo. 
"Mickey 17" comes a few years after Bong made history with his film "Parasite," which became the first foreign-language movie to win the Best Picture Academy Award, via The Washington Post. The filmmaker also won the Best Director and best original screenplay Oscars, per IMDb. 
Fans now have a first look at a stripped-down Pattison in Bong Joon Ho's "Parasite" follow-up, as well as a release date from Warner Bros. 
Mickey 17 is releasing on March 29, 2024
"Mickey 17" will release on March 29, 2024, according to the official Warner Bros. Pictures Twitter. Included with the release date announcement was a short spot for the movie which includes Robert Pattinson sans clothes inside an incubator. Pattinson remains still during the teaser and only opens his eyes at the end before the release date for the Bong Joon Ho movie is revealed. 
Warner Bros. is also working with director Bong Joon Ho on a limited series for HBO Max based on the Oscar-winning "Parasite," per The Wrap. That series is being produced by Adam McKay and "Mickey 17" comes from Brad Pitt's Plan B Entertainment, so plenty of big names want in on the Bong Joon Ho business. "Mickey 17" is also following a career resurgence of sorts for Pattinson as he's shed his "Twilight"-era stardom to lead "The Batman" and work with major directors such as Christopher Nolan on "Tenet" and Robert Eggers on "The Lighthouse." 
"Mickey7" author Edward Ashton told fans of his book to expect changes, but he's comfortable with Bong in control, even referring to the director as a genius. 
"When I spoke with him, he made it pretty clear. 'You've got a 350-page book. I'm gonna have a 120-page script. There's a lot that's gonna go.' So my answer is no, I'm not concerned about that at all. In my view, the man's a genius," he told Nerdist.