The Big Bang Theory's Bert Actor Felt Weird On Set Of The Series Finale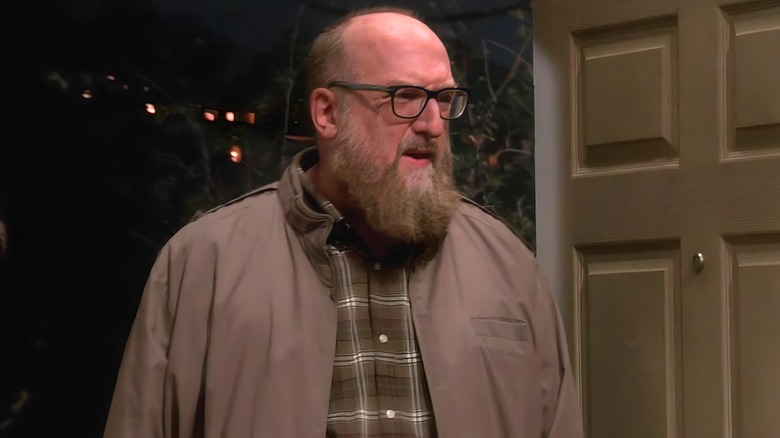 CBS
The ending of "The Big Bang Theory" gives most of its main characters satisfying send-offs, with Sheldon (Jim Parsons) and Amy (Mayim Bialik) accepting a Nobel Prize in Physics, Leonard (Johnny Galecki) and Penny (Kaley Cuoco) expecting their first child, and Howard (Simon Helberg) finally getting some respect from Sheldon. However, the finale also includes an appearance from recurring character Bert Kibbler (Brian Posehn), whom Raj (Kunal Nayyar) asks to dogsit while they are all in Sweden for the ceremony.
In an interview on Rock 105.3's "The Show," Posehn was asked what it was like to be part of such a beloved show, including its highly anticipated series finale. "It was weird for me because I wasn't that connected," he shared about filming the last episode. Meanwhile, the core group of actors had become a very tight-knit group, and naturally, they were pretty emotional about the series coming to an end. "I'm there a couple of times every year, but this was their thing for 12 years, and they were really attached, and so I felt like it was a weird experience," he explained.
Brian Posehn loved working on the show in general
CBS
Brian Posehn also recalled how strange it was seeing his "Big Bang Theory" castmates sob in front of him when he didn't feel the same way, primarily due to his general disconnect from the show. In fact, he felt so weird that he didn't even attend the wrap party, not wanting to take away from all these actors who were having their moment in the sun. Besides, he told Rock 105.3, he isn't into those sorts of parties anyway, opting instead to go to a metal show, which he said is much more his scene. He did make sure to say goodbye to some of his favorite nerdy writers, however, thanking them for including him in the hit series.
In an interview with the Seeker in 2020, Posehn was asked if he would return to the role of Bert if there were ever a reboot down the line. "Whenever. If it's two years from now, twenty years from now, I had a blast. Not everybody loves sitcoms, and even, in particular, that sitcom. I did, I had a great experience doing 'The Big Bang Theory.' I love that style of comedy," he replied. Now, another "Big Bang Theory" series is in the works at Max, so maybe fans will see the return of Bert after all.