Modern Family: Mitch & Cam's Pogo Stick Goes Down As The Show's Dirtiest Joke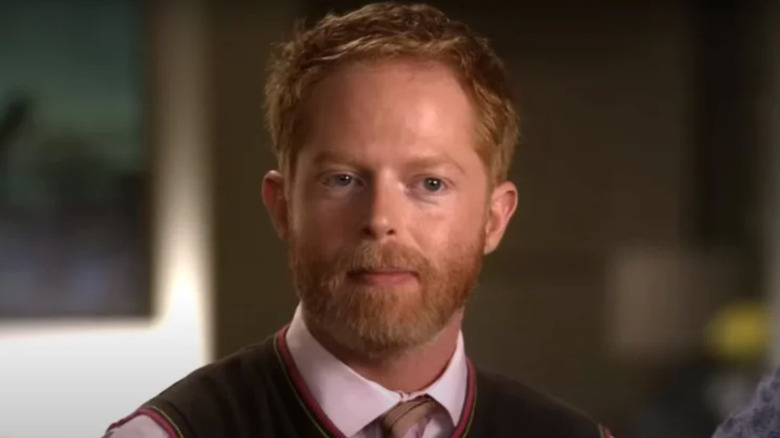 ABC
Despite its family-friendly reputation, "Modern Family" has never shied away from dropping a dirty joke or two. Of course, the dirty jokes are usually riddles wrapped in double entendres inside enigmas, but they never fail to hit their intended marks: adults' ears. Naturally, there's a certain art to these jokes, as they have to walk the line between innocent and naughty, but every so often, one manages this balancing act with gusto. Case in point: The pogo sticks joke.
According to a fan poll in the r/Modern_Family subreddit, the best dirty joke to have ever appeared on "Modern Family" is from the Season 7 episode "Clean Out Your Junk Drawer," in which Mitchell (Jesse Tyler Ferguson) reveals that he hasn't played with Cam's (Eric Stonestreet) pogo stick in a month. Horrified, Mitchell realizes that he's just admitted this in front of his father and sister; however, the damage is done. But the worst part is that it's not entirely his fault. In fact, Claire (Julie Bowen) set him up for it when she was previously talking about actual pogo sticks with Phil (Ty Burrell).
Of course, that infamous joke isn't the only one to appear on the Reddit poll. There's another equally salacious joke that earned plenty of votes.
Pepper's blackhawks line is the show's second dirtiest joke
The dirty joke to receive the second highest number of votes is straight from Season 6 episode "Fight or Flight," in which Sal's (Elizabeth Banks) baby shower guest Jotham (Matthew Risch) mentions the Chicago Blackhawks, to which Pepper (Nathan Lane) replies, "Wow, they can call the team that?" Jotham corrects him — "Black Hawks" — but the joke is not lost on mature (or immature) viewers' ears.
As for the No. 3 joke, it's the throwaway "cockatoos" joke from Season 6 episode "American Skyper," in which Mitchell says he picked up a cockatoo from a bird kennel. Cam, who thinks Mitchell is having an affair, says, "Oh, one or two! How blasé." The line is made even funnier by the fact that Cam, wearing braces, can barely get the line out.
Of course, there are many other jokes listed in the poll and in the comments. For example, the show's "birthday flag" and "leaning tower of pizza soap" jokes both got well-deserved shout-outs. However, as the "pogo stick" joke's top placement has proven, there's just nothing quite as impactful on "Modern Family" as a well-placed double entendre.