Eric Stonestreet's Favorite Cam Moment From Modern Family Is A Season 1 Fizbo Crack-Up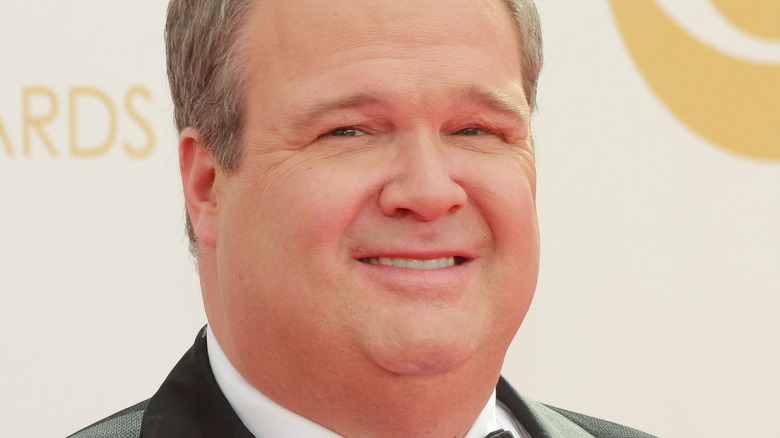 Featureflash Photo Agency/Shutterstock
"Modern Family" delivered so many memorable moments during its 11-season run. The show followed a general formula: Mine the Pritchett and Dunphy family for laughs and drama by zeroing in on their hang-ups and insecurities, as well as their love and support for each other, and do so in almost endless permutations.
This includes the relationship between Cam (Eric Stonestreet) and Mitchell (Jesse Tyler Ferguson). The two are loving and supportive partners to each other, not to mention devoted parents to Lily (Aubrey Anderson-Emmons) and baby Rexford, and try to make the lives of everyone in the Pritchett-Dunphy-Tucker clan as rewarding as they can.
But when the eccentric Cam and the practical Mitch would butt heads, it frequently yielded hilarious results. One of the more memorable sources of tension was Fizbo, Cam's clown alter-ego, who Mitch doesn't particularly care for. The very first appearance of Fizbo was in Season 1, Episode 9, in which Cam decided he was going to dress up as Fizbo for Luke's (Nolan Gould) birthday party come hell or high water. Never mind that Luke's dad Phil (Ty Burrell) is straight-up phobic of clowns and that Mitch finds Fizbo embarrassing.
The clever reversal comes on the way to the party, when a rude and aggressive gas station customer gets in Mitchell's face, only to be confronted by an angry and protective Fizbo, who successfully intimidates and gets an apology out of the man. In a 2016 AMA on Reddit, Eric Stonestreet shared that this had been his favorite Cam moment in the series so far.
Fizbo was Eric Stonestreet's own creation
It's a credit to the "Modern Family" writers' room that Fizbo was not overused. Cam's clown made only a handful of appearances over the years, including as Lily's mentor during her brief stint as "Lizbo," and as Fizbo's farmer iteration "Farmbo," which Mitch managed to somehow hate even more. They even gave Cam's love of clowns a backstory just in time for Fizbo to make his final appearance when he met his French rival, Fizbeau.
As it happens, however, Fizbo was the creation not of the show's writers, but of Eric Stonestreet himself. Before Fizbo's last appearance during the 11th and final season of "Modern Family," Stonestreet took to Twitter to share his own touching goodbye to the clown character, and he explained why he wanted Fizbo included on the show. Stonestreet wrote that he was interested in clowning from an early age growing up in Kansas City, Kansas. His dad came up with the name Fizbo, and his grandmother made costumes for him.
"When you met Fizbo 11 years ago, Cam said, 'Hello old friend.' Tomorrow, I get to say, 'Goodbye old friend,'" Stonestreet wrote in his statement on Twitter. "Thank you 'Modern Family' for allowing me to fulfill my dream of being a clown in the biggest circus of them all. Hollywood."