Why The Warden From Barry Looks So Familiar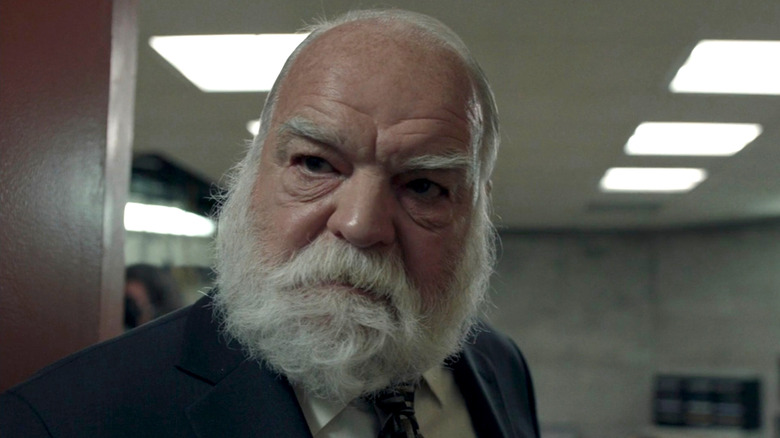 HBO
Contains spoilers for "Barry" Season 4, Episode 4, "It Takes a Psycho"
Season 4 of "Barry" is set to wrap the series up for good, but it doesn't find its titular hitman at a very high point in his life. As Barry Berkman (Bill Hader) sinks into existential dread and depression in prison, he slips in and out of hallucinations that could point to a happier future or could just be the visions of a man as he loses it behind bars. 
Either way, there are new faces in the show, even as the remaining characters, like Sally Reed (Sarah Goldberg), take in the shocking news about Barry or, like NoHo Hank (Anthony Carrigan), try to rebuild their lives without him. Still, when we meet the warden of Barry's new iron and concrete home, he's not in a good mood either.
Following Barry's escape from prison during the botched hit job on him, the warden hilariously has Fuches (Stephen Root) beaten for hours to find out what he knows. Of course, Fuches doesn't know a thing, but he's been such a scoundrel up until now that it's genuinely cathartic to see him get his comeuppance. However, if you were more preoccupied during this scene about where you recognize the actor behind the warden, there's a good chance you know Richard Riehle from at least one of his hundreds of projects.
Richard Riehle is a renowned character actor with over 400 credits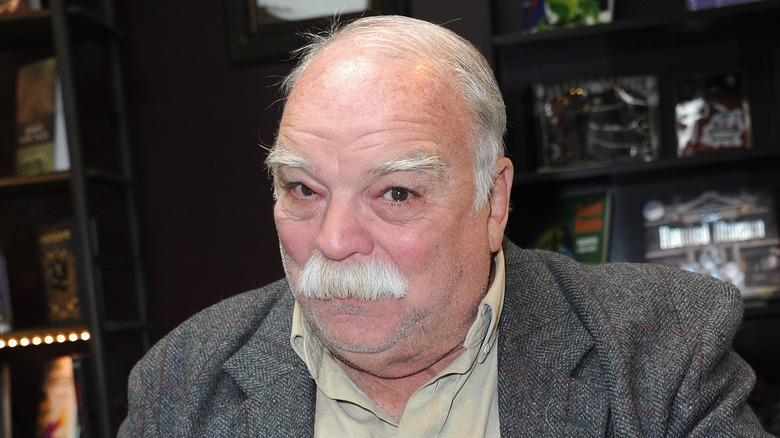 Albert L. Ortega/Getty Images
Richard Riehle plays the warden on "Barry," and he's the face behind literally hundreds of performances over the course of his extensive career. Though he began acting in the late '70s, Riehle would be primarily known during the early years of his career for guest stints on shows like "Dragnet," "One Life to Live," "Quantum Leap," and "Golden Girls."
However, in time, the actor also began appearing in major motion pictures. Notably, in the '90s, Riehle showed up as Reverend Scroggins in the iconic period drama "Fried Green Tomatoes," where his surprising decision to lie under oath saves the lives of two of the film's key characters.
The performer also appeared as Carlson in the 1992 adaption of John Steinbeck's "Of Mice and Men," showed up as Wade in "Free Willy," and appeared as a guard in the 1993 remake of "The Fugitive" starring Harrison Ford. The actor also appeared in the 1996 true crime thriller, "Ghosts of Mississippi," as Tommy Mayfield.
Richard Riehle played Tom Smykowski in Office Space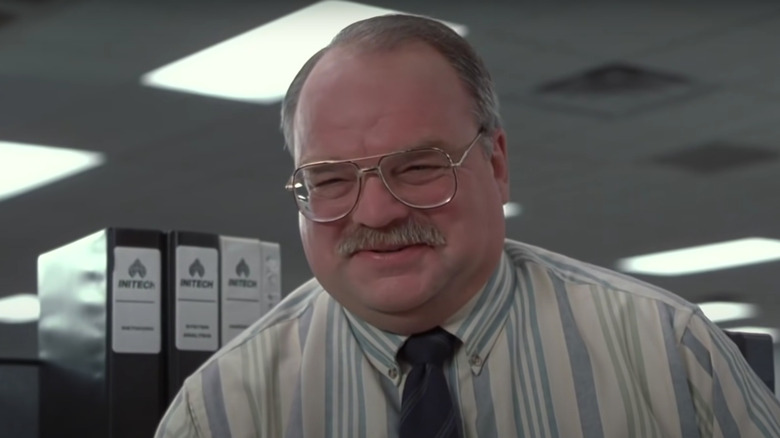 20th Century Fox/YouTube
A few years later would mark the appearance of one of Richard Riehle's most memorable roles in Mike Judge's cult classic office comedy "Office Space." Riehle played Tom Smykowski in the film, an aloof product developer who thinks that the Pet Rock is the pinnacle of inventiveness and thinks his own idea, a "jump to conclusions mat," could be his way out of the doldrums of office work.
Riehle also appeared in another popular comedy from the era with "Deuce Bigalow: Male Gigolo." The performer appeared as Bob Bigalow in the movie, the father of Rob Schneider's titular character. The actor would go on to pop up in a few other notable comedies from the time period, including "Say It Isn't So," "Joe Dirt," and "The Bandits."
However, despite his propensity for major comedy performances, Riehle performs regularly in smaller, more independent dramatic productions as well. He appeared as Murph in Larry Clark's skater drama "Ken Park" and played Charlie in the Joseph Gordon-Levitt breakout film, "Mysterious Skin," for instance.
Richard Riehle played Walt Finnerty in Grounded for Life
If you are a fan of early '00s sitcoms, you might also recognize Richard Riehle from his 45 episodes on the Fox/WB comedy "Grounded For Life." He played the patriarch of the dysfunctional family and regularly appeared in a recurring role throughout the series. Meanwhile, if you're a fan of "Avatar: The Last Airbender," you might also recognize Riehle's voice as the voice behind Bumi in the hit animated series.
Later in the decade, Riehle would appear in a duo of horror films. The actor showed up as Jim Permatteo in the slasher send-up "Hatchet" and played the role of Buddy the Night Watchman in Rob Zombie's "Halloween 2." In between the two, the performer also had a 10-episode stint on "The Young and the Restless," as, surprise, Warden McQueen. 
In the years since, the actor has had a smörgåsbord of roles, with some of his most notable projects being "Judy Moody and the Not Bummer Summer," "A Very Harold and Kumar Christmas," "Texas Chainsaw 3D," "Transformers: Age of Extinction," and "3 From Hell." He also had two-episode stints on both "NCIS" and "Drunk History," as well as guest appearances on popular sitcoms like "Mom," "Two and a Half Men," and "Modern Family." With his latest role in "Barry," Riehle doesn't show any signs of slowing down any time soon.