Once Upon A Time In Hollywood: First Look At Leonardo DiCaprio, Brad Pitt Revealed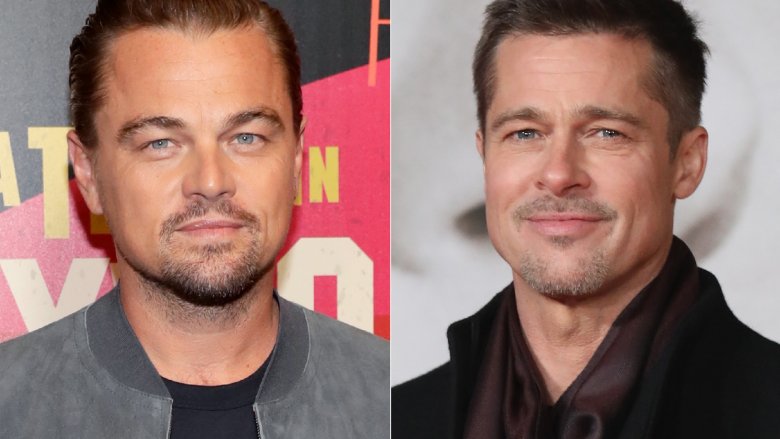 Getty Images
Big things are happening in Hollywood — namely Leonardo DiCaprio revealing the first look at Quentin Tarantino's upcoming film Once Upon a Time in Hollywood. 
DiCaprio, who stars in the flick as the fictional out-of-work actor Rick Dalton, posted on Instagram a snap of himself and co-star Brad Pitt in costume. It's only right that Pitt is the one in the photo with DiCaprio, as the actor plays DiCaprio's on-screen stunt double Cliff Booth. 
In Once Upon a Time in Hollywood, DiCaprio's Rick and Pitt's Cliff are a down-on-their-luck duo who are "struggling to make it in a Hollywood they don't recognize anymore," but later discover that their ticket to success might be found in Rick's next-door neighbor, the silver screen starlet Sharon Tate, played in the movie by Margot Robbie. 
Both actors look era-appropriate in the picture — with DiCaprio sporting a mustard-yellow turtleneck, orange leather jacket, pendant necklace, and slightly heeled boots, and Pitt opting for a denim-on-denim-on-aviator-sunglasses ensemble. DiCaprio let the photo speak for itself, typing out a simple statement in the caption: "First look. #OnceUponATimeInHollywood."
Though the film takes place in the '60s and involves Sharon Tate, who was murdered by members of Charles Manson's Manson Family cult, Tarantino has affirmed that the premise of Once Upon a Time in Hollywood is "not Charles Manson, it's 1969." 
Now that we've got the first-ever look at Once Upon a Time in Hollywood, it likely won't be long before we start seeing more of the film's stacked cast in behind-the-scenes snaps and set videos. Beyond the glittering trio of DiCaprio, Pitt, and Robbie, Once Upon a Time in Hollywood features a ton of other A-listers: Dakota Fanning as Squeaky Fromme, Damian Lewis as Steve McQueen, Luke Perry as Scotty Lancer, Emile Hirsch as Jay Sebring, Nicholas Hammond as Sam Wanamaker, Clifton Collins Jr. as Ernesto The Mexican Vaquero, Keith Jefferson as Land Pirate Keith, Burt Reynolds as George Spahn, and Al Pacino as Marvin Shwarz. 
Timothy Olyphant, Kurt Russell, Tim Roth, Michael Madsen, and James Marsden round out the cast, but details on their characters haven't been unveiled just yet. With any luck — and a bit of hopeful wishing — DiCaprio's reveal on Instagram will spark a chain reaction of other exciting announcements, like who exactly the foursome are set to play. 
Once Upon a Time in Hollywood, Tarantino's ninth film and potentially the penultimate movie of his career, is set for release on August 9, 2019.