Wednesday's Dance Scene Keeps Jenna Ortega Up At Night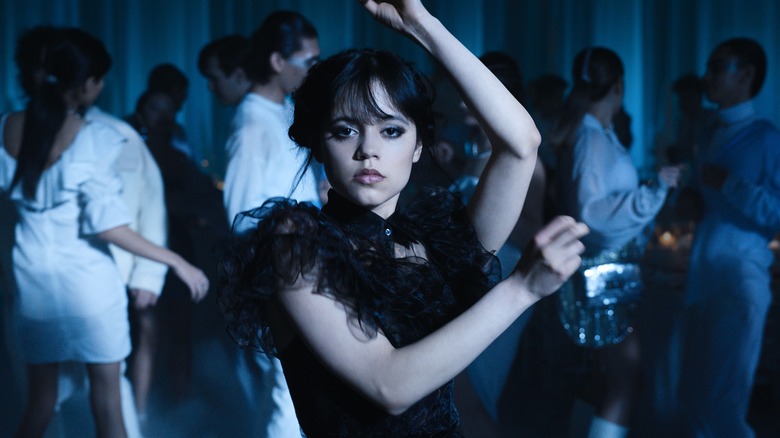 Netflix
One of the biggest viral sensations of the year was no doubt the dance sequence in Netflix's smash hit show, "Wednesday." Closing out Episode 4 of the first season, Wednesday Addams (Jenna Ortega) danced to The Cramps' "Goo Goo Muck," turning both the song and the dance routine into a TikTok sensation. Stars like Lady Gaga and fans around the world tried their hand at Ortega's now iconic moves. It was a breakout moment for the 20-year-old Ortega, who became a household name seemingly overnight with the show's arrival. Despite the dance sequence's success, or perhaps because of it, Ortega shared that she had some regrets about it all.
In an interview with Entertainment Tonight while on the red carpet for the 80th Annual Golden Globes, for which she was nominated for best actress in a musical or comedy television show, Jenna Ortega admitted that she was losing some sleep over her dance moves in the show. She explained that she couldn't believe how popular the scene became and said, "That was one of the scenes I stay awake at night thinking about because I thought there was so much that I should have done and could have done." She noted that some of the sequence was carefully choreographed and some of it was improvised during filming. 
Ortega worked through COVID during the show's famous dance scene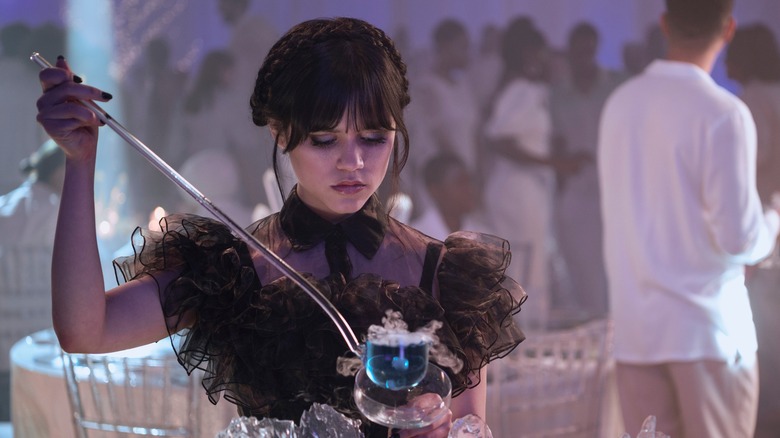 Netflix
Jenna Ortega simply couldn't get over the reception to her dance moves in the "Goo Goo Muck" sequence in "Wednesday." She said, "So the fact that anyone is showing appreciation and [will] try it themselves, it's not fathomable to me." When asked if she has watched any of the TikTok videos of fans replicating the moves, the Gen-Z actress surprisingly answered, "No, I can't be on TikTok. I can't look into all of that stuff. I think, good or bad, it's probably not a healthy place to be."
Ortega admitted that she had COVID when she had to film her famous dance scene. She said it was extremely difficult for her to film because she was just coming down with symptoms, and she rarely gets sick so it hit her hard. She was allowed to film because she had tested negative for the illness before she arrived on set. It was only after that she learned she had COVID.
This was the actor's first Golden Globe nomination. "Wednesday" was also nominated for two Golden Globes, including best musical or comedy television show. While the series did not take home any awards that night, it was renewed for a second season, and proved to be one of Netflix's best shows in recent memory.