Wednesday's Iconic Rave'N Dance Has Fans Inspired To Hit The Dance Floor
Netflix's "Wednesday" has managed to rack up positive reviews and record-breaking streaming numbers since debuting on November 23 — with more than 341 million hours watched in its first week on the app, per Deadline. But all anyone seems to want to talk about is that dang Wednesday dance.
"I cant even find the words to express how amazing this is," wrote Twitter user @yredfield_rb in a tweet that's been liked over 38K times. User @kathixger said: "I don't care what anyone says [Wednesday's] dance scene is honestly the best thing to exist. a true masterpiece." BuzzFeed editor Nora Dominick declared: "Jenna Ortega is so good in [Wednesday] and the scene where she dances is perfect proof that she understood the assignment."
According to Ortega, the young actor prepared for two sleepless nights for the Rave'n Dance scene, with her doing all of her own choreography. Ortega told her castmates in a Netflix interview panel: "I actually felt really insecure about this...I think it's very obvious that I'm not a dancer or choreographer."
For those who haven't seen it, "Wednesday" is a supernatural coming-of-age story that follows Ortega's Wednesday Addams as she adjusts to life at Nevermore Academy. The Vermont-based reform school, which is home to other peculiar outcasts, is responsible for holding the Rave'n Dance event for the students. And judging from all the videos coming out on social media, you can expect to see some similar numbers at some proms this year. 
Fans are taking to social media to do their best Wednesday dance impressions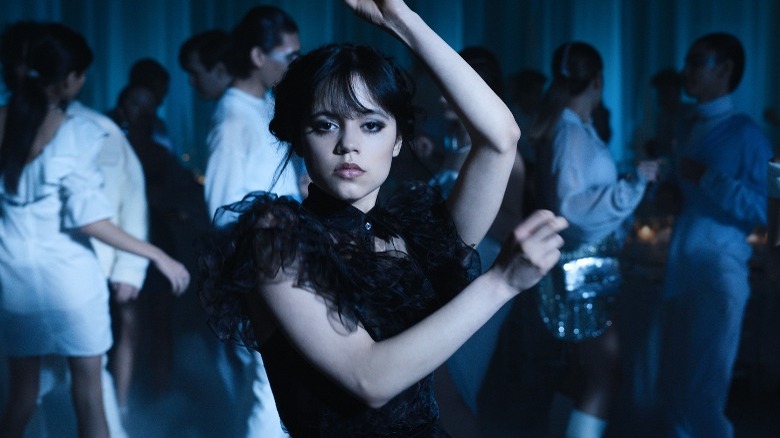 Netflix
Over on Twitter and TikTok, countless videos have been cropping up of "Wednesday" fans doing their best Jenna Ortega impressions, with many using the hashtag "#WednesdayDance." The trend has been going strong online since the series first dropped on Netflix. 
"On wednesdays we do the #Wednesday dance," said TikToker and Twitter user @AlexISAleXa96_, who added: "What a cinematic masterpiece by [Ortega]." Another viewer, @emogawwd, tweeted a video and said: "This dance is soo freeing."
Speaking to Netflix in the interview panel mentioned earlier, the cast of "Wednesday" described what it was like seeing Ortega do her thing on the dance floor for the very first time. Joy Sunday, who plays antagonist Bianca Barclay, said: "I love how it begins. Like, she kind of seems, like possessed a little bit. Because her eyes are kinda going inward." Fred Armisen, who plays Gordon Craven aka Uncle Fester, said: "[The dance] seemed very Tim Burton."
According to Ortega, her main inspirations for the sequence were goth kids from the '80s club scene and the work of famed dancer and filmmaker Bob Fosse. There was also a small homage to the legendary 1960s "Addams Family" dance scene-turned-meme featuring young Wednesday aka Lisa Loring. Sharing a video side-by-side of Ortega and Loring getting their groove on, Twitter user @robinsinterest said: "Jenna doing 60s wednesday dance...she slayed."