The Walking Dead: Chandler Riggs Shocked At Andrew Lincoln's Decision To Exit Series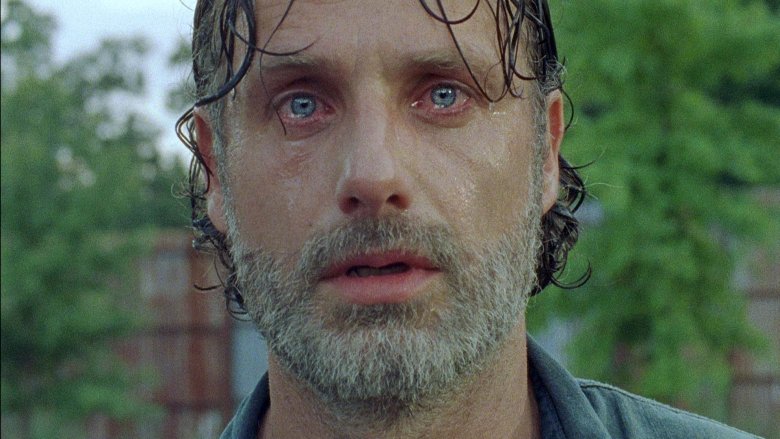 Chandler Riggs was just as taken aback as The Walking Dead fans were when learning of lead actor Andrew Lincoln's decision to leave the AMC series. 
Speaking with Good Day Sacramento's Kevin Hernandez at the Fandemic fan convention over the weekend, Riggs admitted that he was shocked to hear his on-screen father planned to call it quits on The Walking Dead and his starring role as Rick Grimes. 
"Of course, yeah," the 19-year-old actor stated when asked if he was surprised by the news. "I mean, Andy has been on the show so long and he's had to leave his family every single year, so I was surprised, but at the same time, it's gonna be good for him to get back to his family and raise his kids... I haven't actually [talked to him about it], I haven't talked to him in months, but yeah."
Riggs arguably knows better than anyone what it's like to leave a series after spending the better part of a decade working on it. The actor portrayed Carl Grimes for 77 episodes from 2010 to 2018 until he exited The Walking Dead following his character's death. Ironically enough, Riggs was as equally shocked at his own exit as he was Lincoln's, since no one expected Carl to die when he did. 
"It was quite the shocker for me, [Andrew Lincoln], and everyone because I don't think anyone saw it coming," Riggs once said. "It's definitely not a bad thing because it has been awesome being on the show, but now I get to go and do a lot of other stuff that I haven't gotten to do before."
Unlike the relatively clear circumstances surrounding Riggs' departure, which gave the the actor the opportunity pursue college and other personal ventures, details around Lincoln's planned exit are a bit hazy. When Looper covered the news that Lincoln would soon be leaving The Walking Dead exclusive information first published by Collider, it was indicated that the star would appear in only six episodes of season 9 and then disappear, never to be seen again. 
This raised a bevy of questions: What might happen to Lincoln's Rick? Will he be killed off like Carl? Why is Lincoln walking away from The Walking Dead in the first place? And will a Rick-less Walking Dead make even more people stop watching the show?  
Given that Lincoln will reportedly be in only roughly one-third of the ninth season (The Walking Dead's seasons have routinely run for 16 episodes since season 3 aired in 2012), it's easy to speculate that Rick could suffer a tragic, untimely fate well before the midseason finale. As for the thought process behind his departure, Lincoln could have developed the creative equivalent of a wandering eye, setting his sights on new opportunities after playing the same character (and virtually no other character) for eight years straight. Or, as Riggs remarks here imply, perhaps Lincoln was just longing for some relaxation and family time. After all, battling zombies and crying a whole bunch can really take a toll on a guy.
The Walking Dead is expected to return for season 9 in October.