Original The Walking Dead Star Confirms Shocking Death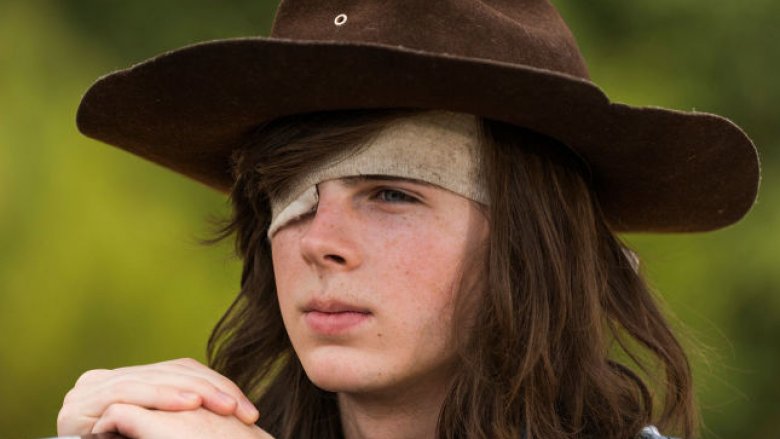 Warning: This article contains major spoilers for the Dec. 10 episode of The Walking Dead.
Carl Grimes is officially heading to the grave. The Walking Dead star Chandler Riggs confirmed to The Hollywood Reporter that, following the shocking events of Sunday night's midseason finale, Carl will indeed be killed off, giving the 18-year-old actor a chance to head off to college.
Riggs' Carl, who has been with the show since the pilot, tragically revealed in the latest episode, "How It's Gotta Be," that he had been bitten by a walker. Despite his apparent imminent doom, many fans were hoping that Carl would somehow be able to pull through, but Riggs confirmed to THR that that is definitely not the case. "Yes, Carl is going to die," he said. "There's no way he can get back from that. His story is definitely coming to an end."
According to Riggs, Carl had to die to help showrunner Scott M. Gimple solve one of the comics' big unanswered questions. "In the comics, Scott was trying to figure out why there was a hole between Rick slitting Negan's throat at the end of the 'All-Out War' arc and then there's the time jump and Negan is alive and in prison and Rick didn't kill Negan," Riggs explained. "Scott was trying to figure out how to bridge the gap between Rick not wanting to kill Negan and Rick also really wanting to kill Negan, which he does right now [in the show's story]."
He went on to say that Gimple decided to utilize Carl as a "really humanitarian figure and person who could see the good in people and see that people can change and not everyone out there is bad." "That's what Carl's talk to Rick was in this episode: there's no way that they can kill every one of the Saviors and not everyone is a bad person and there has to be some way forward than just killing people," Riggs said.
Killing Carl is a huge departure from the comics, and Riggs said he isn't sure where the show will go forward from here. He himself was shocked when he learned about the plans in June and said that he and his family "didn't know what to do" for a few days after. "It was quite the shocker for me, [Andrew Lincoln], and everyone because I don't think anyone saw it coming," he said. "It's definitely not a bad thing because it has been awesome being on the show but now I get to go and do a lot of other stuff that I haven't gotten to do before."
Carl will get a big send-off in the midseason premiere. "Episode 809 is really Carl trying to teach Rick as much as he can about what he's learned and trying to convince Rick to not kill every single Savior because there's still good people out there," Riggs said. "The Alexandrians, the Hilltop and the Kingdom — all those people probably see him as a villain like the Saviors. There's some humanitarian aspects that Carl is going to try and teach Rick in his final moments."
Although Carl will meet his end in the episode, Riggs said you'll still see "bits and pieces and memories" of him throughout the rest of season eight. "Although Carl's story is coming to an end, it's not over yet," Riggs said. He also offered this for the show's loyal fans: "Thank you to all the fans for giving me a job for eight years and for giving me this amazing experience and blessing me with this career and this chance at having so much opportunity."
The Walking Dead returns for the rest of season eight on Feb. 25, 2018.