Jack Ryan: Cast Members Open Up About Intense Scenes That Were Hard To Film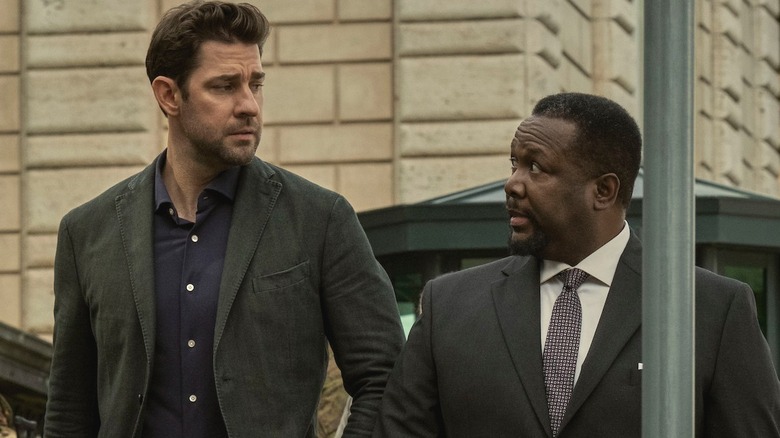 Philippe Antonello/Prime Video
Amazon Prime has found a new viewer demographic by adapting all the thriller novels on your dad's shelf into TV series and movies. From Chris Pratt's take on the Jack Carr novel "The Terminal List" to Alan Ritchson taking on the larger-than-life Jack Reacher on the TV series based on Lee Child's "Reacher" novels. Of course, one of the most prominent thriller/spy writers of all time, Tom Clancy, is the perfect author to add to the list, and they did so in both TV and movie form with Michael B. Jordan's "Without Remorse" and three seasons of "Jack Ryan."
With Jack Ryan, played by John Krasinski, as the main character and most famous of all Tom Clancy's creations, the series was bound to have a built-in audience to cheer on the CIA analyst. Not only did Krasinski join the ranks of great actors who portrayed the spy in the past, like Harrison Ford, Ben Affleck, Alec Baldwin, and Chris Pine, but he also joined a group of men who have had to power through difficult-to-film action scenes. Krasinski, along with co-stars Wendell Pierce (playing James Greer), and Michael Kelly (playing Mike November), sat down with Collider to reveal what they felt were the most difficult scenes they filmed.
Krasinski confessed that being tossed out of a Black Hawk was the most difficult. Pierce pointed to fight choreography. And Kelly said his most challenging scene to film had to do with delivering ever-changing lines in a wind tunnel on the banks of a river.
John Krasinski was proud of being thrown out of a helicopter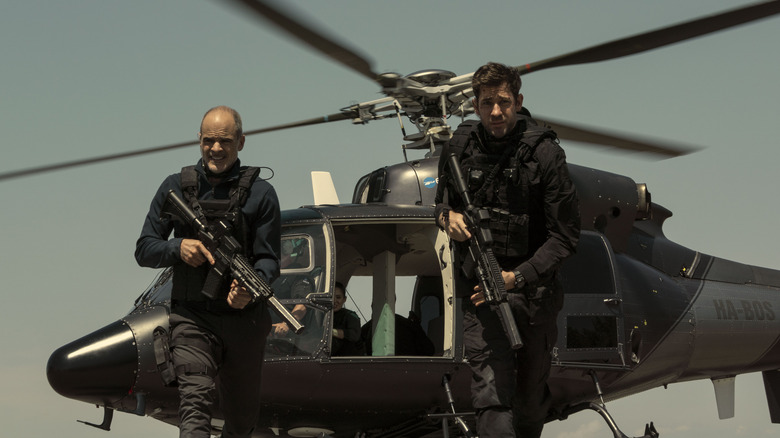 Amazon Studios
John Krasinski landed one of the lead roles in one of the most beloved sitcoms of the last few decades, "The Office," where he played Jim Halpert. He portrayed a real-life soldier in the historical reenactment of the Benghazi incident in "13 Hours." And he even gave fans what they had been hoping to see for years when he appeared in "Dr. Strange and the Multiverse of Madness" as Reed Richards. But after all of that, he is most proud of a scene where he gets thrown out of a helicopter.
"Being thrown out of a Black Hawk by a Navy SEAL was definitely the hardest and most impressed I've ever been with myself ever, though I should probably be scared of my stupidity," Krasinski said. "Basically, what happened that morning was two stunt guys had gone through, each, five or six takes of that, and then as we were flying out to the next scene in that Black Hawk, one of the Navy SEALs said, 'It would've been way cooler if you did it.' And I said, 'Well, how would that look?' And he said, 'It would look like me unbuckling your seatbelt right now and throwing you out of this helicopter,' and he did." 
He went on to say that the scene was the hardest he ever filmed for the show. He also admitted he was terrified, and for good reason. There is a fair amount of irony that Krasinski's most challenging scene involved him and a helicopter since his book character has a history with aerial vehicles. In the novels, he suffered a severe back injury in a helicopter crash that ended his career as a marine. We're just glad that Krasinski didn't follow in his character's footsteps.
Wendall Pierce had to learn to knife fight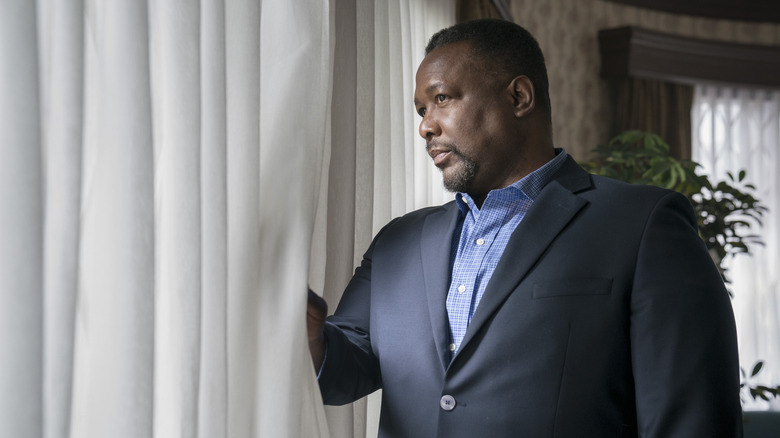 Amazon Studios
The relationship between Jack Ryan and his longtime boss Admiral James Greer is one of the most important in the entire series. While he recruits Ryan into the CIA in the books and turns the history professor into a spy and the most trusted ally in the whole agency, his role is almost entirely administrative as the Director of Intelligence. James Earl Jones played the part beautifully in the three movies starring Alec Baldwin and Harrison Ford, but Wendell Pierce got to see his version of the character actually get his hands dirty.
"I have a hand-to-hand combat with a knife in Moscow this season," Pierce said. "That was the hardest for me. It was the most fun. We did all kinds of different takes. We changed choreography, all kinds of stuff. And then, to actually throw him down flights of stairs and actually see it happen was thrilling. So that was the hardest but also one of the most satisfying."
Wendall Pierce made a name for himself as the alcoholic and sarcastic Detective William "Bunk" Moreland in "The Wire" and played virtually the same character (maybe even homages to him) in "Horrible Bosses" and "25th Hour." He won't ever be mistaken for John Wick, Jason Bourne, or James Bond, but he found a way to make his knife fight look real enough to pass as a seasoned agent and combatant. That's something other Greers weren't able to get the chance to do.
Michael Kelly had to speak new lines in a wind tunnel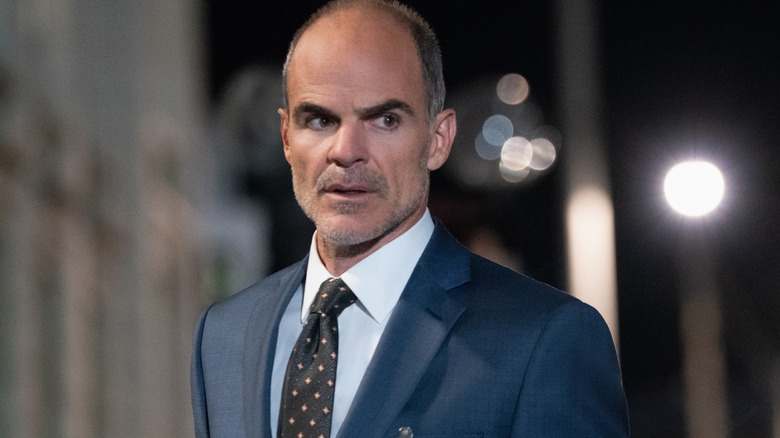 Amazon Studios
While John Krasinski got to be thrown out of a Black Hawk helicopter and Wendell Pierce got to give his best Jason Bourne impersonation, Michael Kelly simply had to put up with rewrites and a terrible environment to film a walk-and-talk seen on the banks of a river in Southeast Europe.
"And for me, it would have to be – it's nothing to do with action – it was being on the Danube River, under a bridge, with this guy who rewrote the entire scene an hour before we were filming," he explained. "And it's a walk-and-talk, and in a wind tunnel, on the Danube River. And it was guys with a screen, one foot above my head, just walking one foot in front of me, and trying to just get through this scene, and him like, "No, you got it. You got, it's fine. Come on, we got this, guys," over, and over, and over again."
Michael Kelly is no stranger to delivering some of the most compelling dialogue in masterfully written scenes, as he spent 72 episodes as Doug Stamper on Netflix's "House of Cards." While he could stand toe-to-toe with legends such as Kevin Spacey and Robin Wright, he seemed to be no match for the Danube River wind tunnel and an ambitious script doctor falling in love with rewrites.