Blood And Honey's Amber Doig-Thorne Says Winnie The Pooh Was Hilariously Terrifying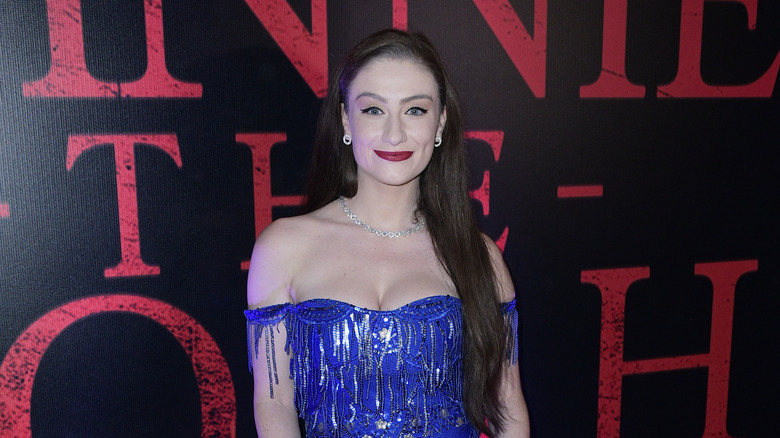 Medios Y Media/Getty Images
If anyone has watched "Winnie the Pooh: Blood and Honey," they have already experienced the smorgasbord of disturbing moments and menacing scares the frightening feature has to offer, most of which are thanks to the nightmare-inducing efforts of the titular literature character turned-murder-monstrosity. While Pooh's anything-but-cuddly presence onscreen in the horror feature may be tough to take in for some, when actress Amber Doig-Thorne first laid eyes on the beast, she had a humorously horror-stricken reaction.
Most people probably know Winnie the Pooh as a honey-loving bear that wears a red shirt and no pants. But the horrific take on the cherished childhood tale, "Blood and Honey," changed a lot of things from the source material. Not only did the character's appetite alternate from the bee-made substance to living flesh but his appearance was also altered, which took several people by surprise when they first witnessed Pooh's bold new take, especially Doig-Thorne, who played Alice in the movie. "It was a surprise," the actress told Express in an interview. "I actually first saw the costume when we were filming. We sat around talking, and everyone went quiet. I turned around, and Winnie-the-Pooh was there. It was equal parts hilarious and terrifying." Doig-Thorne added, "When I first saw the Winnie-the-Pooh costume, I didn't know whether to laugh or cry." While she may have found the costume worn by David Crowley laughably disturbing, Doig-Thorne couldn't help but admire the killer version seen in the feature. However, the initial effect Winnie the Pooh had on Doig-Thorne was nothing compared to how the actress felt when she first heard about "Blood and Honey."
Amber Doig-Thorne loves the concept of horrifying childhood characters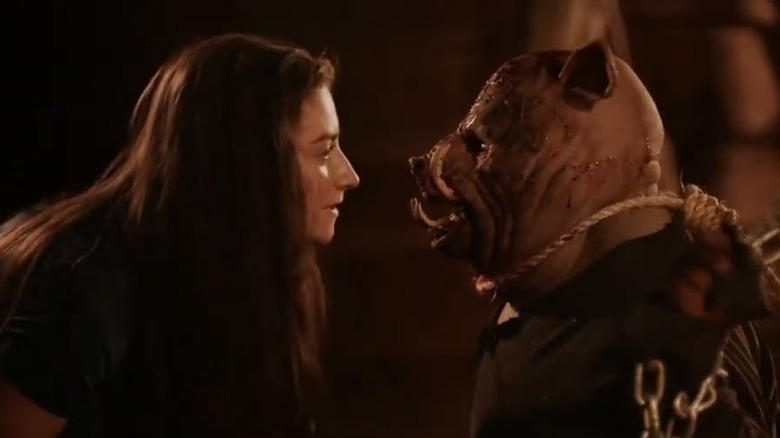 Altitude Film Distribution
While some people might find the idea of taking beloved characters from heartwarming children's stories and giving them a twisted makeover complete with blood, gore, and murderous mayhem a bit unsettling to fathom, those involved with "Winnie the Pooh: Blood and Honey" see things very differently, especially Amber Doig-Thorne. The actress loved the idea of Pooh and Piglet in a horror setting, and that innovative endeavor was enough to seal the deal for her involvement right away. "When I read the script, my first thought was this is crazy. This is a wild ride, but I love it. But I think it's so rare nowadays to find a really unique concept for a film," the actress said during an interview with Lisette Goes to Hollywood on YouTube. "When I read the script for this, I realized this is a genuinely unique idea and I love the concept of like taking a childhood character and giving it a horror twist."
Luckily for the actress, there is plenty more of this type of nostalgic horror on the way. "Winnie the Pooh: Blood and Honey" director Rhys Frake-Waterfield has already announced that he plans on bringing more of Pooh's crew to life in a terrifying manner down the road as well as giving the monster treatment to other childhood characters, like Peter Pan and Tinkerbell. More importantly, it will most certainly be interesting to witness how Doig-Thorne and other fans react to whatever terrifying creations come out of the next wave of horrifying childhood character-related cinema.