Winnie The Pooh: Blood And Honey Director Plans To Turn More Beloved Childhood Characters Into Monsters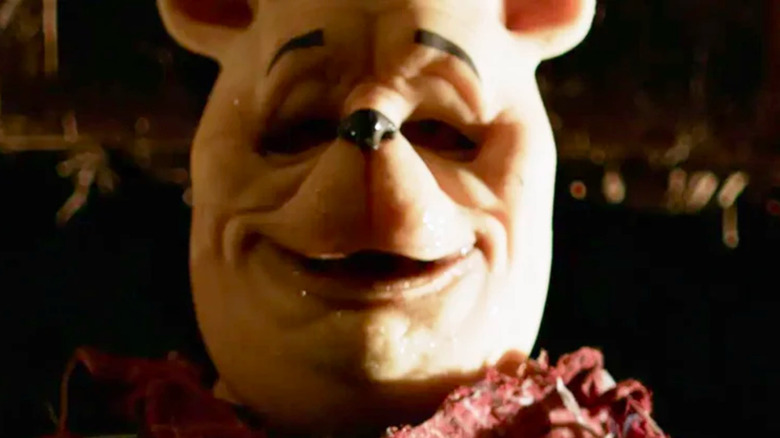 Altitude Film Distribution
Director Rhys Frake-Waterfield is on a mission to mess up our childhood, and if his debut dip into classic stories is successful, he might get it. Set for limited release on February 15, Frake-Waterfield's micro-budget, bear-focused slasher "Winnie the Pooh: Blood and Honey" will be arriving in theaters very soon, turning the image of the silly old bear on its head and then lopping said head off in a highly gory fashion.
Providing a twisted take on A.A. Milne's beloved characters, "Blood and Honey" tells a tale in which time has not been kind to either Pooh Bear (Craig David Dowsett) or Piglet (Chris Cordell), who have become feral, bloodthirsty killers during Christopher Robin's (Nikolai Leon) time away from the Hundred Acre Wood. Of course, being away from friends for such a long time sparks a vicious act of vengeance and a quickly growing body count, leading Christopher to fight for his life in an excessively sticky nightmare. Oh, bother.
With the carnage waiting to be unleashed in theaters, Frake-Waterfield has revealed his master plan for a movie franchise that is going to go further into classic children's stories, one that will dare to venture into territory that only horror icons like Freddy Krueger or Jason Voorhees have dared to take a stab at. The only difference is that these might involve a rabid Bambi or Tinkerbell going cold turkey. Delightful.
Winnie the Pooh: Blood and Honey director wants to make a horrifying universe
After putting a lid on "Winnie the Pooh: Blood and Honey," Rhys Frake-Waterfield has plans to throw characters into a big bloody blender to let carnage ensue. Speaking to The Hollywood Reporter, the director mapped out his plan. "The idea is that we're going to try and imagine they're all in the same world, so we can have crossovers," he explained, prepping to pick apart these beloved characters. "People have been messaging saying they really want to see Bambi versus Pooh."
Given his debut effort at a macabre reunion with Pooh and Piglet, it wouldn't be impossible. The director already has an outline for an encounter with an evil iteration of the boy who never grew up in "Peter Pan's Neverland Nightmare," featuring a heavily obese Tinkerbell who is just overcoming drug addiction (via The Hollywood Reporter). In addition to this, he also has an outline for "Bambi: The Reckoning," which will see the hunted become the hunter and our deer old friend turn rabid in a creature design similar to the monster in Netflix's "The Ritual" (via Dread Central).
It might seem like he only has eyes for a dark Disney universe, but the visceral vision won't stop there. For the "Blood and Honey" handler, there are "loads of old fairytales and urban legends, concepts that are synonymous with your childhood, and they're the ones which I want to build up into a twisted alternative reality."