What Winnie The Pooh: Blood And Honey's Pooh Bear Actor Looks Like In Real Life
Ever since the "Winnie the Pooh: Blood and Honey" trailer hit the Internet back in August, it has become clear that this is not your average Pooh flick. Very loosely adapted from the "Winnie-the-Pooh" oeuvre of A.A. Milne and E.H. Shepard, the film purports to introduce Pooh as a bloodthirsty beast hellbent on eliminating all humans from his path. As for Piglet, well, he doesn't get off too easy, either. In this version of the story, the adorable pig is now a total psycho swine who will further Pooh's murderous mission at all costs.
Just like his character, Pooh himself has been distorted beyond recognition. Grotesque and barbaric, he strikes the imposing figure of a beast, all while wielding a terrifying plastic grin. And while Pooh's appearance makes sense in the context of the film — Pooh is essentially a mindless animal now, clobbered by life's cruelties — his soulless face still sends chills down any Pooh fan's spine. But the best part is that the actor who plays him looks completely innocent.
This is Craig David Dowsett's second notable film credit
According to "Blood and Honey"'s director, Rhys Frake-Waterfield, the new Pooh is nothing like the honey-loving bear that children have loved since the early 20th century. As he explained to Variety last year, Pooh and Piglet were left alone long ago by Christopher Robin in the world of this film. "They've essentially become feral," Frake-Waterfield explained. "They're like a vicious bear and pig who want to go around and try and find prey."
Naturally, a formidable-looking actor would have to take on such a terrifying role. But Craig David Dowsett is, by all accounts, an average guy. He's still an up-and-coming actor, so he hasn't done many interviews yet, but he's perfectly charming in those that have made the rounds so far. On top of that, he's already set to appear in another horror film, so "Blood and Honey" fans can expect to see more of him in the future (even if he's behind a mask).
Rhys Frake-Waterfield has more horrifying adaptations planned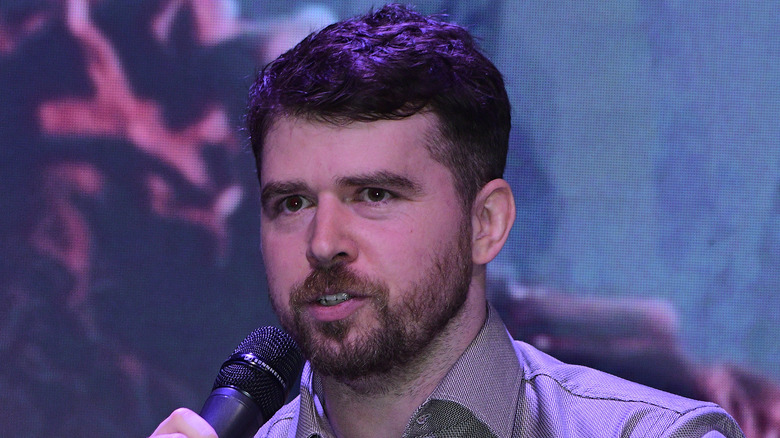 Medios Y Media/Getty Images
Before now, Craig David Dowsett's only acting credit was for the horror flick "The Area 51 Incident," which was also directed by "Blood and Honey" helmer Rhys Frake-Waterfield. But after "Blood and Honey" arrives in limited release today, Dowsett will appear in yet another horror film, "The House that Zombies Built." Not much is known about the film yet, but Dowsett is currently credited as "Roger the Zombie Easter Bunny," which could signal another childhood-destroying role as the beloved fantasy figure (albeit an evil one).
But perhaps most auspicious for future fans of "Blood and Honey" is the news that its director, Rhys Frake-Waterfield, plans to make more childhood-ruining cinematic adaptations of beloved fantasy figures. As he told The Hollywood Reporter, he's already cooked up a story involving an evil Peter Pan and overweight Tinkerbell in "Peter Pan's Neverland Nightmare." (Tinkerbell is also in recovery from drug addiction, naturally.) Additionally, Frake-Waterfield plans to make "Bambi: The Reckoning," which will tell the classic story of a rabid baby deer who seeks violent revenge upon the humans who sought to destroy his life.
Of course, since Dowsett and Frake-Waterfield have collaborated twice now, it tracks that they might continue their working relationship on Frake-Waterfield's future horror outings. After all, Dowsett looks appropriately horrifying in his low-budget Pooh get-up, so it's not hard to imagine him filling in the shoes (er, paws) of a larger-than-life, fanged Bambi — or of a lumbering, deadly Peter Pan, for that matter. Now, we can only hope that "Blood and Honey" drums up enough hype to fund better costumes for those hypothetical horror flicks of the future.