How Martin Henderson Behaved On The Set Of Virgin River According To Marco Grazzini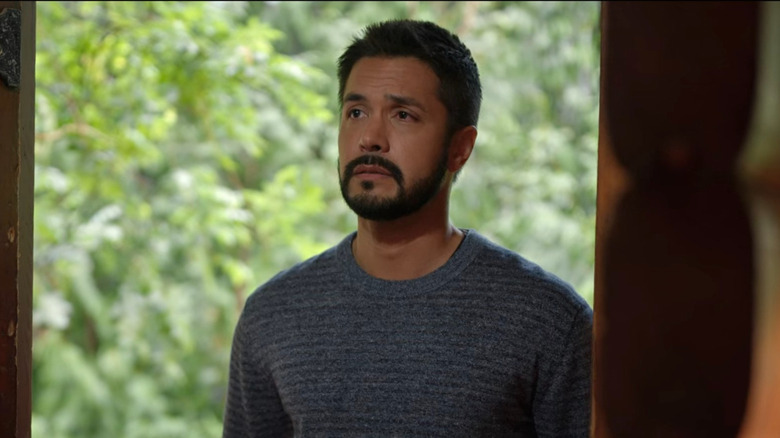 Netflix
People come to Virgin River to get away from the big city and enjoy the stunning mountain views, but there's still plenty of drama to be had in this picturesque town. Viewers were shocked when Jack Sheridan (Martin Henderson) was shot by an unknown assailant at the end of Season 2. He's known around town as the courteous and charming owner of the local bar, so there seems to be no clear motive. Thankfully, Jack's old friend Mike Valenzuela (Marco Grazzini) decides to look into the case. It's hard to get a read on how genuine Mike and Jack's friendship really is, especially because some fans think Mike is the real father of Charmaine's (Lauren Hammersley) twins. However, the actors who portray them have a great working relationship.
During an interview with Survived The Shows, Marco Grazzini couldn't help but praise Martin Henderson for bringing positive energy to the set of "Virgin River." "I've been very lucky that Martin was the first person that I acted opposite of on the show. He's been a gift since day one. I know it sounds corny, but honestly, I've learned a lot from him," the actor told the outlet. "He's very funny, he's always cracking jokes, and as an actor, he's got such great internal life that you can see it's just happening behind his eyes."
The audience loves to see Jack's romantic side during his interactions with Mel (Alexandra Breckenridge), but Grazzini finds his co-star's darker scenes to be just as thrilling.
Marco Grazzini has learned a lot from Martin Henderson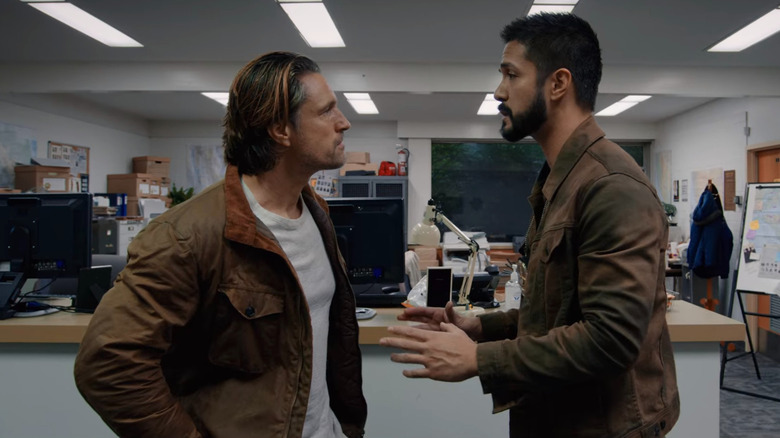 Netflix
As far as Marco Grazzini is concerned, Martin Henderson couldn't be a more generous screen partner. The main focus of "Virgin River" is Mel and Jack's love story, but their relationship feels believable because both characters are shown to have rich lives outside of each other. Mel is dedicated to her work with Doc Mullins (Tim Matheson), while Jack has ties to almost everyone in the community because of his bar. Jack is definitely romantic lead material. He's kind, handsome, and goes out of his way to care for people. Even so, Jack has his fair share of demons and Grazzini admires how Henderson can shift his emotions at the drop of a hat.
"He's so subtle, he can explode at the snap of a head," Grazzini continued in the same interview. "He scares me sometimes, because, you know, he's always doing the emotional romantic stuff, which he's phenomenal, and then he has a scene with me, or with Brady and he gets really, you know, excited about that and it won't be in the script, but like, you know, he'll kick something on – He won't kick me, but he'll kick a box, and it's just such great energy to be a part of and to watch and to learn from."
Jack may look the part, but he's more than a cliché leading man. Jack has shouldered plenty of burdens throughout his life and Martin Henderson likes exploring his character's vulnerabilities.
Martin Henderson likes that there's more to Jack than meets the eye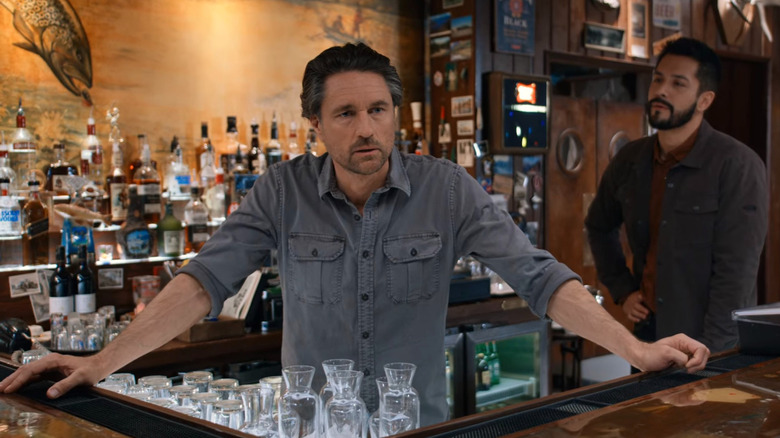 Netflix
"Virgin River" can be a little corny from time to time, but Martin Henderson appreciates that his character has depth. As the narrative moves forward, the audience learns more about Jack's past, and he's definitely dealt with a lot of trauma. He suffers from PTSD after serving in the Marine Corps, and getting shot in his own bar definitely didn't help. Jack is always there to support Mel when she needs it, but it's not uncommon to see the situation reversed. In a Season 4 episode titled "Once Again," Jack has a nightmare about his brother, who tragically died when they were kids. The scene gives Henderson a chance to show off the full breadth of his skills, an opportunity that the actor savored. 
"It's very revealing of who this man is and what he's dealing with. Creatively, I find it really exciting, but psychologically it's a bit scary," Henderson told Glamour after Season 4 premiered in July 2022. "No one really likes touching on that stuff in their own life, right? We're all really, really good at avoiding the darker, more painful emotions. As an actor, it's your job, but there's a fear of it not working, or of not being able to get there emotionally."
No matter what's happening with Jack's storyline, Henderson sticks the landing. Hopefully, there will be plenty of chances to see his acting talents shine when Season 5 arrives on Netflix.