Why Stanley Tucci Thinks Shadow Organizations (Like Those In Citadel) Actually Exist - Exclusive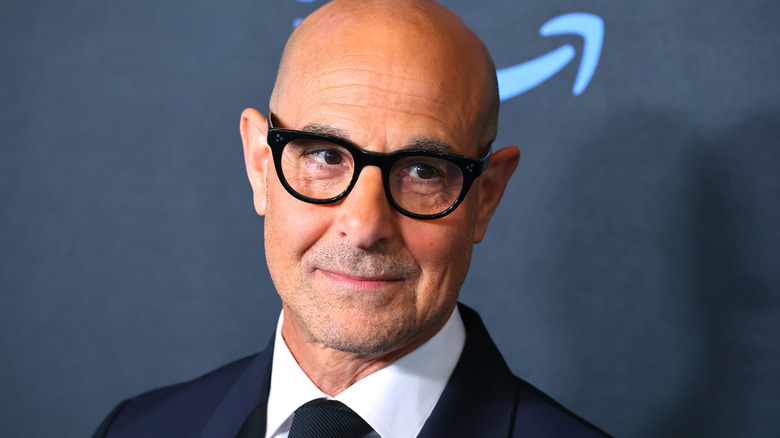 Leon Bennett/Getty Images
While Stanley Tucci is playing a key member of a fictional shadow organization fighting for the greater good around the globe in the new Amazon Prime spy series "Citadel," the Oscar-nominated actor has no doubts that such covert operations are lurking in the shadows in real life.
"I think there are so many organizations that exist that we don't know about that are orchestrating things behind the scenes for whatever reasons," Tucci told Looper in an exclusive interview. "[There are] maybe some for good, probably most not for good."
In the series, which makes its two-episode debut on Amazon Prime on Friday, April 28, Tucci plays Bernard Orlick, an operative who guides key agents Nadia Sihn (Priyanka Chopra Jonas) and Mason Kane (Richard Madden) on their mission for the spy organization Citadel. But when an operation targeting the deadly worldwide syndicate Manticore goes horribly awry, Citadel falls, and Nadia's and Mason's memories are erased for their protection. Eight years after the event, Bernard locates his former colleagues with the chance to restore their memories — as well a chance to join the fight once again against Manticore — which is as big a threat to the world as it has ever been.
Tucci told Looper that the idea of such shadow organizations existing is "very disconcerting — especially nowadays."
"With technology ever-changing and becoming more and more sophisticated, I would imagine they'd be able to use those tools to their advantages," Tucci observed.
Tucci loves his humor-filled dialogue more than the idea of shadow organizations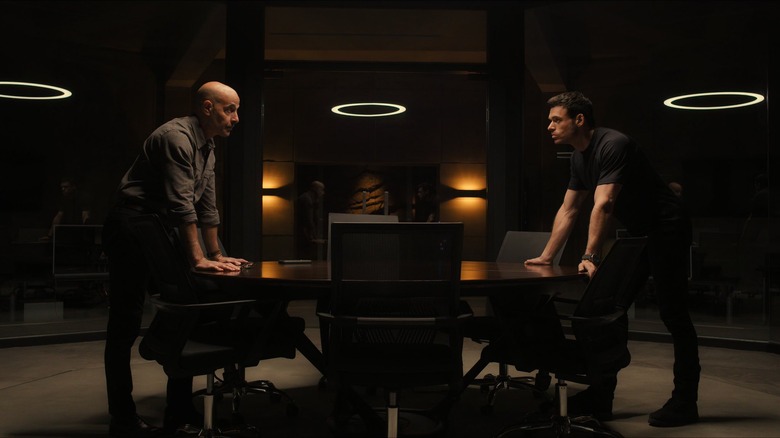 Amazon Studios
Far less disconcerting to Stanley Tucci than the idea of real-life shadow organizations was the chance to let a little humor shine in his performance. "Citadel" is executive produced by "Avengers" filmmakers Anthony and Joe Russo, so it shouldn't come as a surprise to viewers that the series is packed with action, adventure, intrigue, and intensity. Topping off the series, though, is the smart and oftentimes funny dialogue, which Tucci is the beneficiary of.
"I loved the dialogue. We were also able to play with it a bit, which was really fun [and what] I really like to do," Tucci told Looper. "The Russo brothers have a great sense of humor — a very dark sense of humor sometimes, as do I — so it was a perfect match."
Acting within the Russo brothers' framework, Tucci was able to do what he has done several times before in films like  "The Devil Wears Prada," "Captain America: The First Avenger," and most recently, "I Wanna Dance with Somebody," where he plays legendary Arista Records producer Clive Davis: He makes his acting look easy. However, Tucci cautions, making his acting look easy actually isn't as easy as it looks. After all, if acting is easy for him, then he's in danger of becoming complacent.
"Complacency is death. The exposition stuff is not easy. That's hard, but you get through it. Exposition is a part of every movie that you make. Ultimately, what you have to do is there has to be an emotional connection to the words," Tucci explained. "Luckily, when you're working with filmmakers like the Russo brothers, you can play around with things. They're not dogmatic about the dialogue unless there's something that needs to be very clear so that the audience understands what's happening. There's a playfulness to them, and that allows you to bring it to yourself."
"Citadel" debuts on Amazon Prime with a two-episode premiere on Friday, April 28, with new episodes dropping every Friday through May 26.