Priyanka Chopra Jonas And Joe Russo Debrief The Mission Behind Their Spy Series Citadel - Exclusive Interview
Prime Video
After starring in a string of films in her home country of India from 2001 to 2014, Priyanka Chopra Jonas ventured to Hollywood in 2015 to score her breakthrough American role in the ABC crime drama "Quantico." Now, five years after Chopra Jonas wrapped up her acclaimed role as mysterious FBI recruit Alex Parrish, the actor has embarked on another thrilling mission, under the auspices of blockbuster filmmakers Anthony and Joe Russo in the intense new spy drama "Citadel."
The Russo brothers are two of the creative forces behind "Citadel," which debuts on April 28 on Amazon Prime. In the series — created by David Weil — Chopra Jonas and Richard Madden star as Nadia Sinh and Mason Kane, two key members of the global international spy organization Citadel. A shadow organization that protects the safety of people worldwide and is more powerful than the CIA and FBI, Citadel is on the brink of survival after nearly being destroyed by the powerful global crime syndicate Manticore, led by the cold and calculating Dahlia Archer (Lesley Manville).
Eight years after narrowly escaping death in the mission that led to Citadel's fall, both Nadia and Mason are leading seemingly normal lives until their fellow spy, Bernard Orlick (Stanley Tucci), approaches Mason with the shocking truth: Upon their rescue from the botched mission, Mason's and Nadia's memories were erased and they were each given new lives and identities. After Bernard presents them with the means to restore their memories, however, Mason and Nadia are pulled back into the organization, where they will have to not only face Manticore again but confront their deeply personal past together.
In an exclusive interview with Looper, Priyanka Chopra Jonas and Joe Russo detail the physical rigors that went into the making of "Citadel," and both contemplate the Russo brothers' possible return to the Marvel Cinematic Universe after the massive success of their "Avengers" films.
Chopra Jonas loves the thought that went into Nadia's lethal skill set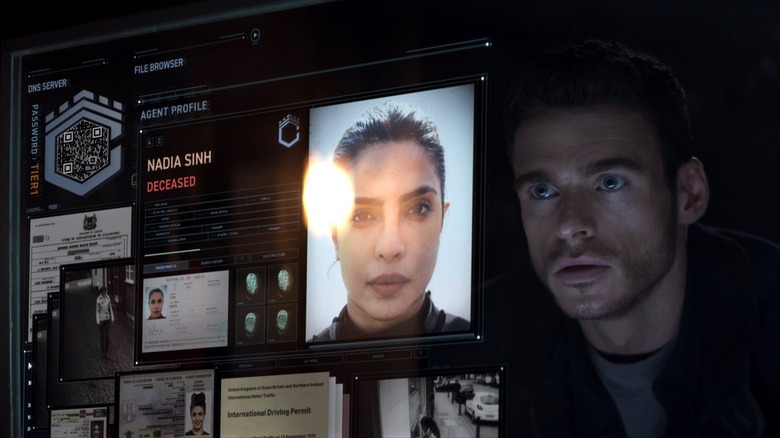 Prime Video
Priyanka, you engage in some pretty heavy physical combat in the opening scene of "Citadel," plus you're using handguns, assault rifles, kitchen utensils, and later on in another episode, a frying pan. ... How do you even wrap your head around training for intense action like that?
Priyanka Chopra Jonas: That was actually very intentional. If you think about it, as a woman, we are physically built smaller than most guys, so when you're having combat with someone who's double your size, you have to use your size as your strength. We turned it into stealth; we turned it into smarts, what was available. We wanted to be able to show that she's capable of surviving in any situation because she thinks three steps ahead. It was all very intentionally done, where her choices always show you that she's a couple of steps ahead of everyone else, so she can turn anything [in] her favor. I love those little, subtle details in the show that build characters.
Russo admires how his stars embraced their own stunt work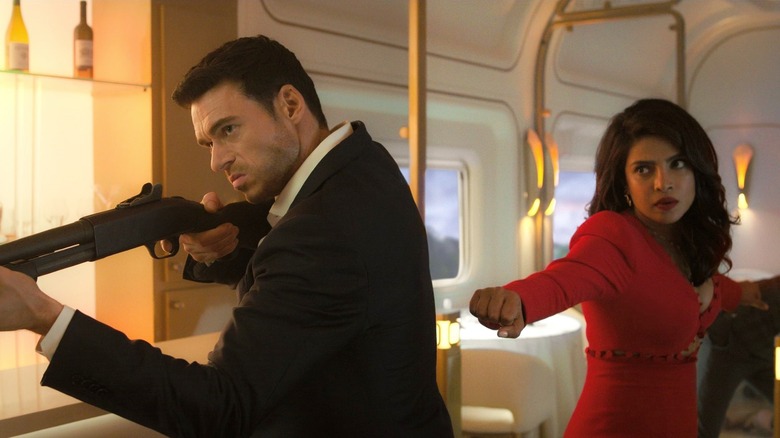 Prime Video
Joe, no matter how many action scenes you and Anthony have directed in your career — granted, you didn't direct the 1st episode of "Citadel" — I would imagine there is no way to prepare an actor like Priyanka or Richard Madden for a scene like the opener because every scene is different.
Joe Russo: They are different. It is a lot of physical training. You do have to be in peak condition. You have to be athlete fit in order to pull that stuff off. I don't know if people realize the sort of Cirque du Soleil level of execution that's required, where you have grown adults throwing punches at each other at full speed and only missing by a fraction of an inch. If you miscalculate and you connect, you're going to break someone's jaw or break their nose or hurt them severely. 
There's an intense amount of focus, discipline, physicality, and training required to pull this off, and I love to see the actors executing their own stunts and their own physical fighting. Both Priyanka and Richard were game for all of it, and you'll see over the course of the show, it gets pretty intense.
Chopra Jonas is game to reunite with the Russos if they return to making superhero movies
Tristan Fewings/Getty Images
Joe, you and Anthony have plenty of irons in the fire. ... Priyanka, you got to be thinking, "Anthony and Joe, I'm going to throw my hat in the ring if you do another MCU movie." Is there any particular role that you would like to play in the MCU if Joe and Anthony get involved again?
Chopra Jonas: Yeah, I'll take [on] a table, anything, or a chair, car, whatever.
Russo: Are you a comic book fan?
Chopra Jonas: I am, of course. Joe and Anthony have built their universe through the Marvel of it all, but I've been a fan since "Community." I think they're amazing filmmakers [who] have the ability to be funny and cool and have bigger ideas with every step that they take, and I think that's very inspiring. To be able to work so closely with both of them and see how they operate — not just their individual selves but AGBO [the Russo brothers' production company] in general — is really cool and admirable.
Russo: And you're playing your own superhero now?
Chopra Jonas: And I'm playing my own superhero.
Russo: Nadia Sinh.
Chopra Jonas: But I'll still take on playing one [for you and Anthony]. That's not off the table.
Joe, is there a chance you and Anthony return to the MCU at some point?
Russo: Right now, we're really focused on AGBO and all of AGBO's projects. We have "Citadel" coming out very shortly. We have "Extraction 2" right behind that and a movie that we just completed called "The Electric State," with Chris Pratt and Millie Bobby Brown. There's a lot going on in our lives, so I don't know necessarily that I see any potential in the near future.
Well, for now, you got Priyanka the superhero in "Citadel," and you got Chris Hemsworth and Chris Pratt for your upcoming movies. You have the superheroes coming to you, Joe! That's what matters most.
Russo: What matters most is working with our friends.
"Citadel" kicks off on April 28 on Amazon Prime with two episodes, with new episodes premiering Fridays through May 26.
This interview has been edited for clarity.