Who Plays Joel In Welcome To Eden?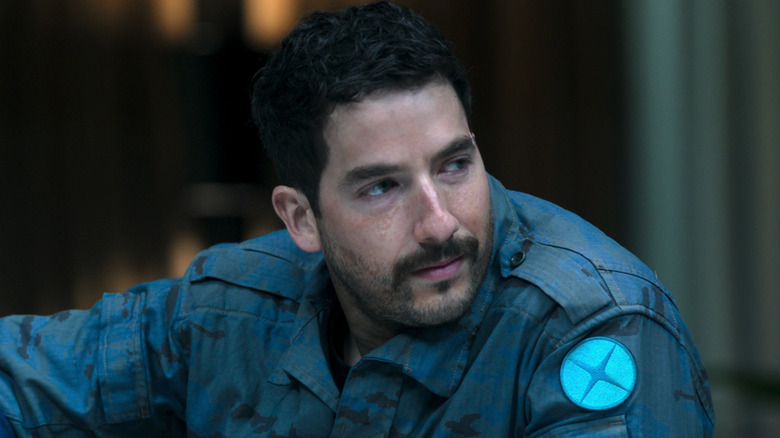 Netflix
In Season 2 of the Netflix Spanish drama "Welcome to Eden," the young adults stuck on the island with the community of Eden are just as consumed with trying to get off the island and back to their lives. But after the threat to Astrid (Amaia Salamanca), Ibón (Diego Garisa) killing Ulises (Alex Pastrana), and Charly (Tomy Aguilera) escaping the island in Season 1, a change in the guard was not unexpected.
While Charly is initially happy to be fished out of the ocean, he quickly realizes that his rescuers work for Eden. Joel is in command of the security team, and Astrid requests the presence of him and the rest of their security after the recent discontent on the island. Joel has no qualms about killing disobedient Eden members, and seems to relish making decisions to terminate problem people. He blindly does whatever is asked of him, seemingly with glee at every violent act he commits or observes. The actor who portrays the sadistic Joel is the actor Carlos Torres.
Torres is a telenovela star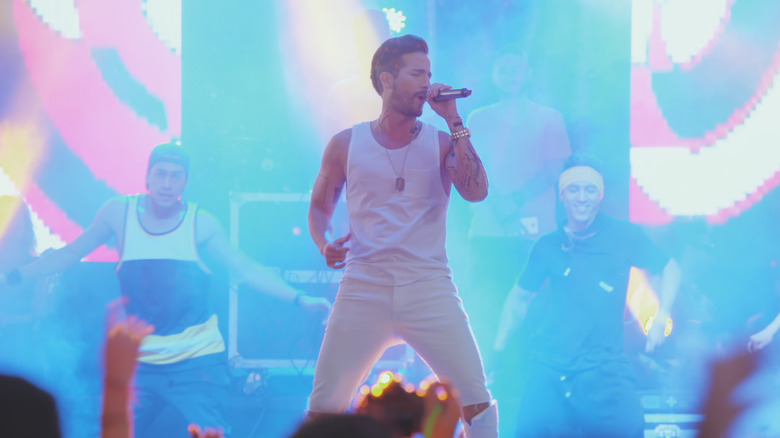 Netflix
Carlos Torres made his screen debut in the Columbian version of the mega-popular Argentinian series "Floricienta," playing Franco Fritzenwalden. His breakout role was in the telenovela "Amor, mentiras y video." As Tomas, he plays the older brother of the lead character, 15-year-old Manolo. After following that up by playing the bad guy Enrique 'Kike' Linares in the telenovela 'Niñas mal," he co-starred in the Colombian telenovela "Secrets of Paradise" ("Secretos del paraíso").
In 2020 he co-starred in the romantic comedy series "All for Love" ("Amar y vivir"), playing mechanic Joaquín. From 2018 through 2021, he starred as villain Charly Flow in the series "The Queen of Flow." Charly is not only responsible for getting protagonist Yeimy Montoya arrested and jailed after he frames her for being a drug mule, but he also steals a notebook that contains her songs and uses them to become a famous singer. The show was a global success, winning an International Emmy Award for best Telenovela in 2019.
After "The Queen of Flow," Torres played Juan Esteban Osorno in "La Nieta Elegida" and currently plays Pipe Calderón in "Paro de mi corazón."