Who Plays Sinh Thach In Netflix's A Tourist's Guide To Love?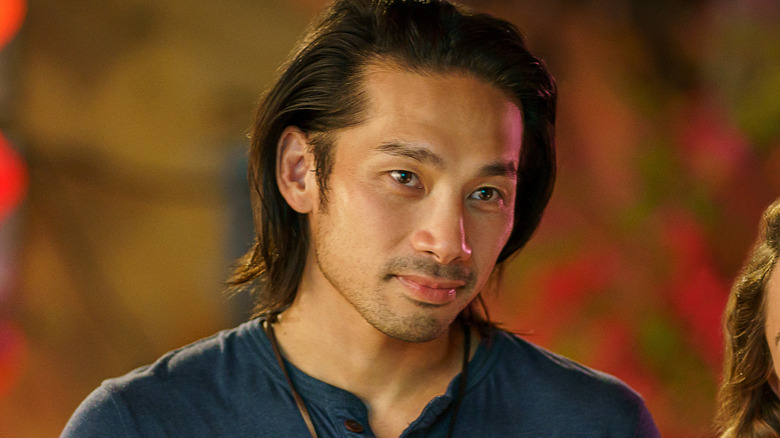 Sasidis Sasisakulporn/Netflix
The Netflix romantic comedy "A Tourist's Guide to Love" has stolen the hearts of subscribers, and those that enjoyed the humorous, heartfelt feature starring Rachel Leigh Cook may be hoping to find out who played her character Amanda Riley's love interest Sinh Thach.
Set in some of the most beautiful and exotic locales that Vietnam has to offer, alongside genuinely positive Vietnamese representation, the motion picture's story of a travel industry professional learning to live a more spontaneous lifestyle — thanks to the enticing efforts of her tour guide Sinh Thach — resonated rather well with viewers on the streamer. It turns out that watching the pair come together over the course of the film's 96-minute runtime has helped "A Tourist's Guide to Love" top the charts, and fans can't stop gushing over the adorable onscreen romance, especially the identity of one half of the onscreen couple. 
The real-life person who won over Cook's character's affections in the movie, as it happens, is actor Scott Ly, and while he most certainly isn't a household name, given his credits and turn in the worldly rom-com, Ly has most certainly made an impact where it counts. The actor has been adding credits to this filmography since 2006, appearing in shows such as "Bones," "Criminal Minds," "Animal Kingdom," "The Young and the Restless," and "FBI: Most Wanted."
Rachel Leigh Cook loved Scott Ly's energy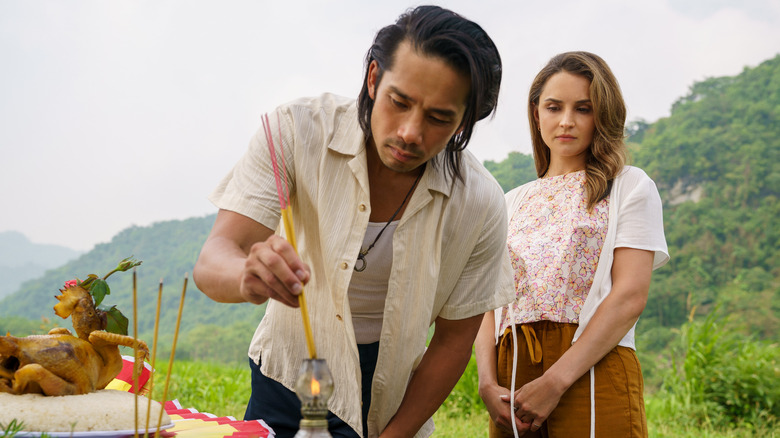 Sasidis Sasisakulporn/Netflix
It's no secret that Rachel Leigh Cook is somewhat of an icon when it comes to the rom-com genre. The talented actress has starred in films such as the well-renowned "She's All That" all the way to the Netflix romantic comedy "Love, Guaranteed." So it's safe to assume she knows what she's doing when she takes on these kinds of gigs. Being the all-star of lovely, laugh-inducing features that she is, picking a partner in crime to pull off a hilarious yet heartwarming experience for viewers shouldn't be taken lightly. But fortunately for Cook, casting Ly was a stellar choice, and the actress wasn't shy about revealing why she enjoyed working with him so much on "A Tourist's Guide to Love." 
"I was just drawn to ... we were all just drawn to Scott's energy. He's just so unique, and so I don't know a different word but kind of quirky. But he has this full swagger about him," the actress said in an interview with Fox 13 Seattle. "He's confident from a place that's just still really genuine. I don't know. I just think he's a really cool human being." 
That is quite the compliment for an up-and-comer to receive from such an established player in the industry. Fans will most certainly have to keep an eye out for what Ly does next, as well as wait and see if the film's success will lead to "A Tourist's Guide To Love" someday getting listed as one of the best romantic comedies of all time.