Succession: Logan's Exit Was The Best Thing For Karl And Frank
Graeme Hunter/HBO
Killing Logan Roy — played by the formidable, legendary Brian Cox — off in the third episode of the final season of "Succession" was one of the boldest moves this acclaimed drama could have possibly pulled. While aboard a plane to Sweden to try and close a huge deal with tech bro Lukas Matsson (Alexander Skärsgard), Logan suffers a cardiac event (and we learn later that he was yanking his iPhone out of the plane's clogged toilet when that happened) and is ultimately beyond saving, despite efforts from the cabin crew. His children — Kendall (Jeremy Strong), Roman (Kieran Culkin), Shiv (Sarah Snook), and the oft-forgotten Connor (Alan Ruck) — are stuck on a boat for Connor's wedding in New York, yelling into a phone while Logan is surrounded not by his family, but by his business associates and acolytes, including Frank (Peter Friedman) and Karl (David Rasche).
As the vice chairman and CFO of Waystar Royco, respectively, Frank and Karl have been a vital part of the narrative of "Succession" since its inception, but without Logan, they could have been completely unmoored. Instead, the two characters are getting more play than ever, and they're actually kind of thriving in the wake of Logan's death. Karl and Frank are a delightful duo, and getting Logan out of the picture was a perfect way for the two of them to shine as the series draws to a close.
The absence of Logan on Succession means there's more time for Karl and Frank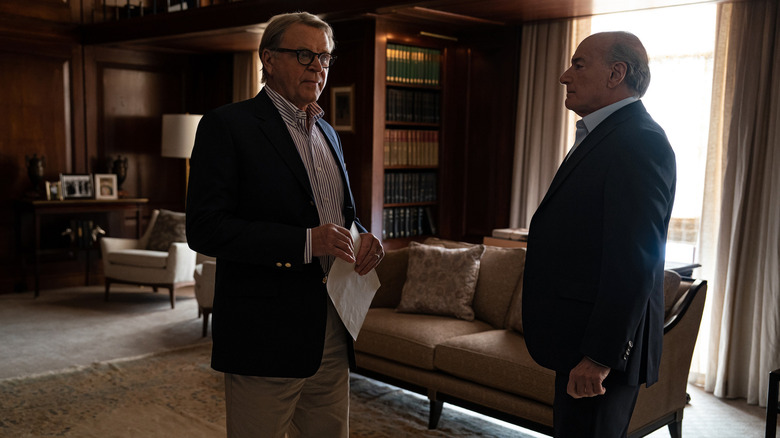 Macall Polay/HBO
"Succession" is stacked top to bottom with incredible, accomplished actors, many of whom are relegated to supporting roles. Especially with Brian Cox looming over the proceedings, it was sometimes a bit too easy to forget about characters like Karl and Frank — especially when their cohort Gerri (J. Smith-Cameron) got her own spotlight thanks to her off-screen chemistry with Kieran Culkin and some really twisted work by the show's writers.
Immediately after Logan dies — no, really, like, the day after — Karl and Frank have an impromptu summit in the big man's private office when they try and figure out how to parse a piece of paper written sometime before the CEO's sudden death. (Karl and Frank don't know when it was written, and as a result, neither do we.) Considering the paper has Kendall's name on it with a mark that's either meant to underline it or cross it out, it's pretty important, and the duo has an extremely funny tete a tete and even considering just disposing of the paper entirely before they end up breaking the news to everyone else.
For viewers who love the show but maybe had trouble telling the difference between Frank and Karl, this moment was a perfect touch, giving these two characters a lot more to do — and it's not even just this, as Karl delivers a stunning kiss-off to the hapless Tom Wambsgans when Logan's former best boy tries to put his "hat in the ring" for the CEO spot. There aren't a lot of good couples on "Succession" — or any, really. Karl and Frank are the best we're getting.
Frank and Karl could be in danger as Succession continues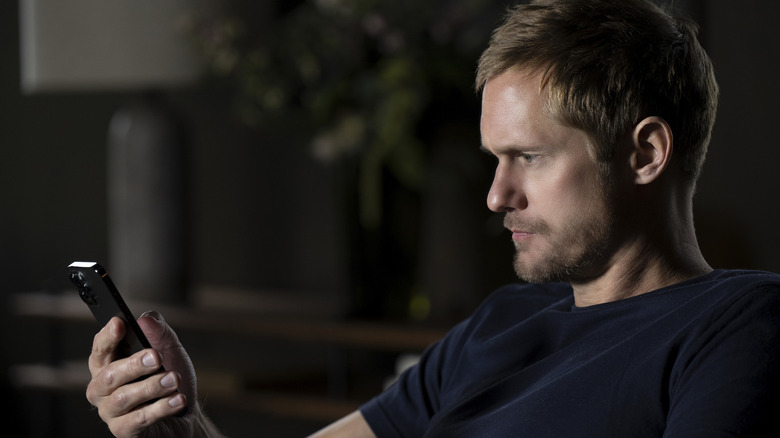 Graeme Hunter/HBO
With all this said, the fifth episode of the last season, "Kill List," presented some serious doubts about Karl and Frank's future with Waystar Royco. After Matsson significantly raises his offer to buy both Waystar Royco and the Roy family news network ATN — an offer that's psychologically breaking both Kendall and Roman in the aftermath of Logan's death — Karl and Frank are feeling pretty good! That lasts for all of five minutes until the apparent "kill list" is released, which reveals that pretty much everybody except for Gerri, Tom, and Karolina (Dagmara Dominczyk) will be let go in the wake of Matsson's acquisition.
This isn't totally unexpected; while the whole Waystar gang is en route to meet up with the GoJo staff at their company retreat in Norway, they discuss that GoJo is notorious for buying companies and dismantling them from the inside out, ultimately using the parts to basically create an entirely new thing. Whether or not the best couple on "Succession" will get to stick around is anyone's guess, but there's still five episodes to go — and anything could happen.
"Succession" airs new episodes every Sunday at 9 P.M. EST on HBO.