Succession: Kendall's Name On The Piece Of Paper Has Fans In A Tizzy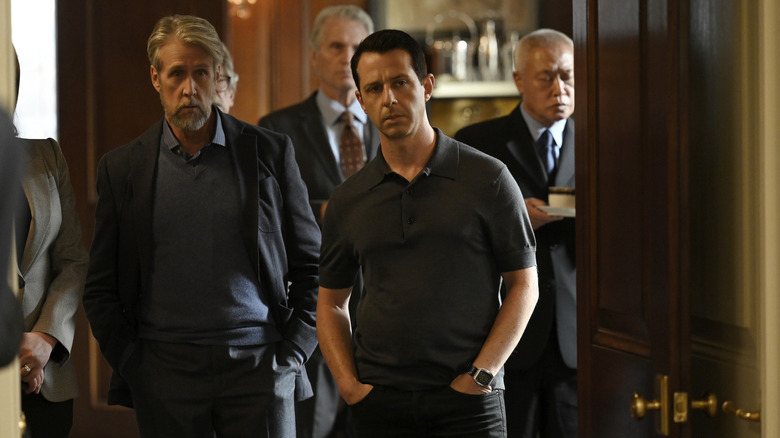 David Russell/HBO
Contains spoilers for "Succession" Season 4 Episode 4 — "Honeymoon States"
"Succession" is nearly halfway through its final season, and it's gearing up to, well, find its titular successor after Roy family patriarch Logan (Brian Cox) died suddenly in the third episode. (As we learn in "Honeymoon States," he experienced a cardiac event while he was trying to retrieve his iPhone from a toilet clogged by one of his subordinates.) While the family and board of Waystar Royco are gathered at Logan's former apartment, they stumble upon a piece of paper in Logan's private safe... that seems to name Kendall Roy (Jeremy Strong) as his confirmed successor.
Considering that "Succession" is a show where friends, family, and coworkers alike will turn against one another for the slightest hint of power, it's unsurprising that this non-legally binding piece of paper sends everyone into a total frenzy. (Nicholas Braun's Cousin Greg, whose name is also on the piece of paper without any explanation, notes that everyone is "scurrying like rats.") The biggest mystery here is that Kendall's name is either underlined or crossed out, and without Logan, it's impossible to figure out which one he meant. The exact trajectory of the line is delighting fans; as @saturnbaby13 wrote on Twitter, "i need to know how many lines they went through before they chose this masterpiece."
Fans are debating what Logan meant to scribble on that piece of paper
Macall Polay/HBO
As far as fans are concerned, Logan just had a shaky hand — and wasn't trying to cross out Kendall's name. TV writer Natalie Abrams, who knows a thing or two about narrative suspense, wrote, "If Logan was crossing his name out, the line would've started down the damn middle from the beginning. No one can change my mind on this." @eysansbottom seemed to agree: "tbh that is underlined. if youre gonna cross sth out you start in the middle of the first letter. but here the line starts from under and it gets a bit wobbly towards the end and thats perfectly normal, its not easy to draw a perfect straight line."
Some fans compared it to the infamous Internet argument over "the dress" and precisely what color it was, but in the end, it was obvious that "Succession" viewers loved that a simple marker line could send the world into chaos. The most viral tweet about this — and the one most fans quoted while discussing it — came from @ajose25, which included a screenshot of the line in question onscreen and said simply, "Give the Emmy to whoever drew this line."
Who's taking over at Waystar Royco?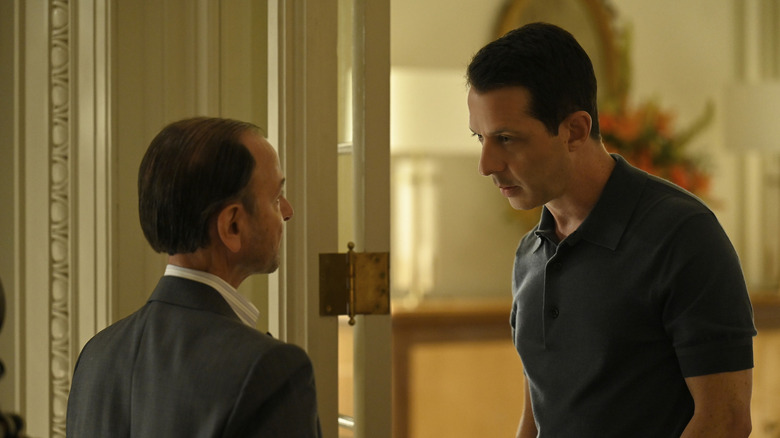 David Russell/HBO
Whether it's an underline or a strikethrough is clearly up for debate on and off screen, but there's one thing that matters from a plot perspective — the document isn't legally binding, and the board still needs to vote on Logan's successor. After Kendall, Roman (Kieran Culkin), and Shiv (Sarah Snook) huddle to try and figure out their next move, the two brothers outrank their sister, telling her that they'll keep her equal behind the scenes but that the two of them will be the public CEOs.
"Succession" is, ultimately, a show built on betrayal, so it's hard to imagine that Roman and Kendall's promise to Shiv will hold water, and she seems to think so too; after her brothers receive the votes they need from the board and are announced as the new leaders of the company, she storms out of the penthouse, falling down a short flight of stairs in the process. (It's as embarrassing as it sounds, honestly.) Kendall and Roman's plan as of this writing is to continue with the accepted deal to sell Waystar Royco to Lukas Matsson (Alexander Skärsgard), but even that feels like it could crash and burn at any given moment, especially because Kendall is already planning to release damaging details about their father behind Roman and Shiv's collective backs.
New episodes of "Succession" air on Sundays at 9 P.M. EST on HBO.