Succession S4 Episode 5 Recap: Roy Family Power Rankings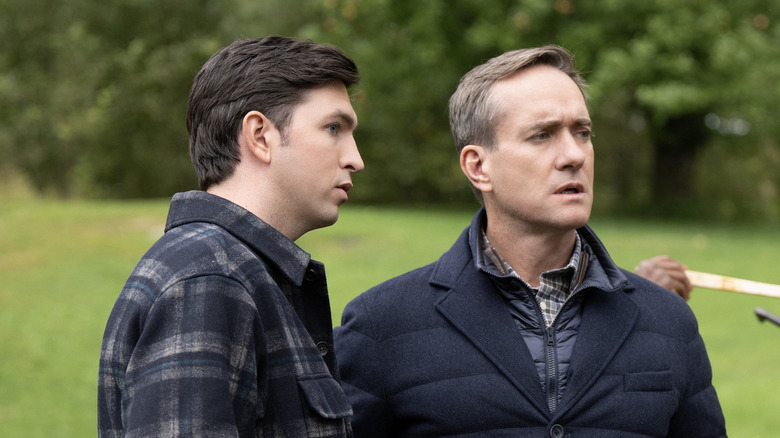 Graeme Hunter/HBO
Contains spoilers for "Succession" Season 4 Episode 5 — "Kill List"
The final season of HBO's "Succession" is halfway over, and in the absence of patriarch Logan Roy (Brian Cox), his children are left to manage both his legacy and a major business deal he didn't complete before he died. After Kendall (Jeremy Strong) and Roman (Kieran Culkin) Roy were named the co-CEOs of Waystar Royco in the wake of their father's death — leaving their sister Shiv (Sarah Snook) behind — the entire company prepares to head to Norway to settle their deal with "the Swede" Lukas Matsson (Alexander Skärsgard) during his company retreat in Norway.
As the older members of the Waystar Royco board notes, Matsson's GoJo is notorious for buying companies essentially for parts and dismantling them, leaving seriously low retention rates in their wake. J. Smith-Cameron's Gerri thinks the Americans will have the upper hand, saying, "they think they're Vikings, but we've been raised by wolves exposed to a pathogen named Logan Roy. They have no idea what's coming to them."
Mattson throws a huge wrench into everything, though, when he reveals he doesn't just want Waystar Royco; he wants the news network ATN as well. So how does this change both the deal and the power dynamic at hand? Let's break it down.
Connor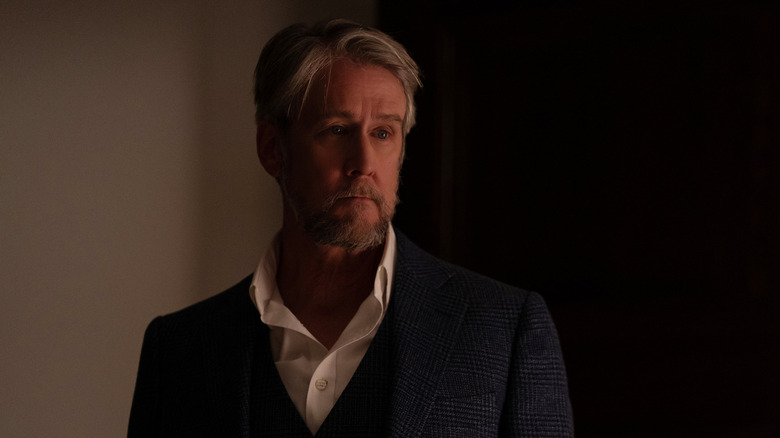 Macall B. Polay/HBO
Connor barely appears in this episode, which says everything you need to know. He's stuck at home in New York while his half-siblings do the important work of securing their father's legacy and dealing with Matsson, and he's arguing with Marcia over the prospect of putting Logan's body into a kilt for the funeral. He even tries to send a picture to Roman, Kendall, and Shiv of their dad's body, but they all put a pretty quick stop to that.
Even from an ocean away, Connor's siblings still manage to make him look like a small, weak idiot. His wife, Willa (Justine Lupe) does her very best to convince her husband not to let his siblings completely steamroll him from across the Atlantic Ocean, but it's no use. Connor's back at the bottom of the power ranking, only slightly rising above this episode's other losers — and it remains to be seen if he'll lose the kilt battle to Marcia, but it feels pretty likely that we'll see the big man in a kilt during the funeral.
The Waystar Royco board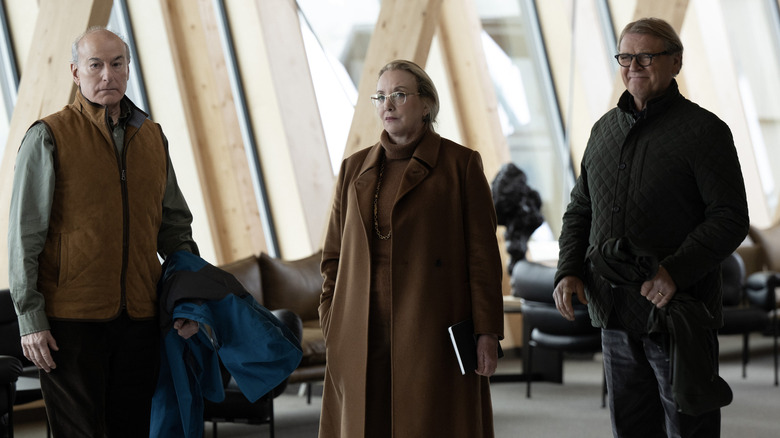 Graeme Hunter/HBO
No, the Waystar Royco board isn't part of the Roy family per se, but they might as well be; they accompany the heirs to the empire everywhere and are with them for every single major decision. Now that Kendall and Roman are running the show, the board has their back for every move, but as the episode reveals in its final moments, they're at a serious deficit.
The name of the episode, "Kill List," comes into play after Matsson makes his final offer to the Roys — and it has to do with who on the board stays and who goes. Aside from Gerri (J. Smith-Cameron), head of comms Karolina (Dagmara Dominczyk), and Tom Wambsgans (Matthew Macfadyen), the last of whom isn't even technically on the board, who are all safe, basically everybody else is named on the list, and it's clear that Matsson and the Swedes are intending to totally clean house once they buy both ATN and Waystar Royco. Looks like the wolf pack is going to lose most of its number should the GoJo deal go through... but the ink isn't dry just yet, and we still have five episodes to go before the story draws to a close.
Greg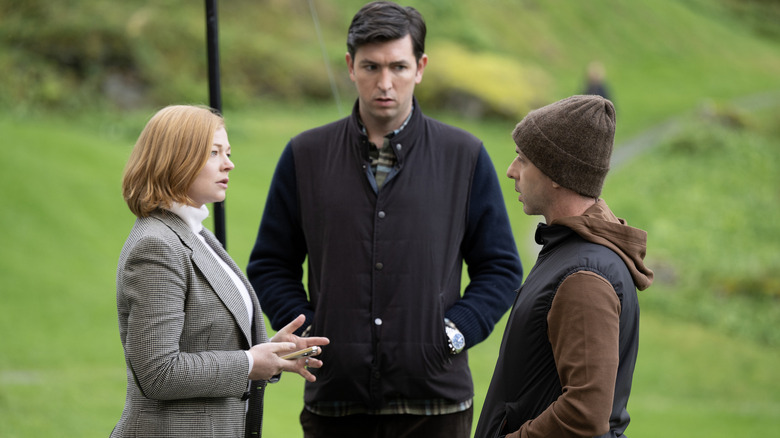 Graeme Hunter/HBO
What's Greg (Nicholas Braun) even doing around at this point? Why is he on the trip to Norway other than the fact that he's Tom's right-hand man? Even the Swedes seem confused by his lanky, weird presence; at some point, Tom tells Matsson that Greg is Logan's nephew, only for the tech bro to make a joke about how many Roy allies showed up to the retreat.
Narratively, it does make sense to include Greg, who's always felt a little bit like a very dumb audience surrogate, on the trip, but the fact that even the characters standing near him can't quite put a finger on why he's included is quite telling. Greg's never going to have any power, probably, unless literally every person near him dies suddenly, but he's just happy to be there most of the time – and in this episode that's definitely the case, especially when he kicks off the proceedings by making a joke about "Norwegian wood" that literally nobody thinks is funny.
Tom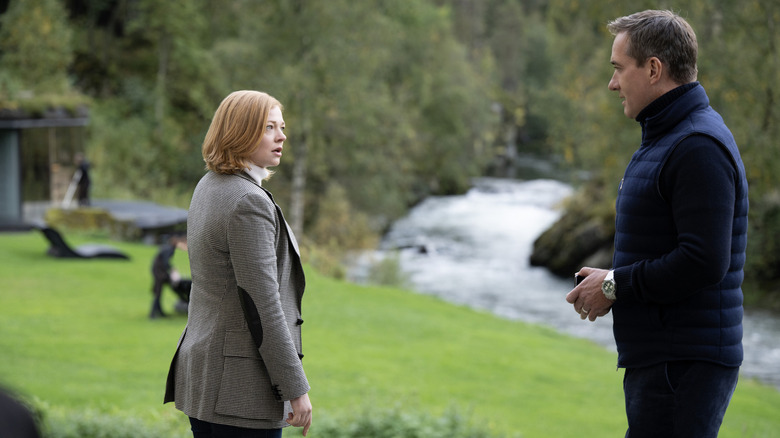 Graeme Hunter/HBO
After falling to the very bottom of the ranking last week, Tom is inching his way back up thanks to an assist from a very unlikely source — his soon-to-be ex-wife Shiv. Stuck on the same plane as the three siblings who discuss "cutting his throat," a proposition Shiv shrugs off, Tom definitely doesn't seem like he's going to come out on top in the end, and he's not at the top yet. He's also not at the bottom, considering that he's one of a select few whose name doesn't end up on the kill list, but the fact that Shiv kicks dirt onto his brightly colored and probably expensive sneakers helps him stay in the middle. (He retaliates, maturely, by flicking her ear.)
He, like Greg, feels ever-so-slightly out of place at the retreat, which he makes clear when Matsson asks him if he thinks France will experience an economic crash like Greece and Tom goes on at length about how Americans don't ever think about Europe's affairs. (Note that he says this to Europeans.) In the end, he's seemingly saved by Shiv, who asks him to grab dinner. The fact that Shiv is pregnant with Tom's child, which he still doesn't know about, could possibly have been the biggest factor here, but where the two go from here is yet to be determined.
Kendall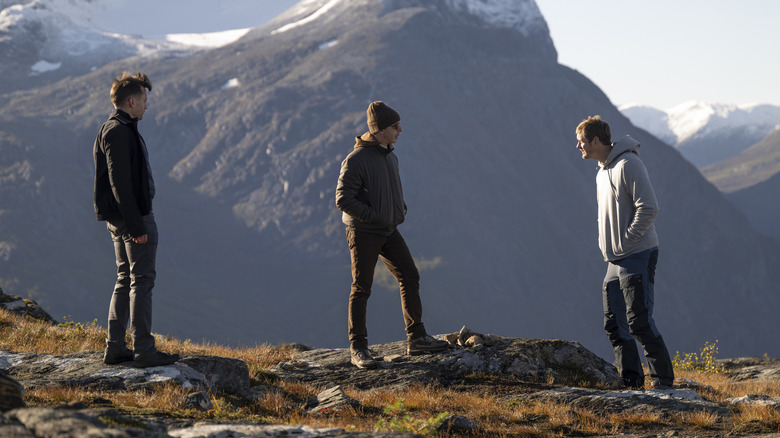 Graeme Hunter/HBO
As the current co-CEO of Waystar Royco, Kendall's feeling pretty good about "bleeding the Swede" for more money as they all head to Norway, but he seems to lose some of his steam as the proceedings carry on, especially when Matsson reveals that he also wants to buy ATN for parts. Kendall's the first person who suggests tanking the deal, obviously frustrated that Matsson doesn't seem to "understand" what the companies are about — not that that particularly matters in the end — but compared to his younger brother, he seems to kind of back off where the Swede is concerned.
When Matsson ups his offer unexpectedly at the end of the episode, Kendall and Roman aren't as thrilled about it as you'd think, and it's an unexpected look into both of their emotions; watching their father's legacy head to the chop shop is giving them both some feelings they can't quite unpack. Kendall is set to make an absolute boatload of money along with his siblings, but he's still a sad boy at his core.
Roman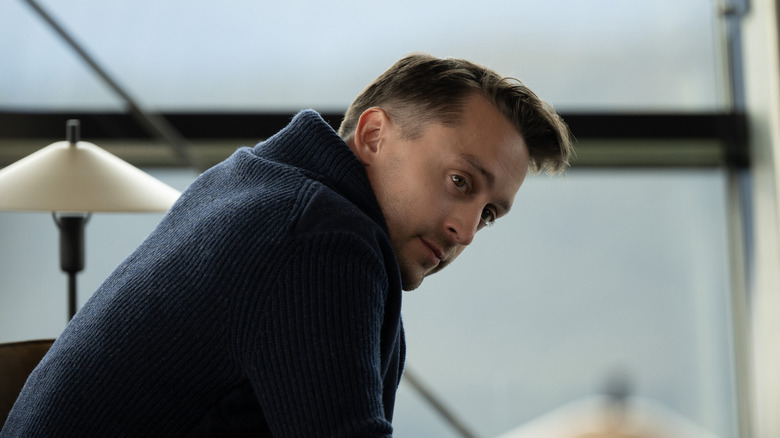 Graeme Hunter/HBO
Here's hoping that this season earns Kieran Culkin the Emmy he deserves — particularly because Roman is a force to be reckoned with in this episode. As he heads into the deal with Shiv and Kendall, he's clearly feeling confident, but emotionally shatters while dealing with Matsson; like Kendall, he's obviously conflicted about selling Logan's company only to see it totally dismantled.
This all comes to a head when, while Matsson takes the two brothers away from the retreat and out into the wilderness a bit, Roman absolutely unloads on the man, berating him for rushing the deal through in the aftermath of Logan's death and not giving the kids a second to grieve. Telling Matsson the deal's off while the guy is actively peeing, Roman peels away his cocky, snarky exterior and really shows just how much his father's death has affected him. In the end, Matsson inexplicably comes back with a higher offer, but also like Kendall, Roman can't really muster up any excitement. In the end, he ranks slightly higher than Kendall only because he was the one to take the bull — Matsson — by the horns.
Shiv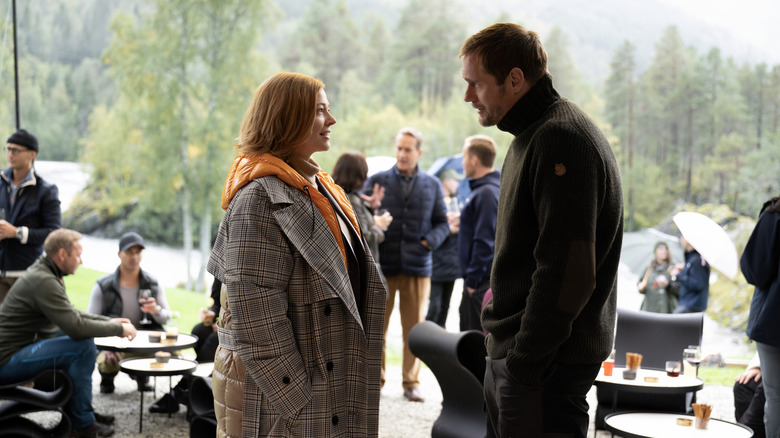 Graeme Hunter/HBO
Oh, Shiv! You tricky minx! What did you do to get Matsson to raise his offer?! For the bulk of the episode, Shiv seems a bit detached — and when her brothers are upset about the prospect of also selling ATN to Matsson, she says she doesn't really care and just wants to get the whole thing over with. (The fact that Justin Kirk's fascistic presidential candidate Jaryd Mencken appears to have a direct line to the top brass at ATN doesn't help either.) The most intriguing part of Shiv's story, though, is when she speaks to Matsson privately, getting him to admit, over drugs and brown liquor, that he sent his head of comms a container of his own blood after they had an affair that went sour.
It doesn't seem like Shiv and Matsson have teamed up after that conversation, but then, after raising his offer, he calls her and requests a photo of her brothers looking sad. So what exactly transpired between the two? Is an affair brewing there, or did Matsson just like the cut of Shiv's jib? We'll presumably find out, but right now, all that matters is that whatever went down catapulted Shiv to the top of the power ranking.