Succession Showrunners Explain Why [SPOILER] Died Offscreen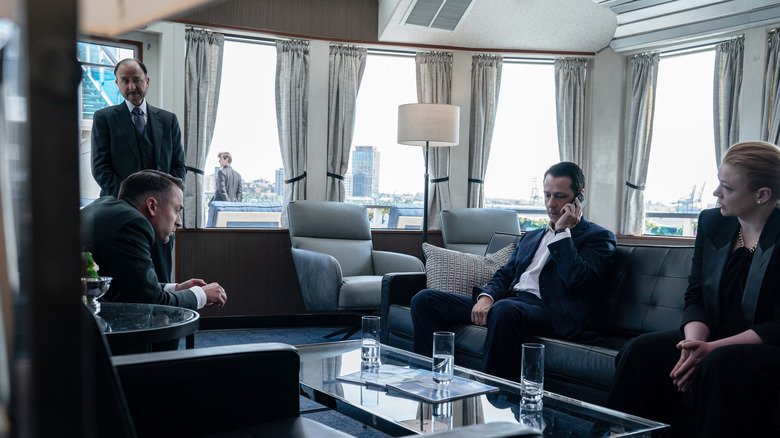 Macall B. Polay/HBO
Contains spoilers for "Succession" Season 4 Episode 3 — "Connor's Wedding"
The most important episode of "Succession" to date aired on Sunday, April 9, and in the wake of Logan Roy's (Brian Cox) sudden and unceremonious death, everyone in his orbit is thrown into complete disarray. Perhaps the most fascinating thing about the way Logan's death is handled in "Connor's Wedding," though, is exactly how showrunner and writer Jesse Armstrong and director Mark Mylod. 
According to HBO's official "Succession" podcast, which is hosted by Kara Swisher and featured Mylod and Armstrong in its post-Episode 3 installment, Logan's death had to happen off-screen. This was partly to avoid TV tropes and put the viewer into the same frantic, frightened headspace of his kids Roman (Kieran Culkin), Kendall (Jeremy Strong), Shiv (Sarah Snook), and also Connor (Alan Ruck), but also because, as Mylod put it, that's just how these things happen. When Swisher asked why the death happened off-screen and what it was like to direct that, Mylod said, "When Jesse first told me about the plan, quite a long time before we starting shooting the season, I think it was always in his head that it would happen off-screen, because big events don't happen in a perfect way, do they?"
Logan's off-screen death was very deliberate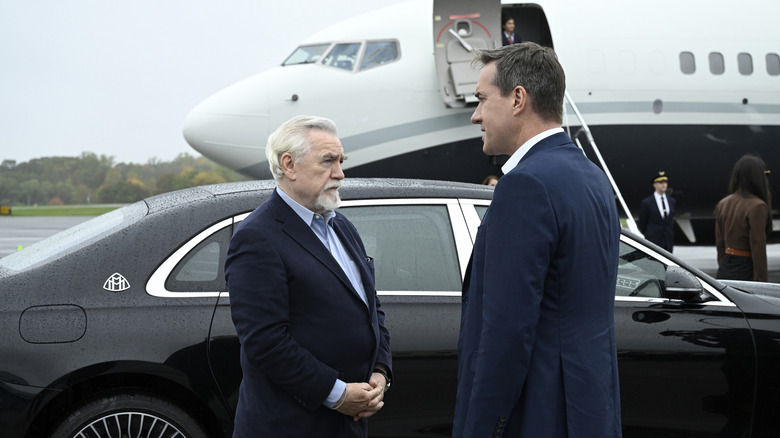 David Russell/HBO
Besides the hyper-realistic depiction of this awful moment for the Roy family, Mylod said they also wanted to avoid a typical, flashy, cinematic death. "And this idea of taking away all the television cliches, the kind of perfect TV death, I thought was really brilliant. I loved the idea of the audience being hijacked in exactly the same way that the siblings are when they receive the news, so we're immediately kind of parachuted into their emotional experience."
Mylod also notes, when prompted by Swisher, that he and Armstrong only wanted to give tiny glimpses of Logan — the only time we see the mogul after he collapses on his plane while flying to Sweden is a kind of overhead shot where it could be anybody, but is deifnitely Logan — to keep avoiding forced drama while creating it naturally. Clearly, the creative team and cast succeeded in this. "Connor's Wedding" is one of the tensest television episodes in recent memory, and it's a testament to Armstrong and Mylod's vision that they didn't even need to show Logan collapsing to pull that off.