Barry Star Anthony Carrigan Geeks Out Over Guillermo Del Toro's Surprise Season 4 Cameo - Exclusive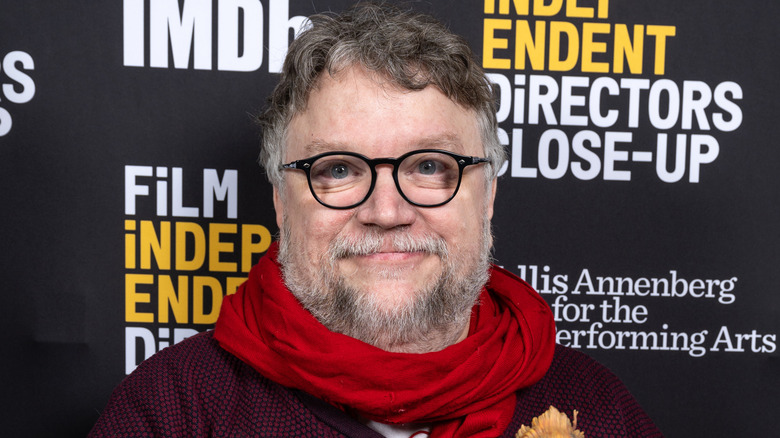 Amanda Edwards/Getty Images
Contains spoilers for "Barry" Season 4, Episode 3 — "You're Charming"
Fans keeping up to date with the fourth and final season of "Barry" were treated to a rare cameo appearance by a filmmaking icon in Episode 3 of the hit HBO dark comedy on Sunday, as Oscar-winning director and producer Guillermo del Toro switched gears and appeared in front of the camera.
In the scene, NoHo Hank (Anthony Carrigan) and his personal and professional partner-in-crime, Cristobal Sifuentes (Michael Irby), are finalizing details on a hit they want carried out through the help of a crime lord named Toro. As it turns out, Toro is played by del Toro, who shows up wearing a suit and fedora and holding a cane.
In an exclusive interview with Looper prior to the start of "Barry" Season 4, Carrigan didn't want to mention del Toro by name to avoid spoiling any fun. Still, the two-time Emmy-nominated actor was happy to share the memorable experience of working with the cinematic titan.
"I feel lucky that I was chosen to share the screen with the aforementioned character and a legend of Hollywood," Carrigan said of del Toro. "It's such a rad experience, because one of the things that people will see and know is that he's the coolest, most down-to-earth, and most open-hearted person I've ever come across."
But those attributes weren't the only things Carrigan learned about del Toro. While the scene is set up to be a serious meeting between NoHo Hank, Cristobal, and Toro about an assassination, it turns into hilarious affair as del Toro shows how naturally gifted of a comedian he is. "Oh my God, that scene is so funny. He's so funny," Carrigan enthused. "He knocks it out of the park, and I can't wait [for viewers to see it]. People are going to flip out."
Carrigan says he let his geek side 'peek out a little bit' working with del Toro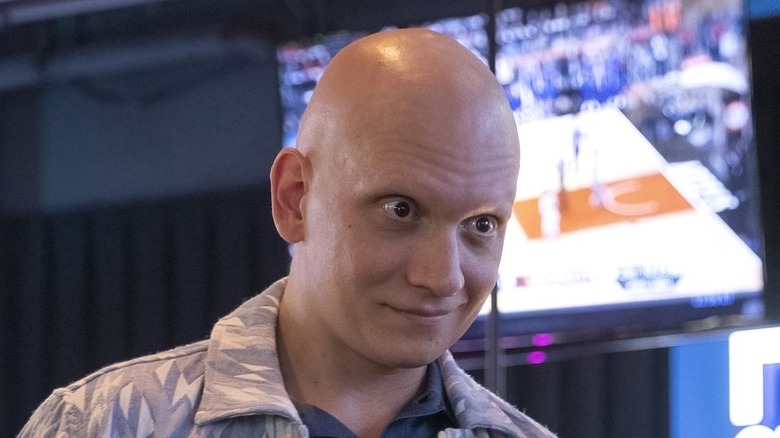 Merrick Morton/HBO
While Anthony Carrigan maintained his sense of professionalism and tried not to geek out over sharing a scene with Guillermo del Toro in "Barry," he admitted to Looper that he "let it peek out a little bit."
"I could have stayed there all day to pick his brain and chew his ear off about how talented he is," Carrigan said of "The Shape of Water" and "Pinocchio" Oscar winner. "I hope to keep that ball rolling because I have a lot more great things to say to him. I hope to get to say them to him soon."
According to "Barry" star and co-creator Bill Hader, del Toro's cameo in the series materialized when the filmmaker told Hader how much he loved the show and simply asked if he could make an appearance. In response, Hader told Rotten Tomatoes, he replied to the request by saying, "'Oh, okay.' So I wrote him a part."
While del Toro has done several voice roles or voiced creatures for film and TV, his live-action appearances are rare. His role in "Barry" marks the first time del Toro has appeared on camera since 2016, when he reprised his 2012 role as Pappy McPoyle on the FXX comedy hit "It's Always Sunny in Philadelphia." He also appeared on camera as the eponymous host who introduced each episode of the 2022 Netflix horror anthology series "Guillermo del Toro's Cabinet of Curiosities."
New episodes of "Barry" premiere every Sunday, with the series finale scheduled for May 28.