Who Plays Roxy In Amazon's The Power?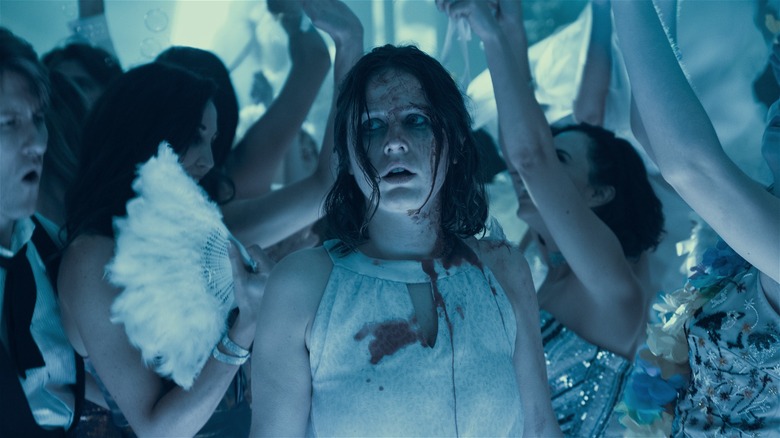 Ludovic Robert/Prime Video
Amazon's new series "The Power" is aptly named. Not only because women develop electrical abilities but because of the many ways the story shows the lack of it. Teenage girls evolve to have this power because they don't have societal power in their everyday lives. Be in physical power just to be on even ground with those that benefit from the patriarchy, every story demonstrates how these girls lack agency and what they do when they finally have the opportunity to live their lives how they see fit.
For Roxy Monke (Ria Zmitrowicz), her desires are simple. She only wants the acceptance of her father and to be taken seriously. Because she is female in the world of her ruthless father's criminal enterprise, she is often disregarded. Bernie (Eddie Marsan) may love his daughter but doesn't find her adequate for the family business. As any female can attest, these power imbalances are common. These ideas are so prevalent that this is not the first time Zmitrowicz has portrayed a character that shines a light on systemic issues facing women.
She proved her acting chops in a devastating true story
For many cast members, appearing in "The Power" was a relief. Finally, mainstream content addressed common anxieties women face every day. But "The Power" took time to make it to the small screen, just as the actors cultivated their careers. Ria Zmitrowicz worked steadily since 2014 in such works as the Elle Fanning-led film, "Teen Spirit." But it was her work in BBC's "Three Girls" that led to widespread attention. Co-starring in the miniseries with Liv Hill before the actor went to perfect Catherine de Medici in "Serpent Queen," Zmitrowicz was a standout in the grueling dramatization of true events.
Taken from the tragic story of Rochdale teens groomed by a ring of sex traffickers, "Three Girls" stands out apart from others of its kind. The series does not sensationalize events, but tells them accurately. Zmitrowicz plays Amber, one girl who suffers abuse by the gang in a nuanced arc. We see her struggle with perpetuating the crime, only to understand that she is just as much of a victim as the rest.
"Three Girls was a landmark film for a landmark case," Nazir Afzal, chief prosecutor for the case, told BBC News. "It did not minimise the impact of the crimes on the victims and was a harrowing but ultimately rewarding watch."
If you or anyone you know has been a victim of sexual assault, help is available. Visit the Rape, Abuse & Incest National Network website or contact RAINN's National Helpline at 1-800-656-HOPE (4673).