How Samantha Morton And Liv Hill's Collaboration Perfected Catherine De Medici On The Serpent Queen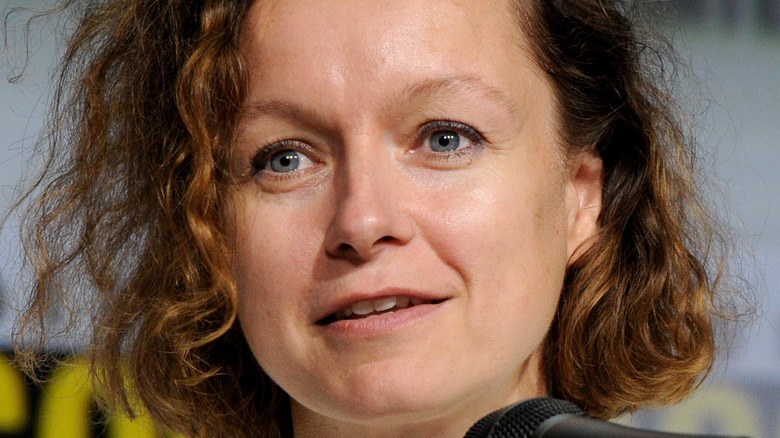 Albert L. Ortega/Getty Images
To base a show around a real-life historical figure, a fair amount of research is usually required, as well as historical knowledge, and actors who are up to the task of representing famous figures long since passed. "The Serpent Queen," one of the latest television shows from Starz, focuses on the life and times of Catherine de Medici, an exceptionally important ruler in the sixteenth century. According to Brittanica, Catherine had over 10 children, and was a major player in the Catholic-Huguenot Wars. The show has been a huge success with critics, and it holds a vaunted 100% over on Rotten Tomatoes.
"The Serpent Queen" typically focuses on an adult Catherine (Samantha Morton), though as the character tells her life story, flashbacks occur in which Liv Hill plays her younger self. Catherine's early life sees her immediately cast into the world of politics when her uncle Pope Clement VII (Charles Dance) arranges a marriage. Luckily for Catherine, she is incredibly intelligent and is able to adroitly navigate the dangerous world of politics and nobility that make up the 1500s. Considering that Catherine is played by two different actors at different points in the character's life, how did the two manage to bring Catherine de Medici to life?
Morton told Hill to trust her instincts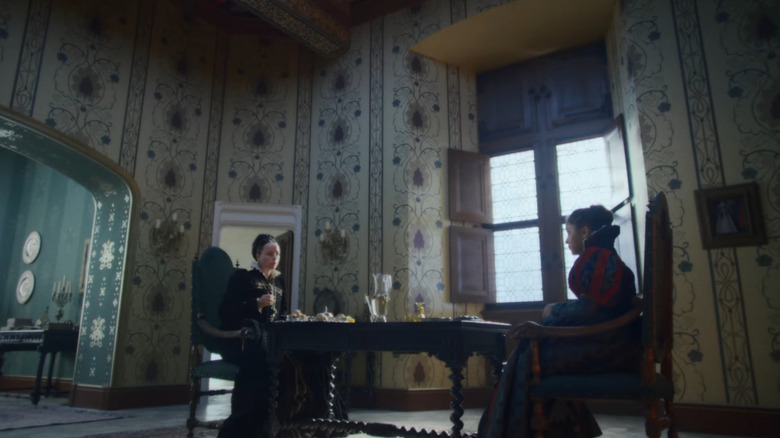 Starz
In an interview with Collider, Morton was asked if there was any collaboration between her and Hill. Morton replied that she is a huge fan of Hill's, and that she was excited to work with her. She then elaborated and said that even though the two did not have a chance to meet in person during the production of "The Serpent Queen," they still found time to talk and discuss the role online.
She then stated, "But I think the thing that was important to both of us was her heart, Catherine's motivation and her heart. It wasn't so much about me to mimic her, or her to mimic me. It was about falling in love with Henry and the defiance and the strength she had as a child. Because she's 14 in those scenes, 14 years old." She added, "With Liv, her sense of strength, and her understanding of the role, I just said, 'Go with it. Just do what's in your heart.'" Considering this comment, it appears as if the two actors did discuss the role, but ultimately they were not mimicking each other, and their take on the role is shaped on the real life events of the historical figure, and their likely motivations.
Morton's trust in Hill gave Hill the confidence to play the role of young Catherine de Medici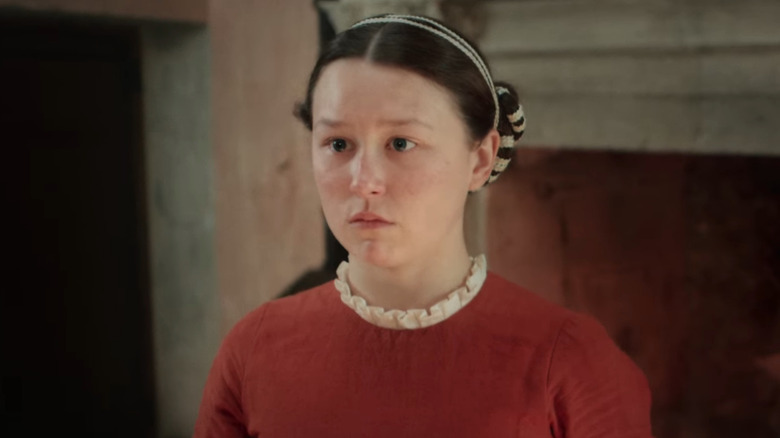 Starz
Speaking with Screen Rant, Liv Hill was asked how both her and Samantha Morton aligned their performances, and she replied "Before we briefly discussed, it didn't feel like we did loads together, to be honest. But the one thing Samantha said to me was, 'I'm so happy you were chosen to do this. Just trust in yourself.' It made it less overwhelming to have to play Samantha Morton." She continued, "It kind of gave me that trust in myself, and also the trust in the casting process that we had similar views and a perspective of Katherine. I didn't let the idea of having to be Samantha overwhelm me. But we did talk about the intentions and motivations at the beginning."
Hill then added that one of her favorite parts of playing the character was Catherine's watchful eye, and how she played the role as alert and focused on survival. Although Hill doesn't truly know what it was like to be cast in the same situation as the historical figure, she said that she liked the slow ramp-up and how the character is completely engrossed in figuring out those around her, and whether or not they are enemies or allies. Needless to say, "The Serpent Queen" proudly displays Catherine de Medici at varying stages of her life, and both actors handle the role with aplomb by putting their own personal touch on it, regardless of how the other actor plays it.