Stephen Merchant Joins Taika Waititi's Jojo Rabbit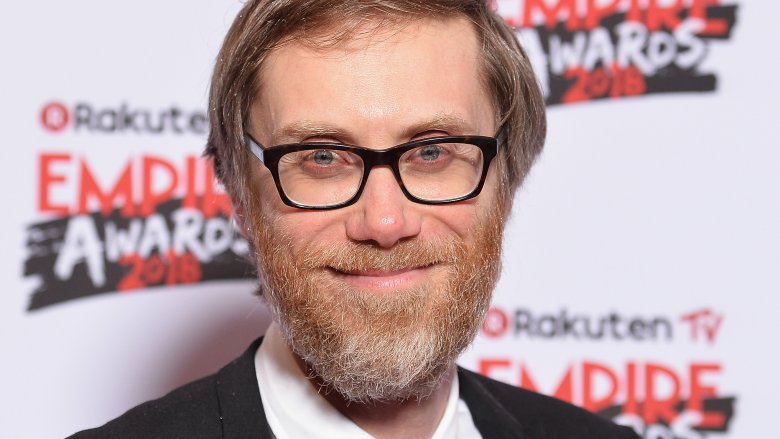 Getty Images
Stephen Merchant has been caught in the Jojo Rabbit trap. 
Over on Instagram, the actor, writer, and director announced his involvement in Taika Waititi's World War II satire. Merchant, who portrayed Caliban in Logan and co-wrote the British version of The Office, posted a photo of himself dressed in a white button-down shirt, suspenders, a black tie with a small tie clip, and circle-framed glasses in an attempt to "look German" for his Jojo Rabbit role.
"Here's me trying to look German for my part in Jojo Rabbit, new satirical comedy from the wonderful Taika Waititi. @jojorabbitmovie," Merchant captioned the photo, displayed at the bottom of this article. 
Deadline later confirmed that Merchant will portray a Gestapo agent named Captain Deertz. 
For the flick, which is shaping up to be sillier and more inane with each passing day and new casting announcement, Merchant will star alongside Waititi himself, who plays a "goofy, charming" version of Adolf Hitler who "glides through life with a child- like naivety." He'll also share the screen with Roman Griffin Davis, who portrays the titular Jojo, a 10-year-old boy living in Nazi Germany with his mother Rosie, played by Scarlett Johansson, and whose only friend is his made-up buddy Adolf. Rounding out the cast are Sam Rockwell as Nazi youth camp leader Captain Klenzendorf, Game of Thrones star Alfie Allen as Klenzendorf's second in command Finkel, and Thomasin McKenzie as a young Jewish girl who has been hiding in the attic of Jojo's house.
Based on the character names alone — Rockwell's Klenzendorf, Allen's Finkel, and now Merchant's Deertz — it's clear that Jojo Rabbit will be every bit as off-the-walls and side-splittingly funny as Waititi's past directorial efforts Thor: Ragnarok and the mockumentary horror comedy What We Do in the Shadows.  
Merchant's Jojo Rabbit casting comes after he wrote, directed, and acted in Fighting with My Family, which stars Dwayne Johnson, Lena Headey, Vince Vaughn, and Florence Pugh. Before he pops up in Jojo Rabbit, which doesn't have a set release date just yet, Merchant can be seen in Sony's The Girl in the Spider's Web.