Who Plays Tom Fuller In Ginny & Georgia?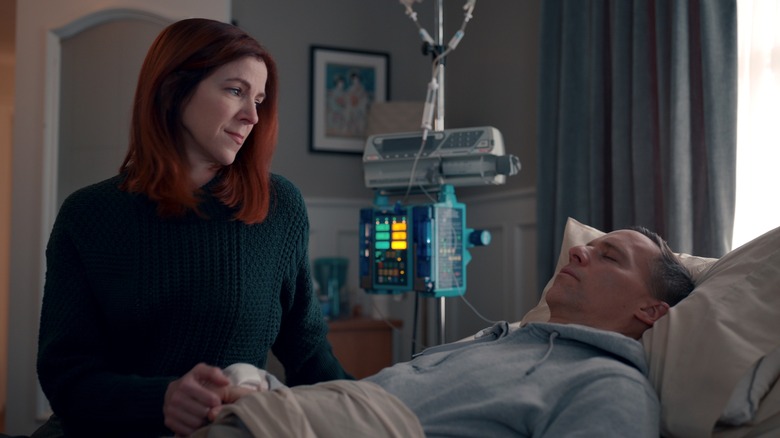 Netflix
During Season 2 of "Ginny & Georgia," mayoral candidate Cynthia Fuller's (Sabrina Grdevich) husband Tom is revealed to be in a continual vegetative state, despite being expected to have passed away months before. Both Cynthia and their son, Zach (Connor Laidman), express distress to Georgia (Brianne Howey) over Tom fading away in front of them. 
This results in Georgia smothering Tom with a pillow. Crying, Georgia tells Tom "It's okay," as he silently flatlines and dies.
Vincent Legault, a Canadian actor, plays the non-speaking character over the course of four episodes. He doesn't appear to be a full-time actor, as his acting roles in the past have similarly been in small cameos or walk-on parts. These include Blonde's Boyfriend in the movie "Peepers" and the use of his still photograph in "19-2." 
His other more prominent role in Canadian entertainment is as a musician and composer. Here's more about Legault's bands and his music career. 
Vincent Legault plays music and composes for films
Vincent Legault has made small appearances in several films and shows now, including "Ginny & Georgia" and "Peepers." Off camera, Legault is a multi-instrumental musician who is active in projects like Dear Criminals and Random Recipe. He's also performed in a variety of roles in the Canadian entertainment industry over the years. Legault has worked as a composer and music arranger on various projects since 2009 in addition to his acting roles.  
He also composed music for the short film "When Silence Is Love." Also, as part of Dear Criminals, he arranged and created the score for the 2016 film "Nelly." 
"We decided on a more pragmatic approach and wondered how we could survive in the music world without having to sign with a record label," Legault said to Words and Music in 2017. "It's from that point that opportunities to express ourselves through other media started happening." 
Legault is also credited with the score for an upcoming contemporary dance production of "Pinocchio." Hopefully he can take on more performance gigs, as well as compose more film and television scores, with the recent popularity of "Ginny & Georgia."